The Floating World Unearths Trauma Amid Natural Disaster
C. Morgan Babst's debut novel, which follows a family in the aftermath of Hurricane Katrina, tests the limits of selflessness and community.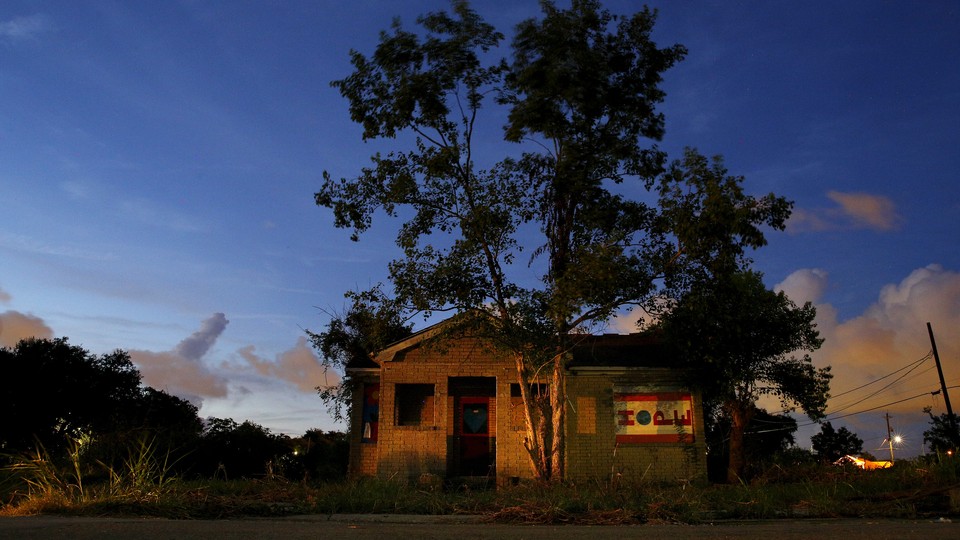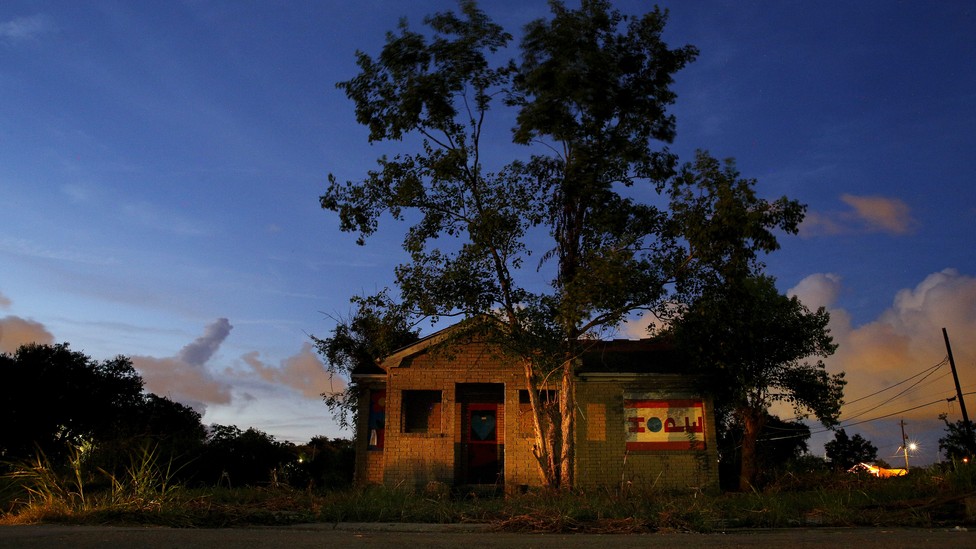 In August 2005, C. Morgan Babst evacuated her native New Orleans less than 24 hours before Hurricane Katrina made landfall. Her debut novel, The Floating World, follows a New Orleans family struggling to find a way forward in the aftermath of Katrina. It's "a story," she said in a recent essay, "about what might have happened if some other version of me had not left." Leaving, here, refers not only to evacuation, but also to staying away and building a life elsewhere, as Babst herself did in New York. (She has since returned to New Orleans.) For her, the way forward meant constructing a story about the choices the storm forced and those it took away.
At the heart of The Floating World is a mystery. The novel begins with a scene so vivid as to be disorienting. Cora Boisdoré stands outside a "bloated house" that, though "the flood was gone," appears to be surrounded by a dark lake. "Under her feet, lake bed slipped: pebbles and grit, mud broken into scales that curled up at their edges." Looking in the window, she sees a woman, "her face no longer a face, only a mess of blackened blood." The woman's body is curled around a shotgun Cora seems to recognize. Contained in this brief first chapter are clues to some of the questions that will haunt Cora and her family throughout the novel: Who was this woman, and who killed her? Why?
Soon, more immediate dilemmas arise as Boisdoré family dysfunction takes center stage. Joe Boisdoré, a sculptor descended from a family of prominent African American artisans, and his wife Tess, a psychiatrist from a wealthy white family, retreated to Houston before the storm. Their marriage unraveling, they officially separated after returning to New Orleans. Fifty-two days after landfall, their 20-something daughter Del is about to fly down from New York, where she's lived for several years. This will be the first time she's seen her family and her native city since both have been profoundly altered.
Cora, her older sister, insisted on waiting out the storm at home, though her parents came back to retrieve her before Hurricane Rita several weeks later. She's now staying with Tess in a house on loan from still absent neighbors, its rooms crowded with the salvaged remains of the storm-ravaged Boisdoré home. The novel itself is, by this point, crowded too; Babst's affinity for detail can overwhelm, even when—as in the description of a room jammed with antique furniture—clutter seems called for.
If Cora knows the bloodied woman or the cause of her death, she won't say. Since returning from Houston, we learn, she's turned inward as a result of some unspeakable trauma. She wakes up each morning with dark circles under her eyes and mud on her feet. She barely speaks, though she repeatedly tells her mother that she can't eat, that drugs wouldn't do any good. "I'm sorry, but it just goes right through me," she repeats, as if in a daze. Cora's emotional turmoil, it seems, has a complicated history that long predates the storm. Her family is terrified of triggering an even more severe loss of control, and her parents and sister point fingers over their role in reducing her to this ghost. Their choices—to let her stay behind, to delay in searching for her afterwards—were, they think, crucial.
Babst has set many dramas in motion. Bit players and backstories abound, and minor plot twists are too numerous to count. Joe and Tess are, themselves, so preoccupied they forget to pick Del up from the airport. "Cora does look like hell," Del admits to her mother, when Tess tries to apologize. "And you've got me sleeping on a shitty sofa bed in a firetrap," she adds, sarcastically. "But everything's fine, sure." The Boisdorés, as we encounter them, can barely look out for themselves, let alone one another, but they're too busy being concerned about Cora to recognize their own blindness.
Cora's singular presence makes a lasting impression. Her enigmatic silence, her fragmented memories of the storm and the shotgun, reach a striking climax in the novel's middle section, which is an evocation of the storm itself told in the third person from Cora's perspective. Far from being a victim, Cora emerges here as an agent. She is scared but resolute, selfless to a fault as she ventures into the floodwaters to rescue the stranded and find the missing.
In telling Cora's story, Babst subverts any simple notions about victimhood in the eye of a storm and explores the possibilities for growth such extraordinary circumstances afford. What does it mean to exercise free will in the face of a natural disaster? How can these events empower even as they entrap? Is it braver to forsake the familiar in favor of safety, or to risk certain danger by facing an emergency of unknown proportions? And what does helping the vulnerable do to the rescuers and the rescued?
For Cora, a young woman who "had often imagined her mother would lock her up if she could, keep her in an upholstered cage, stuffed on roast chickens and cream cakes," the chance to be the one who aids others comes as an epiphany.  "She had been high on helping them," Babst writes, yet Cora's own experience of neediness complicates the venture. "Each person she found felt like a missing piece of herself, but now she understood that they each belonged only to themselves." Or, as another character insists, "Help gets you fucked"—a sentiment that ultimately rings true to Cora.
The final section of the novel returns to the rest of the Boisdoré family, and their anxious assumptions of responsibility and control now seem different. Like Tess, Joe, and Del, readers will worry when Cora disappears without her cell phone—but we see what her family cannot: Cora as a person who belongs to herself. Babst boldly probes an underside of benevolence, asking whether family and community vigilance can be a mixed blessing. "They said, in New York, that the towers had made them kinder to one another," she writes, "but here, they had already been kind. When you turned up the volume on that kindness, it blared." There is such a thing as too much. Before the mystery is resolved, each of the Boisdorés, feeling stifled, will act rashly; the fires they start (literally and figuratively) and the pain they cause will make you cringe.
Babst's debut could not be more timely, and in the end, The Floating World serves as a reminder that a hurricane's havoc can—and should—deliver a jolt to ideas of how helpless we think we are, and shake up delusions about how safely we can barricade ourselves. What happened in New Orleans in 2005, Babst writes early on, was "an act of man." Her characters know, on some level, that "It was not an act of God. …. It was not a natural disaster." But coming to terms with that insight, her novel makes clear, doesn't make the task of rebuilding any easier.