What Flannery O'Connor's College Journal Reveals
The brief diary shows an aspiring writer struggling to overcome doubt and anxiety.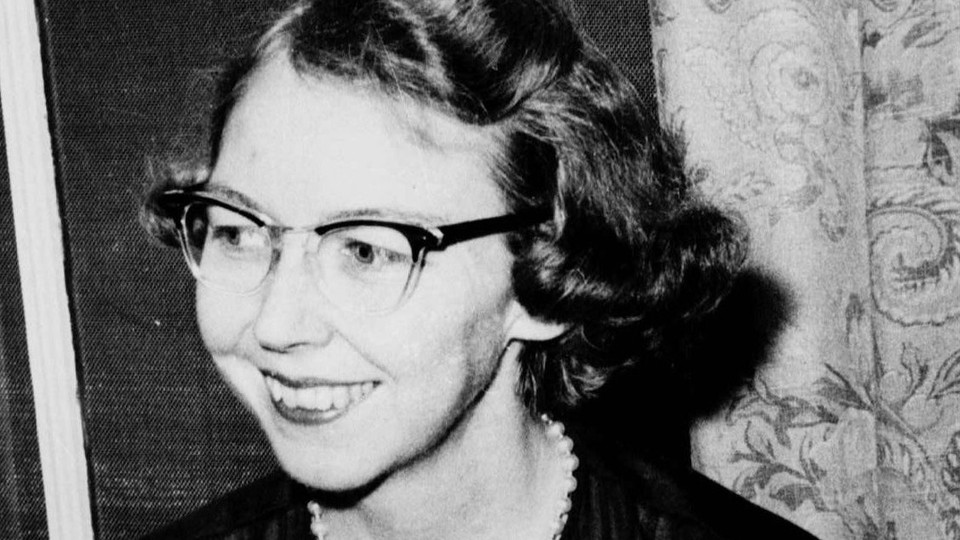 "I AM. THIS IS NOT PURE CONCEIT. I am not self-satisfied but I feel that God has made my life empty in this respect so that I may fill it in some wonderful way—the word 'wonderful' frightens me. It may be anything but wonderful. I may grovel the rest of my life in a stew of effort, of misguided hope."
Flannery O'Connor wrote these solemn words, weighty for a young woman of just 18, in 1943, in her college journal. The writer is most known for her short, strange stories, including "A Temple of the Holy Ghost" and "Good Country People," that were characterized equally by their rootedness in her lifelong Catholic belief and their quirky flair for the Southern Gothic. Because O'Connor died at the height of her literary career, fans hungry for more of her words devour whatever remaining bits and pieces are released from her tightly guarded estate. Now, with the publication of her college-era scribbles, arrives another long-awaited, if modest, offering.
The journal—published for the first time in the current issue of Image, an arts and faith quarterly—covers just 40 days from December 1943 through February 1944, and was written during O'Connor's sophomore year at what was then Georgia State College for Women. Despite its brevity, the diary is an illuminating document that offers a glimpse into the mind of the artist as a young woman.
"I AM" is, of course, the name God called himself in the Old Testament when Moses asked God whom he should tell the Israelites had sent him. O'Connor would have recognized the hubris of a declaration that implicitly compared herself to God. But employing the same sardonic sense of irony with which she'd later craft her characters, O'Connor explains that this statement isn't hubris, but rather, its opposite: humility. She desires to be emptied of self-satisfaction in order to experience something "wonderful" from a source greater than herself.
O'Connor's life would be filled with wonderful things. After college, she would be accepted to the highly competitive Iowa Writers' Workshop. She would befriend acclaimed writers such as Robert Penn Warren, John Crowe Ransom, and Robert Fitzgerald (the famous translator of classical epic poetry such as Homer's The Odyssey and The Iliad). She would become published in some of the most reputable literary and popular journals of her age. She would write astonishing short stories, novels, essays, and letters. And eight years after her death, The Complete Stories of Flannery O'Connor would be honored with the National Book Award for Fiction.
But the young woman of 18 writing in the journal knows none of this. What she knows is that she wants to succeed as an artist, but she is filled with self-doubt, which she deflects by professing that she would prefer "social success" to literary achievement even though that seems an even more hopeless pursuit for such a "frightened rabbit" as she. Yet, she is similarly skeptical of her intellectual and writing abilities; her lack in this area is merely compounded by her limited social experience, which she worries gives her too little material to reflect and write upon—the catch-22 of every unaccomplished aspirant.
Of course, 18 is not the most confident age for anyone. On top of that, to be a woman who writes, or one who wants to write, has been viewed through most of history as transgressive, even subversive. To be an "author" entails having "authority," as the etymological connection of the two words suggests, something, until recent history, denied to women by lack of education, legal rights, or public roles. In the early age of print, when women began to seize the authority granted them by access to education and print technology, the term "female pen" was used pejoratively of the woman writer, suggesting, with its phallic symbolism, the sheer unnaturalness of the female author.
From Julian of Norwich, the 14th-century mystic sealed up in her little cell, to the pseudonymously published Brontë sisters of the 19th century, women writers have often felt compelled to hide themselves or their work in one way or another. Thus, Virginia Woolf observed in her 1929 treatise on women and writing, "A Room of One's Own":
When … one reads of a witch being ducked, of a woman possessed by devils, of a wise woman selling herbs, or even of a very remarkable man who had a mother, then I think we are on the track of a lost novelist, a suppressed poet, of some mute and inglorious Jane Austen, some Emily Brontë who dashed her brains out on the moor or mopped and mowed about the highways crazed with the torture that her gift had put her to. Indeed, I would venture to guess that Anon, who wrote so many poems without signing them, was often a woman.
Woolf's essay exhaustingly and exquisitely reveals the results for women of centuries of artificially erected barriers that undermined their ability to find and express their voice and their authority. Such a history goes a long way toward explaining the near-paralyzing insecurities of a budding female writer like O'Connor. Writing in her journal one day, she leaked ink on the bedspread; she notes she will have to make up an excuse about it because "I don't care to have [my mother] know I write." She even labeled the diary, with her usual dry humor, Higher Mathematics, presumably to mislead her mother's prying eyes.  And it's no coincidence that O'Connor would eventually publish under a pen name that dropped her given name, the feminine Mary, replacing it with her more androgynous middle name, Flannery.
Within the broader context of women's work, recent research has examined the "confidence gap" that appears between men and women. As reported in The Atlantic, women who underestimate their abilities lack the confidence necessary to attempt a new challenge. However, building assurance stimulates action, which itself builds greater confidence, creating what Katty Kay and Claire Shipman call "a virtuous circle" in which confidence "accumulates—through hard work, through success, and even through failure."
O'Connor seems instinctively to have understood this virtuous cycle, writing in her journal of her literary aspirations, "I am afraid and yet I am eager, anxious to get into the middle of it—make a success of it—or become resigned to my failure." And remarkably, despite the brief timespan covered, the journal displays an arc of development that takes O'Connor from paralyzing under-confidence to determination to action.
On December 31, 1943, she writes, "I must do do do and yet there is the brick wall that I must kick over stone by stone. It is I who have built the wall and I who must tear it down." Ten days later, she is pushing herself more firmly, hoping her journal reflections will "spur me on to some sort of activity." On February 2, 1944, she determines, "I must force my loose mind into its overalls and get going."
O'Connor's experience suggests that action is, in fact, crucial to overcoming lack of confidence. But the journal also illustrates the role that looking outward rather than inward has in spurring such action: It shows O'Connor moving from her internal anxiety and doubt toward honing her craft.
The first entry, dated Dec. 29, 1943, for example, marks the thoughts of a painfully self-conscious person: O'Connor records with intense self-scrutiny a successful moment in her English class when she said something witty. Her classmates responded with laughter, and she feels great relief in being able to hold back her own, thus projecting the persona of a "cool, sophisticated, clever wit" rather than the "confused blunderer" she is more likely to be.
But that mindset shifts. Midway through the journal, O'Connor determines to focus on the world outside of herself in order to develop her skills as a writer by taking notice of what she sees in front of her, from "the wet pants dripping on the rod" to "the soap container on the side of the bathtub" to "the tips of my two moccasined feet peeping out from the blue mountain of my knees." These are the tangible things that make up the material world and are the materials of the fiction writer's craft. Such concrete, observable details comprise the art of fiction, as O'Connor would later describe it. In the volume of her collected essays, Mystery and Manners, she explains, "The fiction writer presents mystery through manners, grace through nature, but when he finishes there always has to be left over that sense of Mystery which cannot be accounted for by any human formula."
In the journal's last entry, O'Connor has overcome her self-doubt enough to offer a short, semi-fictional sketch, announcing that with this, she begins her "first book." In it she draws upon what she knows, be it yet so little—her home, her family, her church, and their little societies—and "exaggerates" them, she observes wryly, "with impunity, to wit." It is a humble start. But it is most important in being a start.
Years later, after O'Connor achieved her dreamed-of literary fame and was giving one of her frequent public lectures, a student in the audience asked, "Miss O'Connor, why do you write?"
Her now famous answer was, "Because I'm good at it."
By nearly every objective measure of literary greatness, O'Connor was good at it. Few college freshmen learn the short-story form in introductory literature classes without reading "A Good Man Is Hard to Find." Biographies, films, and studies of her works continue to be published today. And—exhibiting genuine humility by measuring oneself truthfully by external rather than internal standards—she could at last also say that she knew it. Although her college journal shows she had more than her share of self-doubt, she had enough faith to try.