The 76ers' Great Basketball Experiment Is Paying Off
After years of frustration and controversy, Philadelphia finally boasts a core of young talent—led by Joel Embiid and Ben Simmons—that has become the NBA's most exciting upstart.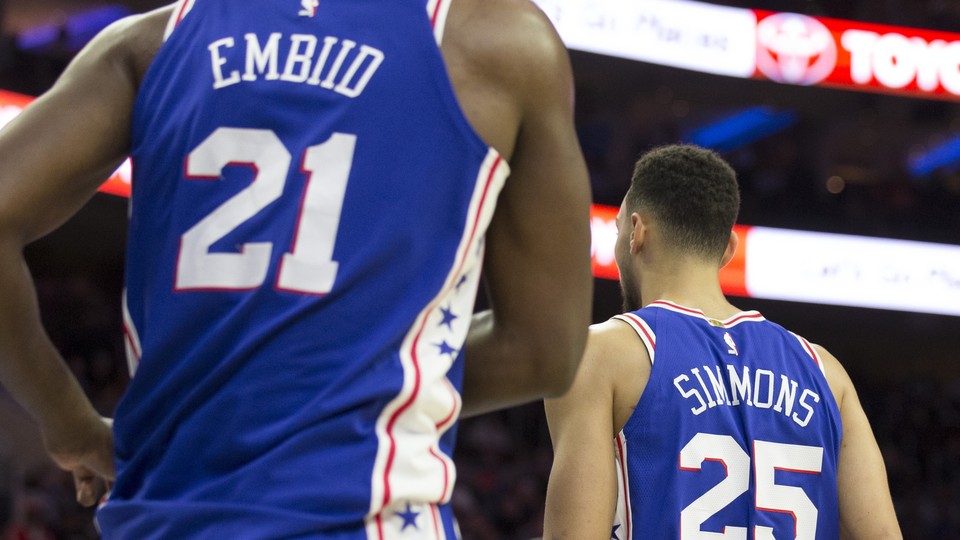 It has been a season of precocity in the National Basketball Association. Seemingly everywhere, promising players are blooming into fully fledged, All-NBA-quality dynamos. For those interested in the shape of basketball to come, the 2017–18 campaign offers no shortage of thrilling case studies, such as the Milwaukee Bucks' putty-limbed Giannis Antetokounmpo and the New York Knicks' gigantic and sweet-shooting Kristaps Porzingis. These young intrigues hope to guide their teams to playoff berths, but that goal seems secondary to a larger one: to speed the league along into its next era.
Even in this context, though, the Philadelphia 76ers stand apart. After a five-year stretch of historic (and purposeful) losing, they are suddenly thriving, on the strength of not one but two next-generation phenoms. The center Joel Embiid and the point guard Ben Simmons—who, prior to this season, had only played in a combined 31 professional games (all courtesy of Embiid)—have spurred the team to an 11–8 record, good for fifth place in the Eastern Conference, and toppling the upstart Washington Wizards (11–9) Wednesday at home would create yet more separation in the standings.
This fast-tracked success, marked by victories over solid playoff teams and back-and-forth contests against recent champions, has soothed win-starved Philadelphia fans. But the nascent superstars behind it have become the talk of the entire league. Stylish and full of potential, the Sixers are already the NBA's most interesting team; they may soon be one of its best.
Sam Hinkie, the erstwhile Philadelphia general manager and architect of the controversial "Process"—which entailed fielding subpar rosters in pursuit of higher draft picks—believed that stockpiling those picks offered teams the best chances of acquiring future stars. Players like Embiid and Simmons were exactly what he had in mind. Embiid, a 7-foot-tall Cameroonian drafted in 2014, can do everything a big man is supposed to do, as well as most of the things he isn't. He is a bully and a technician in the post, adept at both drop-steps and power-through jams, but he's also a skilled passer with a polished jump shot and rare ball-handling abilities. Simmons, a 6-foot-10 Australian selected two years later, has, with his tall build and keen vision, already invited comparisons as flattering as Magic Johnson and LeBron James. Simmons lacks a jump shot at the moment, which in other players might be a glaring deficiency, but the limitation only emphasizes his gifts for other facets of the game. He soars in for dunks, flicks precognitive passes, and finishes with either hand anywhere near the rim.
The statistics can set basketball futurists salivating. Embiid and Simmons combine for 40.9 points, 20.3 rebounds, and 10.6 assists per game, but most remarkably, their sum age is only 44 years old. ESPN's Zach Lowe noted recently that Philadelphia's starting lineup, with Simmons handling the ball and Embiid muscling down low on the block, had the highest point differential of any five-man group in the NBA, outscoring opponents by 29 points per 100 possessions.
On certain nights, Philadelphia's core duo can make even these astonishing averages seem paltry. Two weeks ago, the Sixers' game against the Los Angeles Lakers was nationally televised, and their young stars played as if to prove a point to any still-skeptical segments of basketball fandom. Simmons drove past and jumped over fellow rookie Lonzo Ball en route to a near-triple-double, while Embiid scored from every sector of the floor, ending up with a career-high 46 points to go with 15 rebounds. "We're ahead of schedule," the Philadelphia head coach Brett Brown said after the win. Embiid was even more bullish when he concluded that the Sixers "are still learning how to play with each other"—a chilling thought for the rest of the league.
The history of the NBA is built, in large part, on pairs: Johnson and Kareem Abdul-Jabbar, Michael Jordan and Scottie Pippen, Tim Duncan and David Robinson, Kobe Bryant and Shaquille O'Neal. One star can carry a team to the playoffs, the conventional wisdom dictates, but it takes two to compete for a championship. This requirement feeds nicely into the league's taste for drama; even top-shelf partnerships are as likely to end in power-grabbing and bitterness (see Russell Westbrook and Kevin Durant) as in sustained excellence. It is the sport's basic interpersonal riddle: Teammates need one another to win, but in the end there is just one basketball. How players solve that formula can determine whether a franchise reaches the mountaintop or stumbles within view of the summit.
At this admittedly early juncture, Philadelphia's stars seem more likely to flourish, long-term, than to lapse into friction. Their skill sets offer reason for optimism; where Durant and Westbrook both preferred to have the ball in their hands, Simmons and Embiid have a naturally symbiotic on-court relationship. The former initiates the offense but cares little about who in particular scores; the latter can finish open opportunities and, when things bog down, improvise near the rim. They already run pick-and-rolls like they've been teammates for a half-decade. Their admiration, too, is mutual and extensive. In the offseason, Simmons said of Embiid, "Honestly, there's nobody that can compete with him in his position." Embiid, for his part, serves as the team's primary hype man, proclaiming the young core "legendary" even before it had played a single game together.
If Embiid and Simmons stick to their current trajectory and become one of the league's preeminent tandems, then the crucial work in Philadelphia will be done at the margins, where a front-office team now led by Bryan Colangelo will hope to build a roster to complement the stars' talents. In that regard, too, this season has been a show of ahead-of-schedule promise. Hinkie once eschewed veteran role players, but Colangelo brought in the sharp-shooting J.J. Redick and the backup bruiser Amir Johnson, who have helped inoculate the team against the sort of sloppy errors that plague young squads. "The Process," with its understanding of players as far-off speculative assets, has given way to real-time mentorship, to the building of habits the Sixers hope will sustain them for a long-enough period to make the losing worth something.
Such a stretch seems inevitable, now, save for the threat of injury. Simmons missed the entirety of what would have been his rookie year with a broken foot, Embiid has dealt with a series of maladies so extensive that it caused Philadelphia to write special language into his contract extension, and Markelle Fultz, the first overall pick in the 2017 draft, has missed much of this season with a mysterious shoulder ailment. The Sixers may yet become one of the NBA's great what-if stories, with sports-bar hypotheticals replacing true long-term success.
Philadelphia's best-case scenario, though, is brighter than anyone's. Early in a game against LeBron James and the Cleveland Cavaliers on Monday night, Simmons streaked down the court and whipped a behind-the-back pass to Embiid, who rumbled down the lane, pirouetted, and leaned back for a tough jumper. Cleveland won the game behind a 30-point night from James, but that didn't diminish the symbolism of the sequence. The play—one perhaps no other two players in the NBA could make in quite the same way—seemed to render visible a growing sentiment: When James's generation cedes control of the league, the Sixers' stars are as ready as anyone to inherit it.