The Pierced Piety of Russell Simmons
The hip-hop mogul's public righteousness pushed two women to tell stories of his alleged mistreatment of them in the '90s.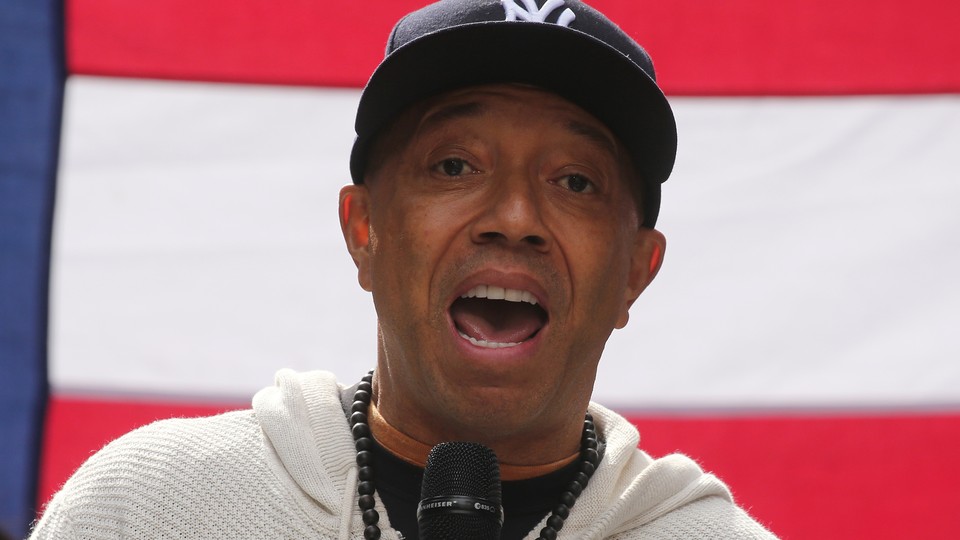 There's an unsettling thing you can do when it comes to men accused of sexual misconduct in recent days. Go through their past work, read their memoirs, and often you will see hints of the behavior that's gotten them in trouble.
"It was funny that I became known as a ladies' man, but I think it was because I was very obsessive about women," Russell Simmons wrote in his 2002 autobiography Life and Def: Sex, Drugs, Money, and God. "I rarely took no for an answer, and I believe my desire for these women, my never giving up, wore a lot of them down." The hip-hop pioneer and entrepreneur said he "became known for sending girls bouquets of balloons, and I'd do it every day for a week or more."
On Thursday, the screenwriter Jenny Lumet wrote in a guest column for The Hollywood Reporter that Simmons pursued her romantically in the late '80s and early '90s, at one point sending her 250 balloons. She repeatedly rebuffed him, but they remained friendly. And then around 1991, after a night at a restaurant, Simmons offered her a ride home. She told the driver her address, but Simmons—chillingly, according to her account— said "no" to the driver. The car instead went to his apartment. Terrified, she fell silent, and he penetrated her.
Lumet's story comes after other allegations against Simmons from the former model Keri Claussen Khalighi. She told the Los Angeles Times that when she was 17, in 1991, she went up to Simmons's apartment to see a music video he'd been working on with the director Brett Ratner, who was also present. Simmons allegedly began pulling off her clothes and trying to force her into sex. "I fought it wildly," she remembered. Eventually, he got her to perform oral sex. "I guess I just acquiesced," she said.
Simmons has said that he remembers these two evenings differently than Khalighi and Lumet do, though he says he regrets that these women are in pain. With regards to Khalighi's story, he insisted the encounter was consensual and shared affidavits from people who had seen her and him together hanging out happily around the time of the alleged assault. "As a longtime social activist … I am supporter of the #MeToo campaign," he said in his response, adding, "Abusing women in any way, shape, or form violates the very core of my being."
That last line is quoted in Lumet's Hollywood Reporter essay, a powerful account of what she says Simmons did to her. She also quotes him saying, in his refutation of Khalighi, that he "would never knowingly cause fear or harm to anyone." The implication is that she is sharing her story in part to pierce Simmons's high-minded PR. Khalighi, too, originally said she shared her accusation because "what I've experienced privately is not matching what they are saying publicly and hypocrisy to me is repugnant," referring to Simmons and Ratner's denial of other sexual-assault allegations that led to a police investigation in 2001.
Simmons's response Thursday may not dispel the sense of unearned sanctimony on the mogul's part. Announcing he would leave his companies, he wrote,
This is a time of great transition. The voices of the voiceless, those who have been hurt or shamed, deserve and need to be heard. As the corridors of power inevitably make way for a new generation, I don't want to be a distraction so I am removing myself from the businesses that I founded. The companies will now be run by a new and diverse generation of extraordinary executives who are moving the culture and consciousness forward. I will convert the studio for yogic science into a not-for-profit center of learning and healing. As for me, I will step aside and commit myself to continuing my personal growth, spiritual learning and above all to listening.
If the mentions of "yogic science" and "spiritual learning" are novel in the recent wave of apologies from powerful men, the piety is familiar. Harvey Weinstein's initial response to sexual-assault accusations, after all, included a mention of wanting to fight for gun control. It also chalked up his behavior to being raised in an old, chauvinistic "culture," a notion that is relevant in Simmons's case as well.
Simmons is associated with two things in the public mind: the drive, grit, and party-hard lifestyle that accompanied the rise of hip-hop, and his newer public idealism involving spirituality, veganism, charity, and progressive politics. But Khalighi and Lumet clearly saw something false, worryingly so, in the narrative Simmons had been peddling. His supposed commitment to the #MeToo movement already was revealed to have its limits when he told the actor Terry Crews to give "a pass" to an agent Crews accused of groping him. Now Simmons joins the growing list of men who have taken high-minded stances in public only to be accused of doing monstrous things in private.
Some Simmons supporters might respond to the allegations against him by saying that he is not the man he was in the '90s. But even before these women came forward, Simmons cheerfully stood as an example of how publicly performed "consciousness" can fail to extend to matters of the flesh. For a 2012 Forbes profile that touched on his womanizing ways, he said, "It was the last problem for Lord Buddha before enlightenment. I go to the classes, but I'm still looking at asses." The Los Angeles Times article about Khalighi highlighted a passage in his 2014 book Success Through Stillness that said he'd transcended his former identity as a man "constantly on a mission to make more money, have sex with more women, and snort more coke than the next man." But, Russell had added, he was "still working on the women part."