The Old Taylor Swift Is Hiding Within Reputation
The singer's hugely anticipated new album nestles moments of lovelorn bliss among chaos, noise, and trend chasing.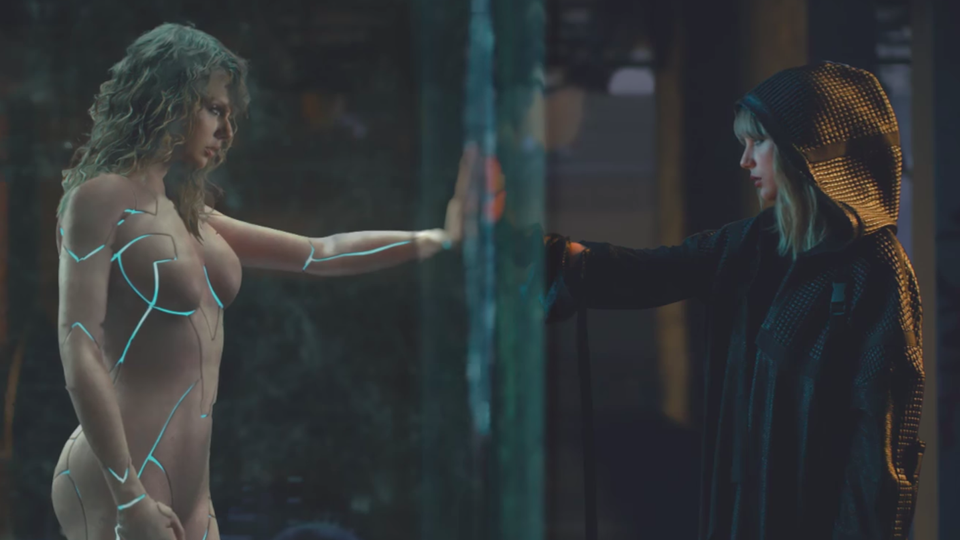 Despite what she said, the old Taylor Swift isn't quite dead. After eight songs of confrontation and angst, Reputation's "Getaway Car" arrives like a savior: the one true tune to hum misty-eyed after the movies. It's got that 1989 synth glimmer, that Red melodic coziness, that Speak Now full-heart emotion. There are even such famous Swift tics as stories about driving and easy poetry about colors.
Other moments of sweet, transporting effervescence do exist on Swift's long-awaited new album, but they are hidden throughout a dark and clanging landscape. Think of them as jewels in a dagger hilt, or to borrow from one of Swift's favorite clichés, roses hidden amid thorns. One such moment is the creamy chorus of the flinty album opener "...Ready for It?" Another is the part of "End Game" that won't crack up first-time listeners as she imitates a rapper at a strip club. Another is when a rare acoustic guitar rescues the mess of "King of My Heart," featuring the all-time groaner "you move to me like I'm a Motown beat."
By squirreling away some romance and serenity amid chaos and noise, the music fits the story Swift wants to tell. Reputation is 1989's "I Know Places" writ large: a portrait of someone shutting out the world's cruelty and finding refuge in love, as enacted in darkly lit bars, wine-spiked bathtubs, and zippy cars. Banishing any lingering impression of her notorious surprise face as a sign of naiveté, she unapologetically hops on recent, bleary-eyed pop fads even as she delivers her most personal lyrics to date. It's hard to love Reputation as unreservedly as any of her previous work, but listeners looking for a catharsis party will get one.
Swift's public narrative in the years since her bank-busting 2014 synthpop reboot has been so over-discussed that it feels silly to recap it. But understanding Reputation means understanding that Swift reached a point where the inevitable backlash to acclaim and ubiquity became too much for her to stand. She's been on interview blackout for 18 months, and her first Reputation single, "Look What You Made Me Do," seemed to signal that she would no longer be shaking off her haters with a pageant winner's poise. Rather, she'd be laughing at them and with them, dressing up as villain to move past playing the victim.
More significant, though, is the musical shift. She and her team have mostly done away with the clean lines and stiff beats of 1989 for busier songs of syncopation and loud clashes of trendy production elements. It's the classic white pop-star trick of swiping from hip-hop to signal danger and capture dollars, executed with a network-sitcom's flair for big grins at any expense.
The opening four songs, in particular, feel like an onslaught: of musical aggression, lyrical dishiness, and perhaps most disconcertingly, resemblance to other hits. The Rihanna vibes are strong on "...Ready for It?" and "End Game," the latter of which is maddeningly catchy and features Future, Ed Sheeran, and Swift rapping over a cousin of the "Umbrella" beat. The warzone bombast of "I Did Something Bad" could be a Skrillex collaboration from 2013, and the portentous electro-blues of "Don't Blame Me" deserves a writing credit from Imagine Dragons.
Things calm down a bit for "Delicate," though the tropical-house beat and Bon Iver voicebox certainly don't return her to the campfire zone. As fragile in tone as its title would suggest, the song is a nice example of how Swift maintains her identity even while hoovering up others' sounds. She sings of new infatuation through the lens of self-awareness, and the surprisingly poignant revelation is that she's found someone (presumably current flame Joe Alwyn) who's not as obsessed with her image as she and the outside world are. Her old shtick of lusting over clothing and one preferred eye color are here, too: "Dark jeans and your Nikes, look at you / Oh damn, never seen that color blue."
Swift worked with Max Martin's smash-hit Swedish squad as well as the suddenly omnipresent anthem expert Jack Antonoff, and in the absence of singer-songwriter simplicity there is a lot of gloriously artificial pop trickery. On "Delicate," the best part of the hook is when a high, ghostly voice echoes the song title back to her. "So It Goes… " zestily seasons its post-Weeknd mush with an excited yelp in the chorus. The bizarre joining of violin and Right Said Fred for "Look What You Made Me Do" increasingly sounds like bravery. And "This Is Why We Can't Have Nice Things" barrels past all stigmas against obnoxiousness with its kindergarten-singalong cadence. In that song's bridge, Swift laughs at the idea of forgiving her rivals, providing the album's gossip-blog money shot.
My on-repeat track as of now is "Call It What You Want," which most clearly states the album's theme of cuddling during controversy. The syllabic pileup of the chorus is like a lost Nelly hit, the frigid verses sound like Kanye West's 808s & Heartbreaks, and the lyrics are pure Swift, gaga over a boyfriend who's "high above the whole scene." The odd thing about Reputation is that it similarly claims to be high above the scene—while, unrelentingly, playing to it with tabloid tidbits and sounds that are already popular. This is, naturally, what's good about the album, too. Swift may say she's done sweating her reputation, but she's still fulfilling the No. 1 public expectation placed on her: to entertain.