Remembering Roy Halladay, Baseball's Steady Marvel
Few pitchers were more committed to the daily work of the sport—and more present in the moment—than the eight-time All-Star who died at age 40.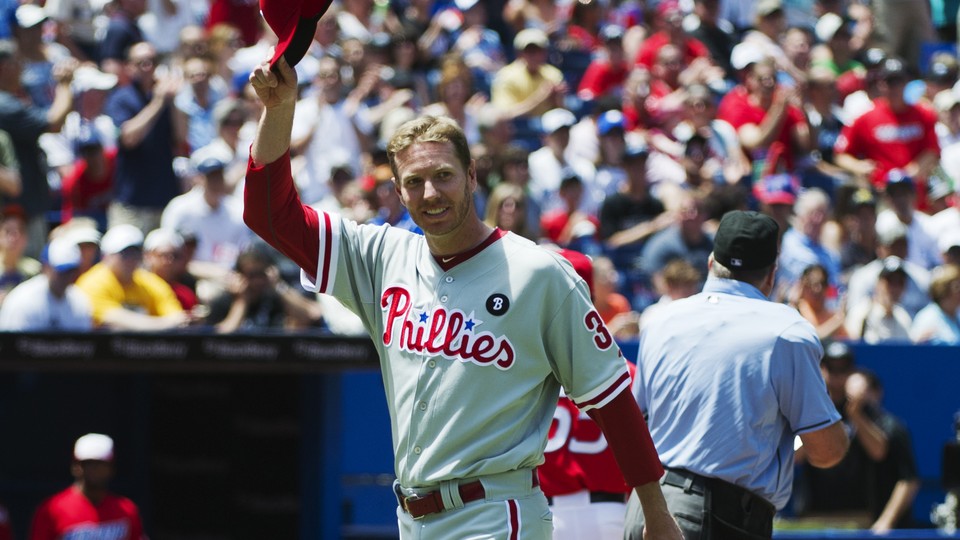 Because of its uniquely frustrating nature, and because it is played every day, no game is better than baseball at displaying persistence—the willingness to try a difficult task again and again. Roy Halladay, who died Tuesday afternoon at the age of 40 when his single-engine plane crashed into the Gulf of Mexico, was perhaps the most persistent player of his era.
In sum, Halladay's career looks like that of a born savant: 203 wins against 105 losses, a 3.38 earned run average (2.97 over one sublime 10-season stretch), eight All-Star selections, and two Cy Young Awards, all accomplished during a muscled-up era when hitters achieved unprecedented success. For a significant portion of his 16-year run with the Toronto Blue Jays and Philadelphia Phillies, between 1998 and 2013, Halladay was the most feared pitcher in the game. He could make the ball end up wherever he wanted, and make it move however he wanted on the way there.
On the mound, though, he could not have looked less like the virtuoso at ease. It took only a glimpse to know that Halladay was a worker above all else, that his success was no mere unspooling of innate talent. His manipulation of the baseball impressed—fastballs cutting or tailing, curveballs dipping subtly or biting hard—and he had a classic pitcher's build, but his core gift was for focusing on the moment-by-moment labor of tallying outs. He wore a stoic expression and used a simple, repeatable delivery; he rarely celebrated or complained. He was the competitive ideal, a player who offered only his best, whatever the circumstance.
Halladay had been a first-round pick of the Blue Jays, but his true starting point came when, after a disastrous second season and subsequent demotion to the minor leagues in 2001, his wife Brandy bought him the book The Mental ABC's of Pitching, by the mental-skills coach Harvey Dorfman. Halladay adopted the book's tenets of simplicity and concentration and, in 2002, met Dorfman himself, initiating what would become a longstanding relationship. "That's when I saw the biggest difference," Halladay told Sports Illustrated in 2010. "The first part was trying to rebuild that confidence, having a positive mentality. The second part was to simplify things. Sometimes you get caught up in the big picture—the seven innings, the three runs or less, who you're facing—and you get away from what makes you successful, which is executing pitches."
Dorfman's effect was immediate and lasting. Halladay made his first All-Star team in 2002; the next season produced his first Cy Young. He became who he would remain for the following decade: a source of rare skill and even rarer dependability, with a mental approach to match his already famous workout habits. Four times over his career, he led the majors in complete games. Twice, he led it in shutouts.
It is somehow fitting that Halladay spent 12 of his 16 years in Toronto, playing for an overmatched team rarely featured on American networks. The Blue Jays served as perennial punching bags for their better-stocked division rivals, the New York Yankees and Boston Red Sox, but even as they fell short of the playoffs time and again, their star pitcher held to his habits. His steady brilliance didn't require bright lights, and the lack of postseason opportunities did not diminish it. "It was a tougher road than I wanted to take, but there's no question it worked out for the best for me," Halladay said after that first Cy Young win. "It's really made this a lot better and a lot more rewarding."
When Halladay was traded to the Phillies prior to the 2010 season, he joined a team that had been to three straight postseasons and back-to-back World Series appearances. If there were questions about his ability to sustain his success amid the pressures of championship contention, he answered them ably. In May of that year, Halladay pitched the 20th perfect game in Major League Baseball history; in October, during a playoff game against the Cincinnati Reds, he threw only the second postseason no-hitter. He won his second Cy Young seven years after his first, tied for the longest such gap ever. Characteristically, he was most pleased with the longevity this feat evinced: "To be able to do it again after so long means a lot to me."
Halladay never did reach the World Series in Philadelphia, but his reputation within the sport was already long secured. "Roy Halladay was your favorite player's favorite player," tweeted the Dodgers pitcher Brandon McCarthy after the news of Halladay's death spread, summing up a widespread sentiment. Though memories of personal kindness and off-the-field generosity surely account for a good portion of that standing, another part is confined to what he did between the lines. Players know better than anyone else how much their sport asks of them, every day, and in Halladay, they saw someone who always had the answer.