On Thanksgiving, the NFL Faces a Collision of Crises
Turkey Day usually represents a late-season reset for pro football, but myriad controversies portend a more serious tone this year.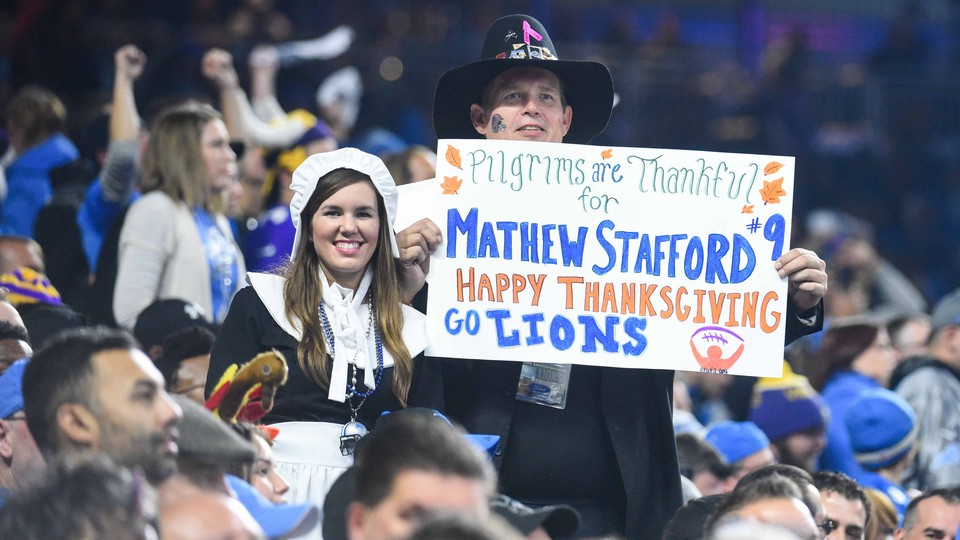 The National Football League's tradition of playing on Thanksgiving Day is also its oldest. Back in 1920, the year the league was founded, 12 proto-football teams squared off in six Turkey Day matchups. Since then, the NFL has hosted Thanksgiving games in every year but four—all during World War II—with the Dallas Cowboys and Detroit Lions emerging as annual hosts and other teams rotating through to play in front of a tryptophan-tripping, football-mad nation.
And as the NFL has ballooned into the most popular professional sports league in North America, its Thanksgiving custom has grown as well, adding pyrotechnics and halftime shows to impress massive TV audiences. Aside from the Super Bowl, no celebration better represents the NFL's largesse, cultural might, spectacle, and promise of escapism than Thanksgiving—the league's entire self-image, shrunken down to one day.
This Thanksgiving, however, the NFL faces a cornucopia of crises, from backlash over player protests to allegations of collusion to rising concerns over head injuries to sliding TV viewership. Fans fret over the league's quality of play and sponsors bemoan sagging ratings. Players decry racism in and out of football, while owners fear how such expression will affect their bottom lines. At times this fall, the games themselves have wound up smothered by one cacophonous controversy after another. This has been the NFL's most tumultuous season in recent memory and the first time in at least a generation the league's problems have seemed to overwhelm its product.
The top storyline in the NFL this season has not been Tom Brady's continued excellence or Carson Wentz's timely emergence or the surprising Rams and Jaguars. It has instead been the dozens of players across the league who have knelt, sat, or raised their fists during the national anthem in protest of police brutality and racial injustice. The demonstrations have prompted anger and admonishment from Donald Trump and backlash from fans who view such acts as disrespectful to America's flag and military.
And although player activism has slowed in recent weeks, its specter continues to hover. Take the Detroit Lions, who will kick off Thursday's Thanksgiving slate by hosting the Minnesota Vikings. In September, eight Detroit players knelt in protest days after Trump said NFL owners should fire "son of a bitch" athletes who disrespect the flag. The kneeling Lions drew not just boos from their own fans but also angry letters, prompting the team's owner Martha Ford to request they stand during future anthems. The players all eventually complied, though the running back Ameer Abdullah resumed protesting weeks later by raising a fist before his team's game at Green Bay earlier this month.
This Thursday, hours after Abdullah and his Lions teammates do or do not protest, the New York Giants defensive end Olivier Vernon will, in all likelihood, kneel before taking on Washington on the road. Vernon has knelt each week since September, despite the Giants owner John Mara's plea that all players stand. "What it would take for me to stand is if people can understand what the whole message is behind it," Vernon told Newsday last week. "But everybody doesn't see things that way and tries to distort what the message was from the beginning, which is basically social injustice on African Americans and police brutality."
The former San Francisco 49ers quarterback Colin Kaepernick will not be anywhere near Thursday's action, as he remains unsigned after initiating the wave of protests last fall, but his name will echo through living rooms every time, say, the Vikings quarterback Case Keenum throws an incomplete pass. Why, Kaepernick's defenders will wonder, do retreads like Keenum continue to receive opportunities while a former NFC-champion quarterback sits at home? That Keenum is enjoying a surprisingly productive season will seem beside the point. To many observers, poor quarterback play around the league serves as a weekly reminder of the alleged blackballing of Kaepernick.
Meanwhile, no one will loom over the NFL's Thanksgiving more than the Cowboys owner Jerry Jones, who has spent this fall sowing chaos on numerous fronts. Some owners have either accommodated or compromised with protesting players, but Jones issued an ultimatum: Stand during the anthem or be benched. ESPN revealed he has also pushed hard for the NFL at large to adopt a similar mandate, sparking a power struggle among league owners. When the Papa John's CEO John Schnatter recently blamed players' protests for his company's declining revenues, some owners reportedly wondered whether Jones (who owns more than 100 of the chain's franchises) had masterminded the comments.
As the protest issue simmers, Jones has feuded with the NFL commissioner Roger Goodell over Ezekiel Elliott's suspension, which the running back began serving last week after months of injunction requests and appeals. ESPN reported that a furious Jones told Goodell he would "come after [him] with everything I have," then later threatened to sue the league to hold up the commissioner's contract negotiations.
On Thursday afternoon, Jones's Cowboys will play the Los Angeles Chargers, who face a crisis of the existential variety. The franchise relocated this past summer from San Diego, a year after the Rams arrived in L.A. from St. Louis. From the day they showed up, the Chargers have received only tepid support from Angelenos, struggling to sell out even the puny 27,000-seat, soccer-specific stadium they are using until their new (much larger) home is completed in three years.
But, to the NFL, all of these issues pale next to one chief concern: TV ratings. The league has long sold itself as a bulletproof property in this area, and the prevailing wisdom always held that even if changing tastes, proliferation of options, and rampant cord-cutting chipped away at ratings for other kinds of programming, Americans would never give up their football. But for the second consecutive year, viewership is down, suggesting the league is no longer immune to the industry's broader trends. Whether the decline owes to backlash over player protests, quality of play, or over-saturation, the league seems vulnerable in a way it hasn't in decades.
In the NFL's ideal world, every fan would sit through Thursday's games while focused on nothing but football. The day's slate would offer an escape from the messy outside world. But this year, viewers will be faced with Jones's feud with Goodell and the players' ongoing protests, with Kaepernick's absence and the league's lagging ratings, with the rash of injuries to star players that will, for example, keep the Giants receiver Odell Beckham Jr. away from the field, and with the repetitive brain trauma these athletes will have invariably suffered (and continue to suffer) as part of their jobs.
As usual, Thanksgiving will showcase much of what the NFL is all about. This year, for once, that reality will work against them.