Mavis Staples's Revolution of Compassion
If All I Was Was Black, the soul legend's third album with Jeff Tweedy, is a world-wise call for empathy and change.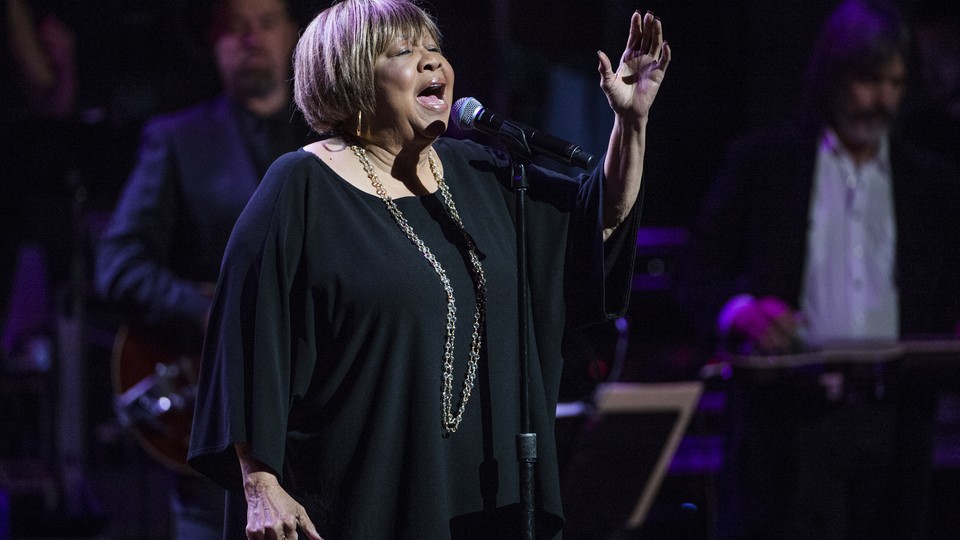 In 1972, the Staple Singers lodged themselves at No. 1 on the Billboard charts and cemented their place in soul history by singing of a place where nobody's crying, nobody's worrying, and nobody's "lying to the races." "I'll take you there," Mavis Staples and her family promised. As neatly as could be, the song distilled gospel and soul's deepest yearning: for deliverance.
Over the last 45 years, Mavis Staples has never stopped singing about the dream of a better world, nor has she ignored the political reality that makes such a dream necessary. Her third album with Wilco's Jeff Tweedy, the nourishing and nuanced If All I Was Was Black, arrives with a retelling from her label about her experiences with prejudice in the '60s and her participation in the civil-rights movement. "Nothing has changed," Staples said this year. "We are still in it."
Staples's first album with Tweedy, 2010's You Are Not Alone, won a Grammy and wide acclaim with a rich, enveloping take on the classic sounds that have long accompanied Staples's husky and nimble voice. If All I Was Was Black, the first Staples album written as well as produced by Tweedy (and recorded with players from the Wilco extended family), is a more mysterious, rock-rooted work that sees Tweedy balancing his traditionalism and experimentalism and Staples her inspirational and realist sides. Where you'd expect the songs to explode in gospel-glory climaxes, he and Staples often pull back, setting off sparklers rather than sky fire. It's a technique that, perhaps, reflects the unfinished nature of the political project Staples sings about.
On the opener "Little Bit," Tweedy lays down a sawing, steady arrangement, mimicking a tight predicament Staples sings about: "Do what you're told / gotta keep your eyes wide on this long, narrow road." The guitar bursts out in high, sorrowful wails and dips into low, pensive ruts, but always returns to the groove. One verse tells of a boy who was shot, ostensibly for not having his license, and Staples doesn't have to mention his race for the social context to be clear.
The title track is yet more direct. Staples gives the impression of smiling and shaking her head at being reduced to a skin color, and not only because of the pure injustice of it but also because of what racism denies to all parties. "You might look past all the love I give," she sings. Throughout the album, indeed, Staples meets rivals with affection. "We Go High," a contribution to the growing number of songs inspired by Michelle Obama's 2016 speech at the Democratic National Convention, feels all too jarring in the context of the hostile national discourse: "When they tell their lies / Spread around rumors / I know they're still human." She delivers the line with a quiver, as if reciting a devotional.
Such moments of generosity bolster her already formidable authority on a song like "Build a Bridge," in which she gently explains to a skeptic why "Black Lives Matter" needs to be said. Her willingness to engage with the other side also makes her all the more convincing when she extends comfort to the listener, as on "Ain't No Doubt About It," a breezy duet with Tweedy. It almost feels like a children's song, but her advice is clearly earned from—and applicable to—a long life: "Every time I get worried / When I don't know what to do / I think of all the things I've worried about / How few of them ever came true."
The singer directs her love and criticism inward, too. It's odd to hear a woman as venerated as Staples say there is "evil" within her, as she does on "Try Harder," but that's why the message connects. That song is one of her and Tweedy's most full-throated attempts at a new rally standard, with his distorted guitar purring and growling as Staples insists, over and over, that everyone push themselves to greater righteousness. The raw muscle of that track clears a path for the vulnerability of the album's closer, "All Over Again." On it, Tweedy's meditative acoustic playing defers to an outstandingly textured performance by Staples. "I'd do it all over again," she sings, but lest anyone worry she's writing her career's endnote, she also assures, "I ain't done yet."
Soul is naturally a sound of spiritual care, but Staples, right now, is more interested in concrete action. The "I'll Take You There" ideal of banishing tears shows up on the fidgety, rousing "No Time for Crying," but here it's an admonishment. When "people are dyin' / bullets are flying," she suggests, mourning isn't the priority—making progress is. "We've got work to do," she sings, and this album shows her leading by example.