The Ghost of Matt Lauer
Why the departure of the longtime Today show host—who was abruptly fired by NBC after an allegation of sexual impropriety—represents much more than a casting change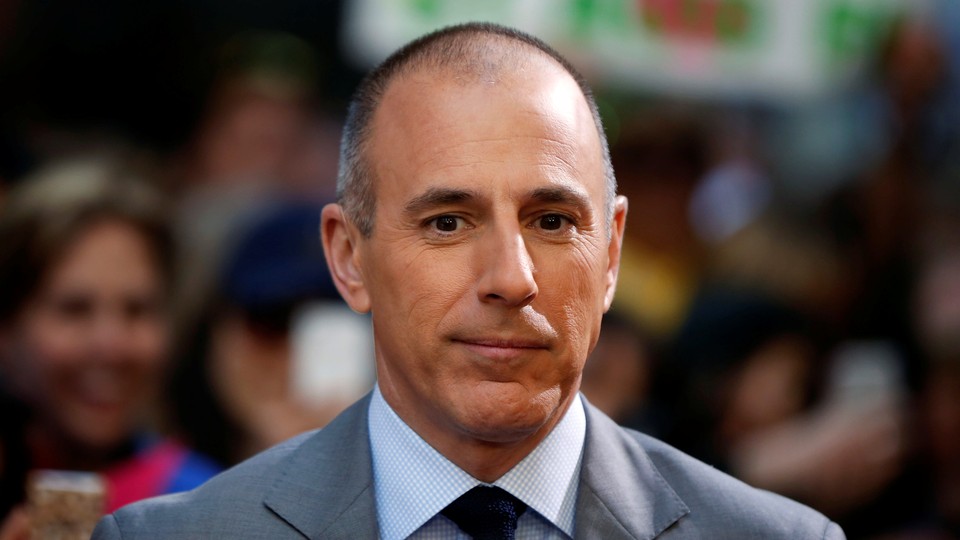 "We just learned this moments ago, just this morning. As I'm sure you can imagine, we are devastated and we are still processing all of this."
That was Savannah Guthrie, co-host of NBC's Today show, informing viewers on Wednesday morning that Matt Lauer—her co-host, and a mainstay of morning television since 1994—had just been fired for an allegation of sexual misconduct that had been brought against him by a colleague. Guthrie had, seemingly, just heard the news. "I will tell you right now we do not know more than what I just shared with you," she continued, sitting next to Hoda Kotb, who had been rushed in as an emergency co-host for the segment in Lauer's absence. (The two women, at the outset, had briefly grasped each other's hands.) "But we will be covering this story as reporters, as journalists. I'm sure we will be learning more details in the hours and days to come and we promise we will share that with you."
The firing was striking—and also misleading—in its swiftness. NBC, according to a memo sent to staff by Andrew Lack, the chairman of NBC News, learned of an allegation of sexual impropriety against Lauer on Monday evening—one that "represented," Lack wrote, "a clear violation of our company's standards." He added that "this may not have been an isolated incident." (Indeed: The New York Times seems to also have been reporting on the story, CNN's Brian Stelter suggested. And Variety, one of its reporters, Elizabeth Wagmeister, noted on Twitter, had been working on a story on Lauer's accusers "for months," a story of which NBC, she said, was aware. "There are multiple women we've spoken to with far-ranging accusations against Lauer.") Lauer had in 2016 signed a reportedly $20 million-a-year contract that would have kept him with the show at least into 2018. That high number was a nod to his reputation as "the franchise" at the Today show: an institution, essentially, unto himself. In a September interview with Bill O'Reilly, just after the latter was fired from Fox News for harassment, Lauer noted, now ominously: "You were probably the last guy in the world that they wanted to fire, because you were the guy that the ratings and the revenues were built on."
But the speed of the dismissal—the unceremonious nature of it—was also deeply unsurprising: NBC News, after all, has also been accused of knowing about the Access Hollywood tape featuring Donald Trump bragging about assaulting women (the same one whose validity the president is now questioning) long before its existence was revealed by The Washington Post in 2016. And it has more recently been criticized, justifiably, for its failure to do more to support its reporter Ronan Farrow's work revealing the behavior of Harvey Weinstein. (Farrow ultimately took his reporting to The New Yorker, where it has been instrumental in bringing about the very "Weinstein effect" that seems to have felled Lauer.) Earlier this month, Matt Zimmerman—a Today show producer who had worked with and been championed by Lauer—was dismissed from the show for inappropriate conduct with multiple women.
And, so, while Lauer's absence from the Today show set on Wednesday morning, as Guthrie and Kotb spoke of their suddenly former colleague, was pragmatic—of course he wasn't there—it was also more broadly symbolic. Lauer's imposed invisibility, and the stunned and sad colleagues that remained in his absence, made a tidy metaphor for a world in which one's public persona—Lauer, friendly and game and happy to be there with all the women—must generally reconcile with the private person. And for, more immediately, the confusion and betrayal, among family members and colleagues and friends, that so often accompany allegations of impropriety. Here were two women, holding hands, publicly processing—processing is a word that Today show talent used repeatedly Wednesday morning—before their millions of viewers. There was a funereal quality to the segment: morning show meets mourning show.
"This is a sad morning here at Today and at NBC News," Guthrie said. "I'm heartbroken for Matt. He is my dear, dear friend and my partner."
Kotb noted, of Lauer, that she "loved him as a friend and as a colleague." She added: "It's hard to reconcile what we are hearing with the man who we know who walks in this building every single day."
"Dealing with the news of our friend of 30 years, and we're all trying to process it," Al Roker said. He added: "We'll deal with it along with you folks, as well."
It was striking, but also fitting. Morning shows, mixing as they do news segments and craft segments and food segments and fashion segments—and live-music performances, and hard-hitting interviews, and comically large goblets of morningwine—are sometimes criticized as vapid. In their self-conscious mix of content, though, they, more than any other news-show format, try to mimic life in all its dimensions: a little of the serious, a little of the silly. They promise whimsy. They promise sobriety. Mostly, though, they promise family. There are its hosts, together, day after day, starting the day—getting through the day—together. Savannah, Hoda, Al, Matt. Norah, Gayle, Charlie. Robin, Michael, Lara, George. First names. Big personalities. Small intimacies. News, yes, but not just news. Life. Fun. We'll get through this day together, the shows promise. We're in this together. We're a family. And that's what families do.
So while morning shows technically have "casts," it's the idea of the family that defines them in their content and their aesthetic. And the Today show gang, in particular, emphasized that idea. They drank their morningwine together. They dressed up in whimsical group costumes on Halloween. (Lauer, who has previously dressed as Jennifer Lopez, C. J. Parker from Baywatch, and Lucy Van Pelt from Peanuts, this year went as Dolly Parton. Guthrie, meanwhile—family, after all—was Kenny Rogers, Kotb was Blake Shelton, Roker was Willie Nelson, Kathie Lee Gifford was Miley Cyrus, Carson Daly was Billy Ray Cyrus, and Megyn Kelly—now of Megyn Kelly Today, but still a member of the family—was Shania Twain.) And so, millions of Americans have started their workdays with the Today show family because the Today show family purported to be an extension of their own. Together, come what may.
Except. In the space of less than two weeks, America's morning-show landscape has lost not just one but two of its main members. First Charlie Rose—Charlie—on CBS This Morning. And now Matt. It's the right kind of loss; it's also an especially visible one, even, and especially, in its absence. So many of the firings and dismissals that have taken place as a result of the "Weinstein effect," after all, have led to absences that have manifested, for the most part, behind the scenes: producers, directors, journalists. They have been people, as the writer Rebecca Traister pointed out, who have had a powerful effect on Hollywood, on Washington, on the media, on the American public's sense of the world and its workings. But their removal hasn't always been—this is how systems work—so starkly evident.
On Wednesday morning, though, where Matt Lauer would typically be sitting next to Guthrie, all goofy smiles and easy affability and untold secrets—he was gone. The secret was out. The star had fallen. Lauer's co-hosts were left to do, on live TV, the work that so many of their fellow colleagues, in places across America, have been doing, over the past two months: processing, out loud. Grieving, in public. Being shocked at a man who had held himself as paragon and was revealed to be anything but. On Wednesday, then, the Today show, still true to its brand, was acting as a kind of family. Its members, this time around, were shaking their heads, holding back tears, and telling their viewers that, somehow, today as every other, we'll get through this together.