Marvel Studios' Biggest Gamble Yet
The trailer for Avengers: Infinity War promises a movie with real stakes—and a story that will begin to say goodbye to a generation of beloved superheroes.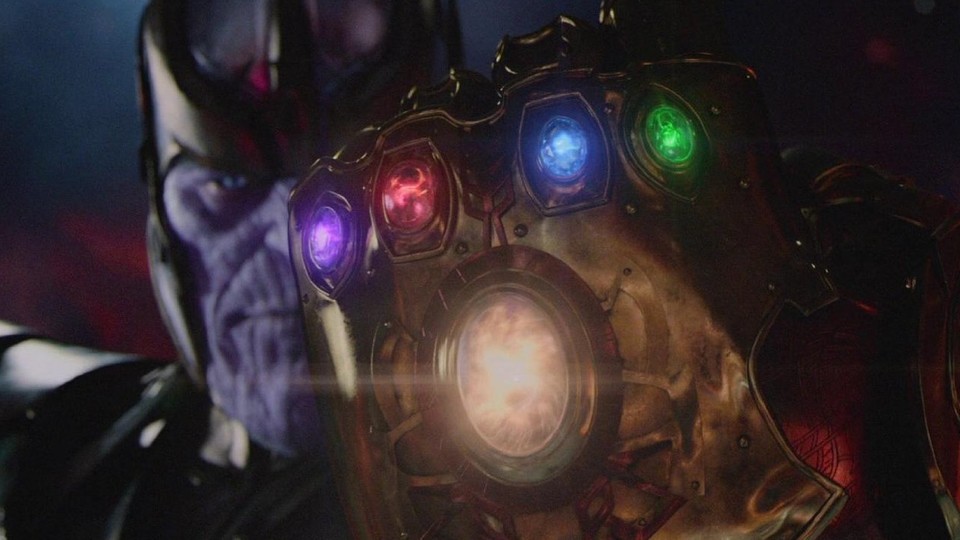 When the Marvel Studios president Kevin Feige stood up in front of a crowd in 2014 and announced the company's film plans for the next five years, he was aiming for a show of commercial force while reassuring fans there was a strictly plotted path ahead. They would get an Avengers 3 in 2018 and an Avengers 4 in 2019. There'd also be a Black Panther movie and a Captain Marvel movie, and plenty of other sequels. (You can watch the presentation and hear fans screaming at the very notion of more Avengers.) But the unwitting side effect of all these projects was the loss of narrative stakes. With the franchise guaranteed to roll along for years to come, how could any truly surprising stories be told in the interim?
After all, Captain America: Civil War—the 2016 extravaganza that pitted Marvel's biggest heroes (Iron Man and Captain America) against each other in a grand battle—felt oddly weightless. Audiences knew both characters would live to scrap (and, probably, repair their friendship) in future Avengers movies. But on Wednesday, the trailer debuted for Avengers: Infinity War, in theaters next May, promising a more cataclysmic showdown between Marvel's ever-expanding stable of stars and the massive, purple-skinned menace Thanos (Josh Brolin). There will be big set pieces, alliances forged and shattered, alien portals in the sky, all the usual stuff. But the trailer also offered the latest hint of something unheard of until recently: an ending.
This week, Vanity Fair featured an in-depth story on the Marvel universe written by Joanna Robinson. The piece acknowledged that the dozens of stars who had gathered for the studio's huge 10th anniversary photo shoot might not see each other again. "We're all aware that this is going to be the last time we get to hang out like this," Chris Hemsworth (who plays Thor) remarked. "I feel a lot of joy for the next generation," Scarlett Johansson (who plays Black Widow) said. "It's a bittersweet feeling, but a positive one."
Most importantly, Feige himself also promised a genuine conclusion was on the way. Avengers 4, he told Robinson, will "bring things you've never seen in superhero films: a finale." Of course, that doesn't mean the immensely profitable Marvel Cinematic Universe is going to close up shop—future movies will likely revolve around newer heroes like Black Panther (Chadwick Boseman) and Captain Marvel (Brie Larson). But the still-untitled Avengers 4, due out one year after Infinity War and presumably concluding its grand Thanos arc, may well do what previous Marvel movies have refused to: kill off some major characters, and not spend large chunks of story time setting up the next conflict.
So, who will die? The trailer offers only teases rather than actual clues. Feige has described Infinity War as a colossal sort of heist film, as Thanos gathers the "Infinity Gems" he needs to conquer the universe. These glowing gewgaws have served some plot function in many a Marvel movie, but they're more like metaphors for the disparate story strands that Feige and his screenwriters have woven into the larger franchise. In Infinity War, fans will thrill at the sight of all the company's big names meeting, from the spacefaring Guardians of the Galaxy to the teenaged Spider-Man (Tom Holland), whose rights were acquired in a complex power-sharing agreement with Sony.
In releasing a film series (with 20-plus titles) that generates consistent box-office returns, Marvel has pulled off something other studios could only dream of. Now it's preparing to say goodbye to some of the biggest brand-name actors. Robert Downey Jr. and Chris Evans, in particular, have grown prohibitively expensive even by Marvel standards, and both have signaled a desire to retire from their roles. Though the move might sound risky for Marvel, it's just further evidence of the studio's confidence in its future plans. Avengers: Infinity War will have lots of impressive-looking fights between cosmic villains and muscle-bound heroes. But it's what comes next—and what doesn't—that'll be truly interesting.