Louis C.K. and Abuse of Power in the Comedy World
As reports of sexual misconduct by the influential comic emerge, the industry will have to grapple with what many have called an open secret.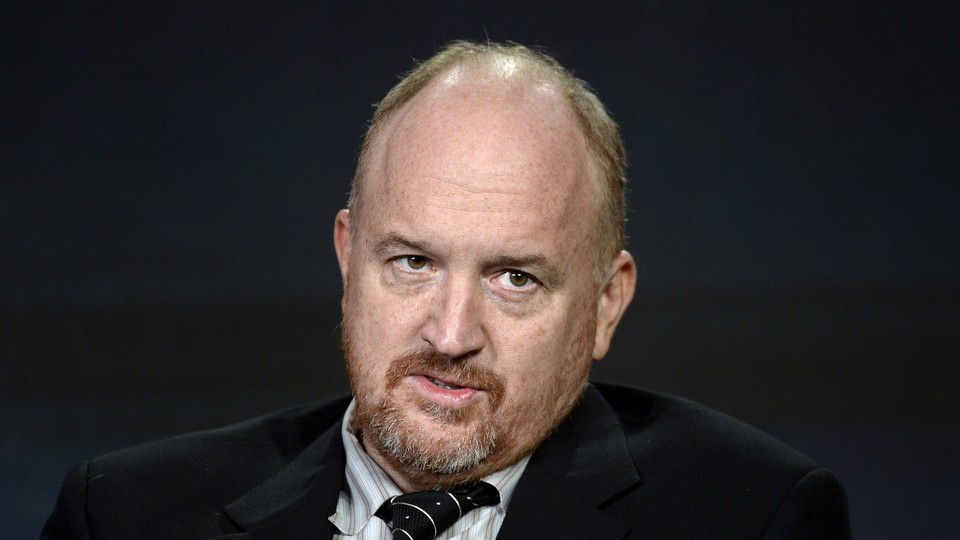 The behavior described by various comedians in The New York Times's story on Louis C.K.'s alleged history of sexual misconduct is largely consistent: C.K. would find a way to get women alone in a room, and then masturbate in front of them. Just as disturbing, however, is the pattern of what the comedians said came next: Male comedians would ignore or avoid the story when they heard it, and the reactions from people within the industry seemed to reinforce a single message—that women who went public would jeopardize any chance of career advancement.
"Guys were backing away from us," said Julia Wolov, a comedian who charged that C.K. masturbated in front of her and her comedy partner Dana Min Goodman after a stand-up show in 2002. "[After 24 hours] we could already feel the backlash." The women who spoke to the Times said that C.K.'s manager, Dave Becky—one of the most powerful men in the comedy business, who also works with other famous performers like Aziz Ansari, Kevin Hart, and Amy Poehler—was upset that they were openly talking about the incident (Becky denied making any threats). The alleged encounter was scarring: two young women watching, paralyzed, as an older man stripped naked in front of them and masturbated. And yet, Wolov and Goodman said, they were the ones who saw their careers harmed, while C.K. continued his rise to global fame. When they later moved to Los Angeles, they "were coming [there] with a bunch of enemies," Goodman said.
The incident Goodman and Wolov recounted first surfaced in a Gawker blind item in 2012 that many quickly guessed was referring to C.K. The Gawker reporter Jordan Sargent followed up on the story in 2015 after talking to someone who had spoken to the comedian on the phone about the allegations. The Times story, however, is the first to get some of C.K.'s accusers on the record. The article comes at a particularly sensitive moment, not just because of the ongoing wave of sexual-harassment and assault revelations in Hollywood that began with Harvey Weinstein. C.K. also has a new film that he wrote and directed called I Love You, Daddy, which explores the moral quandaries of admiring a celebrity who has been accused of child molestation.
The film, which screened at the Toronto International Film Festival, is due out on November 17, though its premiere was reportedly canceled in anticipation of the Times story. I Love You, Daddy stars C.K. as the father of a 17-year-old girl (played by Chloë Grace Moretz) whom he suspects of having a romantic relationship with a 68-year-old director accused of pedophilia (played by John Malkovich). In the film, Malkovich's character more resembles Woody Allen than C.K. himself in reputation. Still, it's an opportunity for C.K. to poke at questions of public image vs. private behavior, as well as the notion of consent and how freely it can be given by an underaged woman.
The Times story chronicles several situations in which C.K. reportedly exposed himself and made lewd suggestions to fellow comedians. Abby Schachner, a writer and performer, called C.K. and invited him to attend her comedy show in 2003; while on the phone, she said, he told her his sexual fantasies and masturbated for several minutes. Schachner recalled that, six years later, C.K. sent her an apologetic Facebook message that read, "Last time I talked to you ended in a sordid fashion. … That was a bad time in my life and I'm sorry."
The comedian Rebecca Corry, who was working with C.K. on a television pilot in 2005, described him asking to masturbate in front of her. When she declined, also mentioning that he had a daughter and a pregnant wife, his face "got red" and "he told me he had issues," she told the Times. Ten years later, Corry added, he emailed saying he owed her a "very very very late apology," but when he called, he apologized instead for "shoving her in a bathroom." Corry said that when she mentioned the masturbation, C.K. acknowledged the incident, saying, "I used to misread people back then."
Along with Wolov and Goodman, who described C.K. suddenly taking off his clothes and masturbating to completion in front of them, an anonymous production worker on The Chris Rock Show (for which C.K. wrote in the 1990s) told the Times that he masturbated in front of her at his desk chair during a workday. "I think the big piece of why I said yes was because of the culture," she said. "He abused his power."
"He abused his power" is the refrain that bubbles up over and over again with so many of these stories. But the accusers who come forward have also often described how perpetrators seemed to know they were protected by their fame and by their close associations with other powerful men in Hollywood. If true, C.K.'s flimsy attempts at apology and references to "issues" in the past would show just how little he has personally reckoned with his behavior, even as he went on to make art (such as I Love You, Daddy, his stand-up routines, and his FX show Louie) that alluded to masturbatory compulsions and an inability to take "no" for an answer from women.
More broadly, the C.K. allegations point to a narrative that is reverberating throughout Hollywood as accusations about sexual misbehavior and assault keep emerging—a narrative that is about power consolidated among a select few, usually white men, many of whom may have placed a higher value on their friendship with suspected abusers than on protecting or listening to those who came forward. And it's one that the comedy world will need to grapple with in the days and weeks to come.
In the immediate wake of the Times story, the fate of C.K.'s upcoming film is unclear. I Love You, Daddy's distributor, The Orchard, said in a statement released Thursday that it would "give careful consideration to the timing and release of the film," adding, "There is never a place for the behavior detailed in these allegations." C.K.'s publicist Lewis Kay told the Times, "Louis is not going to answer any questions"—a silence that C.K. had maintained whenever he'd been asked about the Gawker blind item by various interviewers. But the Times story lays bare what many in the comedy community might have called an open secret, and should prompt a real reckoning over how that community regularly silences and fails the people who have been subjected to harassment.