Remembering Lil Peep
The rapper—who died at the age of 21—fused hip-hop, emo, and a magnetic persona that earned him legions of fans in a short time.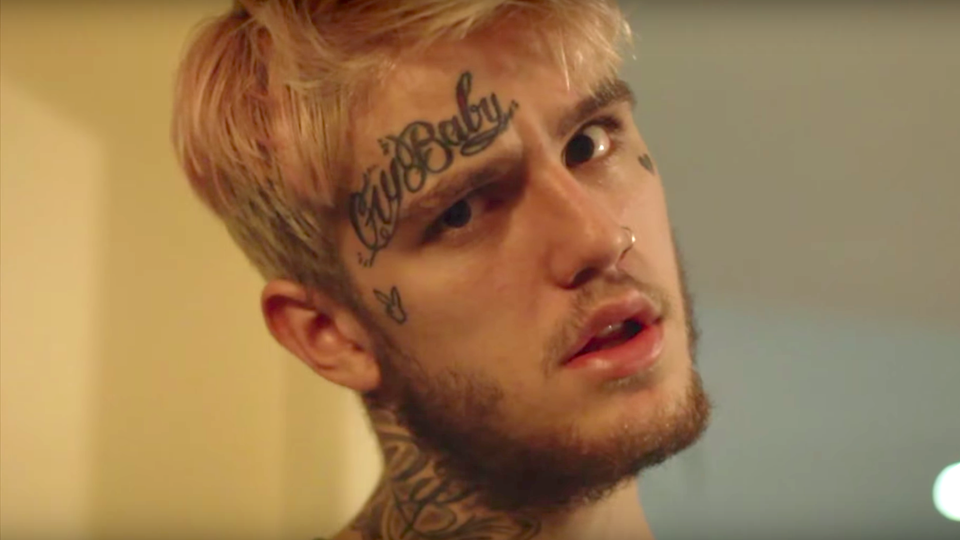 If you were going to bet on the young musicians most likely to soon be superstars, until yesterday, a lot of smart money would have been on Lil Peep. The rising trend on the Billboard Hot 100 is a woozy-slow mutation of rap, obsessed with drugs, emotionally open but still marked by macho posturing. Gustav Åhr, the Long Island–raised 21-year-old who went by Lil Peep, spiked that brew with the catchy yelping and self-loathing sensibility of emo and pop punk, just at the moment when a popular revival of those scenes seemed imminent. And he arrived as a fully-formed, totally watchable generational symbol. To dive into his world, as hundreds of thousands have done in the two years since he started uploading his music to SoundCloud and YouTube, is to be magnetized.
Lil Peep died Wednesday night in Tucson. The Guardian reports he'd been hospitalized for an overdose, and the last 24 hours of his Instagram is a chronicle of drug-taking and death notes. The same, though, could be said of many 24-hours periods in Peep's packed social media feeds. He is, of course, not the only rising star of his—or any generation—to take addiction and suicidal thoughts as lyrical inspiration, and he's not the first to obsess over Kurt Cobain and Amy Winehouse. Fixating on mortality was part of the act, but as important to his appeal was his delivery style: the enveloping haze, the singalong center, the specific attitude and look, all of which earned him notices in The New York Times and GQ.
"Awful Things," from this year's Come Over When You're Sober Pt. 1, offers a glimpse at the potential he had as a crossover star. The song opens with the kind of ugly-pretty electric guitar strumming that'll transport certain listeners straight back to the early 2000s of listening to Deftones or Taking Back Sunday, and for other listeners will just land as novel and exciting. Quickly the production moves into hip-hop territory with drum machines and glitch edits, but Peep's chorus just gets gnarlier, more barbed, with the transformation. "Bother me / tell me awful things": a great scrawl-in-your-binder catchphrase.
If you hear self-seriousness in the music, it's undercut in the video. What might have been an overdone high-school story gets personalized for Lil Peep's heart-on-his-forehead, pill-popping, cartoon-colorful slacker persona. "Burn me down 'til I'm nothin' but memories," he sings, and in the video he does light himself on fire to get back at a girl. But then they're happy together under a rainbow.
Other songs tie more closely to hip-hop. Over the grumbling guitars of his biggest song, "Benz Truck (Гелик)," Lil Peep gave a clinic in the ways that "mumble rap" doesn't have to be a derogatory term. The slurred syllables create a feeling of bleary intimacy, and beneath the keyword jumble about drugs and jewelry is a tune you can hum all week. The video offers a great clash of aesthetics, with Peep unafraid of appearing feminine and pretty while he raps about having sex with women. (He once said that he was bisexual, to not much scandal—another sign of generational aptness.) The hitmaker Mark Ronson today tweeted that the "Benz Truck" clip gave him "chills. + flashes of what the future of gtr music might b."
An earlier clip, "White Wine," makes clear example of how well Peep fit into the lineage of negative music—living in the void, aiming to cause discomfort—stretching back to Black Sabbath. The beat and words trigger gut-level queasiness, but the underlying melody, and Peep's stare into the camera, makes it difficult to shut off.
The death of a 21-year-old star is necessarily shocking, though it's also shocking to hear Peep's manager announce the news by saying  he'd "been expecting this call for a year." Now comes the inevitable discussion of Peep's scene and its glorification of drugs and self-destruction: a very familiar discussion in the scope of music history. But the most remarkable thing about Lil Peep isn't that he's dead now. It's that he connected with so many people, so quickly. In a statement, Sarah Stennett of the Peep-associated label First Access Entertainment said she'd spoken to Åhr's mother, who wanted "to convey that she is very, very proud of him and everything he was able to achieve in his short life."