One Hundred Poems That Capture the Meaning of Joy
Christian Wiman's new anthology brings together an admirable range of meditations on an emotion whose place in the world today can seem uncertain.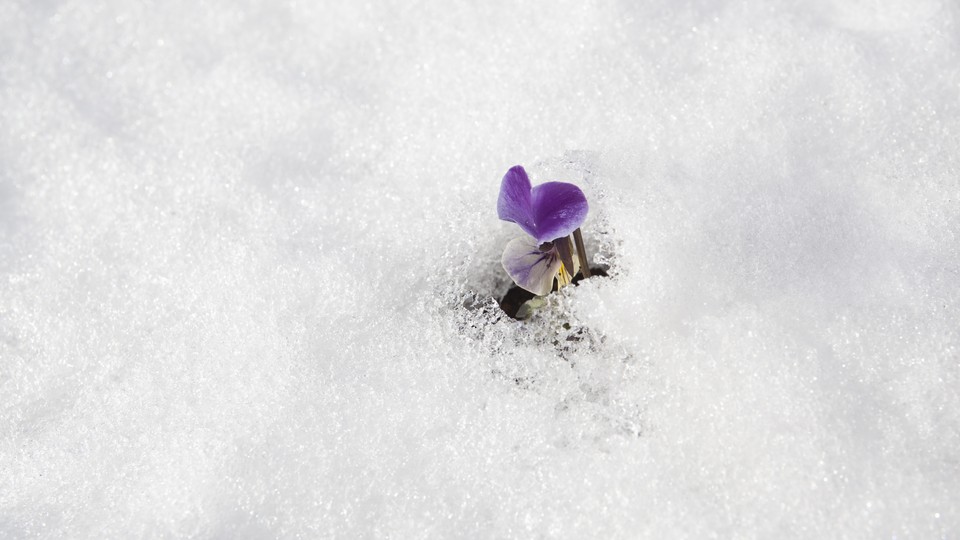 In his new anthology, Joy: 100 Poems, the writer Christian Wiman takes readers through the ostensible ordinariness of life and reveals the extraordinary. "We ate, and talked, and went to bed, / And slept. It was a miracle," Donald Hall writes in "Summer Kitchen." Through a luminous array of poetry and prose, Wiman captures joy in contemporary contexts. These works span from the 20th century to the present day, and as a result, the real, the specific, and the familiar shine through: "She's slicing ripe white peaches / into the Tony the Tiger bowl," Sarah Lindsay describes in "Small Moth."
Wiman's anthology is a reminder that if the news can bring people closer to the suffering of others, literature can bring people closer to the intensities of those experiences. This collection is a study of one of these intensities, namely joy, which Wiman knows is a close bedfellow with sorrow. As he explains in his deeply informed and beautiful introduction, the word joy alone can make writers and readers apprehensive: How can one speak of that feeling at a moment when it seems that anger, confusion, and pain are everywhere?
Wiman's background makes him an apt guide. Born in West Texas in a devout Southern Baptist community, he emerged from a violent heritage. His grandfather walked into the kitchen, shot his wife in front of their kids, then lay down beside her before killing himself. Wiman also witnessed his best friend shoot his father in the face (as described in his excellent piece "The Limit" from his collection of essays Ambition and Survival). And Wiman himself has a strained and protracted relationship with his father, as a result of his father's affair and his parents' difficult divorce.
Wiman distanced himself from religion after moving away for college and remained so until he met his wife, the poet Danielle Chapman (Wiman's essay "Love Bade Me Welcome" in part offers a moving portrait of falling into love and returning to faith). Wiman was itinerant in this period before marriage, spiritually and geographically, although his dedication to poetry was unwavering. He moved to Chicago to teach at Northwestern in 2002, one of 40 moves in 15 years. A year later, Wiman became editor of Poetry magazine, a position he would hold for a decade. Throughout most of that time, Wiman claims, his work was absent of God. Then, in 2005, less than a year into married life, Wiman was diagnosed with a terminal and unpredictable blood cancer; some patients with his rare disease live a few months, others, many decades. Fortunately, Wiman has been in remission for several years, thanks to a thus-far successful bone-marrow transplant.
The hardship and uncertainty of Wiman's life have been intense. Yet they are integral to his work, especially on joy. Even before his diagnosis, Wiman wrote that he believes there is a "direct correlation between the quality of the poem and the poet's capacity for suffering" ("Fugitive Pieces," Ambition and Survival). By which he does not mean that the greatest suffering produces the greatest art; capacity is the operative word. This capacity for suffering is what Wiman recognizes in, for example, Gwendolyn Brooks's "The Rites for Cousin Vit" from Joy: 100 Poems—"Oh oh. Too much. Too much. Even now, surmise, / she rises in the sunshine."
Joy runs like a vein through Wiman's essays and poetry; not always visible, but alive and pulsing when the finger finds it. "My sorrow's flower was so small a joy / It took a winter seeing to see it as such," he writes in "After a Storm" (Once in the West). Wiman's theology and, perhaps not coincidentally, his joy, too, have become more pronounced in his work since his diagnosis.
Death is not an abstraction for Wiman, nor is it "the mother of beauty" as Wallace Stevens once said. Rather, "It is the beauty of the world that makes us more conscious of death, not the consciousness of death that makes the world more beautiful," Wiman writes in "Notes on Poetry and Religion" (Ambition and Survival). One also finds this perspective in Galway Kinnell's "First Song" where a boy discovers that the Illinois twilight "woke / His heart to the darkness and into the sadness of joy."
Wiman's own encounters with the blaze of pain that sharpens one's observations of the world are what make him such a careful and judicious reader for this anthology. Osip Mandelstam, the persecuted Russian poet whose work Wiman translated in the 2012 collection Stolen Air, writes of the thrill of being alive, and one feels Wiman standing right beside him: "Time intensified and time intolerable, sweetness raveling rot. / It is now. It is not" ("And I Was Alive").
As editor, Wiman understands joy expansively, and uses these poems as a means by which his readers can discover and recall its meaning. The pieces here are organized as in a collage, not in categories. He pairs poems that respond to each other, as in the consecutive arrangement of three poems on nascent parenthood—Rita Dove's "Pastoral," Don Paterson's "Walking With Russell," and Sylvia Plath's "You're." The unsystematic coherence of the anthology makes for a fresh reading every sitting.
Wiman also makes joy feel new by bringing to light poems that have not been overly anthologized. These writers will be familiar to many who read modern and contemporary poetry (the table of contents is a who's-who of winners of the art form's most prestigious awards over the last 100 years), though even the thorough reader will likely not recognize many of the poems' titles. In his introduction, Wiman also notes the unexpected delight in finding pieces to include from poets not known for optimistic oeuvres, such as Philip Larkin or Paul Celan.
If the collection has any fault, it would be its slant toward a theological comprehension of joy, specifically, an over-representation of a Christian one. This is no surprise knowing its editor. Commendably, Wiman has selected a wide range of poets for their style, geographic and national background, language of origin, and form. Many poems do not call on any kind of a higher spiritual being as a source of joy—such as Li-Young Lee's praise of the "round jubilance of peach" ("From Blossoms"). But where the poem, and even more often the prose, frames this emotion within a religious scaffold, it is almost always toward a monotheistic, and Christian, God.
The poems in this collection hail the joy people both do and don't give name to. The anthology has the urgency and relevance of words that are meaningful yet missing in public life and everyday conversations. As a writer, Wiman aims to reach people who have a "strong spiritual hunger in them," as he affirms in a 2009 interview with the book critic Jessa Crispin. Joy is ultimately an invitational, rather than definitive, collection. One gets the sense that it could be the first in a series of anthologies on the word and its presence in poetry. Which is perhaps indicative of joy's intense and ineffable effect to the human mind. As Richard Wilbur puts it in his poem "Hamlen Brook":
Joy's trick is to supply
Dry lips with what can cool and slake,
Leaving them dumbstruck also with an ache
Nothing can satisfy.