The Transparent Allegations and the 'Politicized' Workplace
The actor Jeffrey Tambor may leave the show, but his accusers don't want to undo what his character stood for.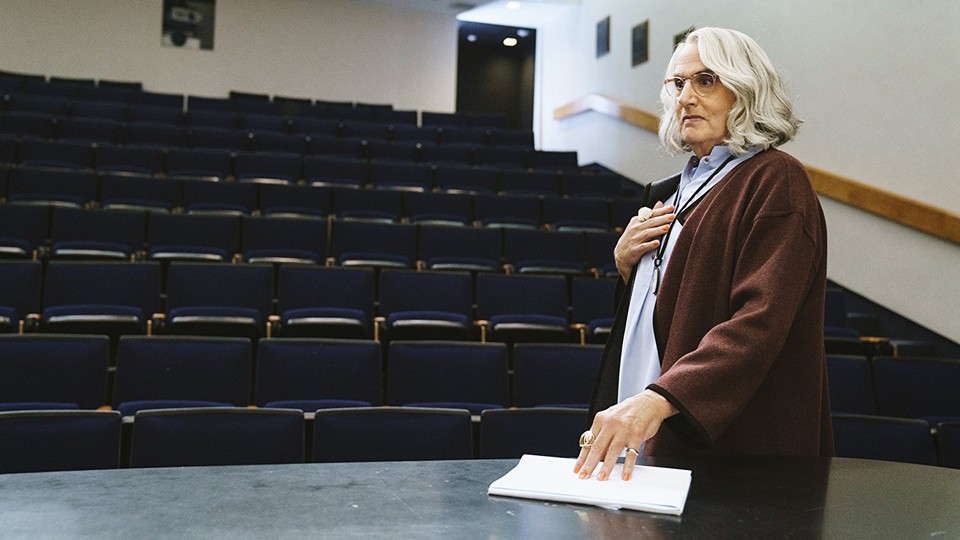 As they entertainingly crash through old ideas of gender and sex, the flaky and self-involved Pfefferman family of Transparent demonstrate that living liberally isn't the same thing as transcending cruelty, narcissism, or lust. Now two transgender women have alleged abusive behavior by the show's star Jeffrey Tambor, a cisgender man who is publicly a vocal advocate for the dignity of transgender women. His response is odd. Expressing general regret for his conduct while denying specific allegations of harassment, he said, "This is no longer the job I signed up for four years ago. … Given the politicized atmosphere that seems to have afflicted our set, I don't see how I can return to Transparent."
It's hard not to read "politicized atmosphere" as a dig at Tambor's accusers and former employers, suggesting they're driven less by fairness or justice than by optics and agendas. Yet the line also crystallizes how Transparent stands out in the list of media properties shaken recently by harassment scandals. In many other cases when it comes to powerful entertainers accused of misconduct, the question of how their shows or movies might continue to exist or not has been, rightfully, secondary. What does it matter if House of Cards film a sixth season when questions of consent and child predation are being raised? Who wants The Weinstein Company to be the one to release such movies as Channing Tatum's forthcoming drama about sexual abuse? Transparent is a bit different: The politics, the people, and the product can't be so separated.
Jill Soloway's dramedy was hailed from the start as a breakthrough for transgender representation on television, earning heaps of acclaim as it followed the Los Angeles professor and grandparent Maura Pfefferman, who transitioned from Mort Pfefferman. Along with other circa-2014 developments—like Janet Mock's widely read memoir Redefining Realness, Laverne Cox's breakout role on Orange Is the New Black, and Caitlyn Jenner's transition—Transparent was held up as a sign of new visibility and acceptance for transgender people. Soloway all along spoke of a long-term purpose: "Topple the patriarchy." This was the show, plenty politicized, that Tambor signed up for.
But as quickly as Transparent became a phenomenon, the conversation around the issues it raised began to evolve. Tambor, a famous cisgender man, was now playing the most famous fictional transgender woman on TV—at a time when roles for transgender actors are frightfully sparse. Soloway addressed criticism of this fact by hiring a significant number of gender-nonconforming people to work in front of and behind the camera. Accepting the Emmy for Outstanding Lead Actor in a Comedy Series last year, Tambor called for the film industry to "give transgender talent a chance" and added, "I would not be unhappy were I the last cisgender male to play a female transgender." The obvious implication: Transparent's advocacy for trans people  would be incomplete without broader, behind-the-scenes change.
The accusers against Tambor, his assistant Van Barnes and the actress Trace Lysette, are both transgender women. Lysette's accusation is the most detailed, describing Tambor rubbing against her while filming a scene in Transparent's second season. Her statement also shows an acute awareness of how two political desires have been put at odds: the desire to speak out against piggishness and abusive men, and the desire to promote transgender stories, such as those Transparent tells, in the media. While describing Tambor's alleged offenses, Lysette expresses gratitude for getting to play "a low-income trans woman with active roots in New York's ball culture," and adds, "Transparent has been a guiding light in the industry, by employing more trans people in Hollywood than any other production in history, which made it even more difficult to speak out."
She proposes a solution, though. Rather than cancel the show, she suggests Amazon "use this as an opportunity, a teachable moment to recenter the other trans characters in this show with the family members instead of just pulling it." Our Lady J, a writer on the show who is also trans, has spoken out to support Lysette's statement, writing, "You are right—we cannot let trans content be taken down by a single cis man."
It's worth noting that Transparent by no means is solely about trans issues, nor is it as pedantic as the description of it as "political" might make it seem. Maura is a deeply flawed character who has, at times, ended up hurting other trans folks (see the Season 3 opener in which she becomes a reckless white-savior type, overstepping boundaries while trying to help someone who called a crisis hotline she works at). Much of the plot is driven not by Tambor's character but rather by other Pfefferman family members, who sometimes chafe against gender and sexuality norms but more often struggle simply with their own selfishness. Liberal pieties are often joyfully mocked.
Still, moving on from Tambor and keeping Transparent going would appear to be no simple task. His face and his performance have been integral to the character of Maura—she is, in many ways, a collection of his tics. Yet perhaps the ideals of the show when it comes to representation are such that recasting him with a trans actor will be deemed worth the aesthetic complications. Or, perhaps writing Maura out by killing off the character—she is in her 70s and has had health scares in the plot—to focus on the rest of the ensemble and on new trans characters is the way to go. Soloway hasn't said, yet, how the show would proceed.
It's plenty conceivable, too, that the writers might find a powerful way to address the #MeToo movement within the series itself. If you were to ask a devoted Transparent viewer what its true message is, they might use the words kindness and empathy, two seemingly overused terms that, in recent contexts, are nonetheless political. In regards to these themes and the Tambor allegations, once again, what's behind the camera and in front of it can't in this case be separated. In addition to allegedly making sexual passes, he is accused of generally being a cruel boss to Van Barnes, who Tambor in turn called a "former disgruntled assistant." Our Lady J, after Tambor's statement Sunday, offered a reminder why such conduct and the show's ideology might clash: "I am proud to be a part of a politicized atmosphere that does not tolerate harassment or assault in any form."