Is Making a Marvel Movie Good for Directors?
Nine years into the studio's colossal franchise experiment, most filmmakers haven't parlayed their success with comic-book projects into anything greater.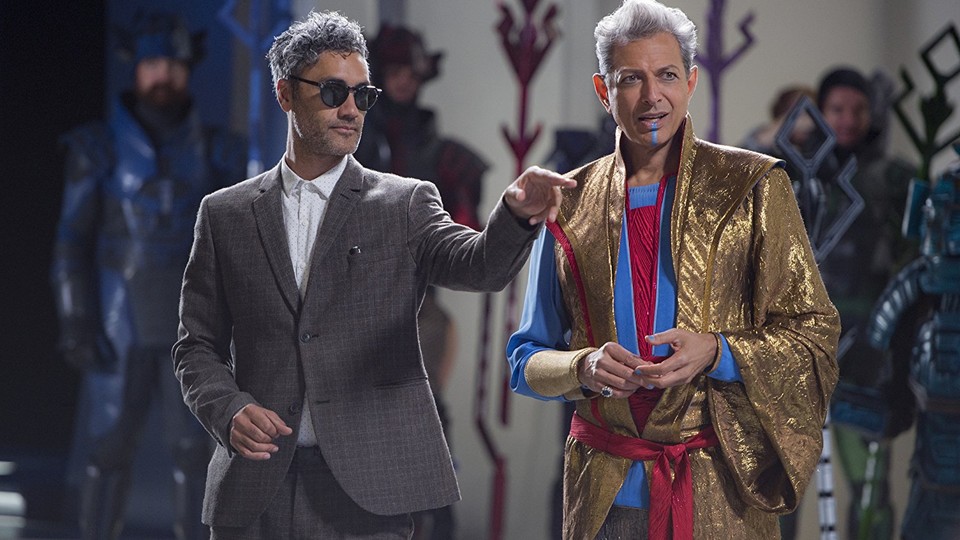 There are plenty of advantages to getting hired to direct the next Marvel movie. You're working with near-limitless resources, can hire Oscar-winning actors like Cate Blanchett and Tilda Swinton for supporting roles, and your film is essentially guaranteed to be one of the most watched of the year. Lately, the company has become more comfortable hiring idiosyncratic young talent, the best (and most recent) example being Taika Waititi, the director of Thor: Ragnarok. For Marvel, too, the benefits are clear. Filmmakers like Waititi can keep these never-ending sequels from feeling stale, while also attracting critical approval. But are the bonuses that come with Marvel's largesse enough to combat the downsides of being part of a much bigger machine?
Waititi, the New Zealander behind wonderfully offbeat comedies like What We Do in the Shadows and Hunt for the Wilderpeople, has been full of praise for the Marvel process during the Ragnarok press tour. In an interview with Sean Fennessey on The Ringer's "Big Picture" podcast, he said the studio (which is owned by Disney) basically left him alone during filming, and that he encouraged improvisation and humor on set (which shines through in the finished product, as my colleague Christopher Orr noted in his review). Yes, Waititi allowed, Marvel had the movie's major plot points set in stone and exerted a lot of control over the action sequences and visual effects. But the extent to which Thor: Ragnarok—the third Thor film and the 17th Marvel film overall—feels like a Taika Waititi movie is impressive.
By now, the director has made his mark in a way that should guarantee him the freedom to do whatever he wants for his next project. After all, what studio wouldn't want to team up with Waititi, given that his most recent film opened to solid reviews and $121 million in its first weekend? But it's actually hard to detect much of a career bump for filmmakers who have enjoyed success with the studio in the past—which is puzzling, considering the sheer volume of popular and profitable films Marvel has made. Nine years after the studio launched its "cinematic universe," directing a Marvel movie still mostly seems to set you up to make more Marvel movies, or other franchise entries like them.
It's a far cry from the older blockbuster model. Superhero films used to offer directors a gateway into making artistically riskier, less commercially calculated movies. Guillermo del Toro pivoted from Blade II and Hellboy to Pan's Labyrinth. Christopher Nolan leveraged his Batman movies to pursue more daring efforts like The Prestige, Inception, and Interstellar. Yes, these filmmakers often direct expensive sequels, as Tim Burton did after the success of 1989's Batman. But then they all moved on to bolder, weirder things.
Marvel's directors, for the most part, have not—and when they've tried, it hasn't worked out for them. Jon Favreau, who made the first two Iron Man movies, adapted a less established comic book for Cowboys & Aliens, which bombed, before rebounding with the smaller indie film Chef, which he also starred in (playing a frustrated cook in a barely veiled allegory about Favreau struggling to deal with criticism and creative interference). Now, he's back in the Disney fold, playing the bit part of Happy Hogan in the Marvel movies and directing remakes of animated classics like The Jungle Book and The Lion King (which is due out in 2019).
Some filmmakers have had no success since their Marvel entries, like Joe Johnston, whose follow-up to Captain America went straight to video. Others have become cogs in other franchises, like Alan Taylor (who went from Thor: The Dark World to the poorly received Terminator Genisys and is now back with Game of Thrones) or Joss Whedon (who made two Avengers movies and is now part of the DC Comics universe). But most have opted to just stick with Marvel Studios. The Russo brothers have made two Captain America films and are working on two upcoming Avengers entries. James Gunn has made two Guardians of the Galaxy movies and is working on a third. Peyton Reed of Ant-Man is in production on its sequel. The list will likely go on; when Fennessey asked Waititi if he'd make another Thor movie, he said yes without hesitating.
In every case, the decision makes sense, especially with directors like Gunn and Reed, who helped create their characters and feel a sense of ownership over them. But this pattern is also indicative of the artistic narrowness demanded by the age of the franchise film in Hollywood (one being followed by newer film brands like DC). The old-fashioned principle of "one for them, one for me"—by which a filmmaker tackles a more commercial project to write the check for their more esoteric follow-up—has largely vanished. Only the biggest directors (a short list with familiar surnames like Spielberg, Scorsese, Nolan, and Eastwood) can get studios to fund pricy, non-franchise films.
For Disney, which continues to print money, that's just fine. But for filmgoers, the effect is pretty obvious—a box office consistently dominated by samey sequels that audiences seem increasingly disinterested in. And as other studios frantically copy the franchise formula, there's an overall chilling effect on any other kind of production. Of course, that may still change. Marvel's upcoming slate of movies includes its most bold and diverse assemblage of artists—Waititi, Creed's Ryan Coogler (who's making Black Panther), and the experienced indie duo of Anna Boden and Ryan Fleck (Half Nelson, Sugar) who are teaming up for the Brie Larson-starring Captain Marvel. Waititi may well make another Thor, but he's been clear about his desire to keep working on his own scripts too, and the same is true for Coogler (who's also developing Wrong Answer with The Atlantic's own Ta-Nehisi Coates). The future could be brighter—but right now, it's hard to see many creators escaping the Marvel bubble.