How Will the Oscars Reflect This Moment in Hollywood?
As awards season begins, the Best Picture race could see another surprise winner following Moonlight's triumph earlier this year.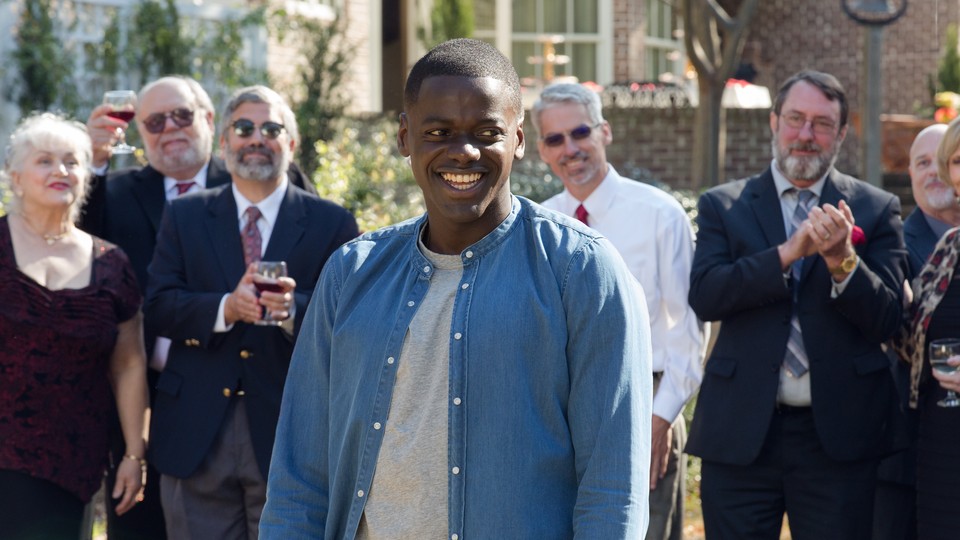 For all the hullaballoo about misplaced envelopes and mistaken winners, it's sometimes hard to remember that the Best Picture Oscar went to Moonlight earlier this year. It was a shockingly relevant choice for an awards body that's usually anything but: An artful exploration of identity and sexuality with a gay black protagonist, made by an indie studio for $4 million, defeated the expected victor, La La Land, a glossy paean to show business. Coming after years of controversy over the homogeneity of the Academy Awards' nominees, the win felt like a transformational moment for the Oscars—in terms of recognizing not just diversity in art, but also films that resonate with the wider moment in American culture.
The upcoming Academy Awards could very well continue down that path. It's easily the most wide-open race in years, with no obvious frontrunner for Best Picture and plenty of well-liked films that could make the shortlist (which can include up to 10 nominees). Will the consensus build up around a movie more familiar to older voters, like Christopher Nolan's World War II epic Dunkirk or Steven Spielberg's newspaper drama The Post? Or will the Academy reward a less typical work like Jordan Peele's subversive horror film Get Out or Greta Gerwig's fizzy coming-of-age dramedy Lady Bird? And how might the Oscars' choices reflect pressing political and social issues within the industry and beyond?
Two shadows in particular are looming over this race—the presidency of Donald Trump (who is, of course, not very popular in Hollywood), and the wave of revelations about sexual harassment and assault in the industry, centered around the mega-producer Harvey Weinstein. For decades, Weinstein was the king of the Oscars, famed for his aggressive campaigns that nabbed Best Picture nominations for fairly forgettable movies (think Chocolat or Il Postino) and a surprise win for Shakespeare in Love in 1999. His influence reverberated through Hollywood in ways that are still being accounted for, even if it had waned in recent years.
Many films in the current race, including conventionally Oscar-friendly fare, have overtones of resistance to the Trump presidency: The Post dramatizes The Washington Post standing up to the White House over the publishing of the Pentagon Papers. Joe Wright's Darkest Hour tells the story of Winston Churchill's infighting with the right wing of his Conservative Party during World War II, and Guillermo del Toro's allegorical The Shape of Water features a fish monster as a stand-in for the feared and hated "Other" in America.
There isn't anything nearly as pointed in the running that takes on Hollywood's ongoing crisis of toxic masculinity. The closest might be Three Billboards Outside Ebbing, Missouri, Martin McDonagh's dark tableau of crime and grief in small-town America, which unexpectedly won the Toronto International Film Festival's audience award (a reliable bellwether for Oscar success). Three Billboards isn't about Hollywood, but it is distinguished by a ferocious performance from Frances McDormand, who's a strong contender to win Best Actress. The fury driving McDormand's character—who pushes the local police to solve her daughter's murder—is both sympathetic and frighteningly powerful, and could make her a worthy avatar for 2017.
But Three Billboards is still a small-scale personal drama, and its Oscar victories may be limited to acting and writing. A more epic offering is The Shape of Water, which melds del Toro's love of genre film with a moving forbidden romance. It's gorgeous to look at and seems guaranteed at least a few major nominations, but The Shape of Water might be a little too weird and violent to win (it's still a monster movie). The Tonya Harding biopic I, Tonya has seen its buzz grow after a solid debut at Toronto; it notably features a textured, anti-heroic female lead played by Margot Robbie. Sean Baker's The Florida Project, made on a tiny budget, is one of the most relevant films of the year, looking at the "hidden homeless" of Orlando through the eyes of a brash young girl. But it may be too abrasive to garner consensus support.
On the flipside are the more straightforward Best Picture players. Dunkirk remains the closest thing to a frontrunner almost by default: It comes from a well-regarded filmmaker, Christopher Nolan, who has never won an Oscar for Best Director (he was snubbed for both The Dark Knight and Inception). By making a weighty war movie, one of the Academy's favorite genres, Nolan could finally draw voter approval. Dunkirk is an overwhelming piece of widescreen filmmaking that celebrates the theater experience; it was also a critically acclaimed, nonfranchise title released in the middle of summer that drew huge audiences. But the movie also has minimal dialogue and is intentionally jarring in its storytelling methods, and could be tagged with Nolan's reputation for coldness.
Darkest Hour is a more conventional look at the same wartime crisis, but the Oscar attention has been mostly on Gary Oldman (who plays Churchill and is a sure-fire favorite to win Best Actor). Meanwhile, The Post remains largely a mystery—its trailer was only just released—but Spielberg has had success with sober true-story dramas of late, particularly with the Best Picture nominees Bridge of Spies and Munich. The Post's message revolves around the importance of the free press in the face of government intimidation, which could resonate with voters.
If you're looking for a bigger Moonlight-esque upset this year, there are three obvious possibilities. Luca Guadagnino's gay coming-of-age drama Call Me By Your Name has won raves since it debuted at Sundance in January, and should broadly appeal to voters because of its gorgeous period setting (in 1980s Italy) and James Ivory–penned script. Gerwig's solo directorial debut Lady Bird has become the surprise arthouse hit of the fall, jumping into the top 10 this weekend despite showing in only 37 theaters; Gerwig is also one of the only female directors with a serious chance at a nomination this year, along with Mudbound's Dee Rees.
The sneakiest contender, though, could be a film that came out all the way back in February and is in the Academy's least favorite genre—horror. Get Out was a critical smash and a box-office sensation that has genuinely lingered in the cultural zeitgeist since its release. It's an expert piece of satire that's exciting, tense, and plays almost as well at home as it does in theaters, which is crucial for voters who watch their movies at home on screeners. (A film like Dunkirk, conversely, will suffer in a home theater simply because its IMAX photography is designed to be seen on the biggest screens possible.)
Get Out faces fairly long odds; a horror film has only won Best Picture once (The Silence of the Lambs) in the Oscars' 90-year history. But the Academy could be reevaluating what kind of art it wants to reward, as franchises continue to dominate the industry's business side. The Best Picture winners that felt "important" used to be stirring biopics and epic dramas adapted from novels—films like Out of Africa, Schindler's List, The English Patient, and even The King's Speech. Now, for a film to stand out, it needs to prove that Hollywood can still matter to people in 2017, and can still make art that feels timely and vital (while also being financially successful). Get Out hits all those marks, and it's up to Oscar voters to realize that.