How Louis C.K. Used Comedy as a Smokescreen
The artist's stand-up, TV shows, and his latest movie were all ways for him to craft a careful narrative about his brand of "brutal honesty."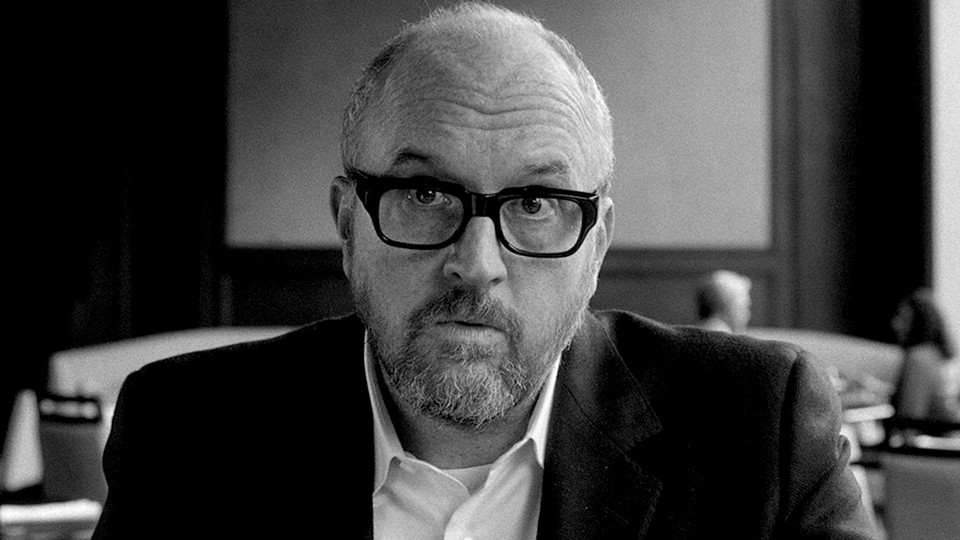 In the days since the revelations about Louis C.K.'s harassment and sexual misconduct toward other comedians and colleagues (which he admitted to in a statement), it's been jarring to see how quickly much of the art he made has taken on a different, more disturbing, animus. His stand-up, which was always brutally frank and sexually explicit, openly referenced his compulsive masturbation habits. His critically acclaimed FX show Louie feels grimmer, particularly the episode in which he clumsily forces himself on his friend. C.K.'s new film, I Love You, Daddy, which may never be released, sounds horrifying when its plot is described.
It's not like fans, or critics, were unaware of C.K.'s tendency to unveil his darkest urges on stage and on screen. The difference, really, is that his art now feels like a smokescreen, less truthful and even more self-involved. C.K. is one of the most influential comedians of his generation, at the forefront of the "confessional" comedy genre that thrived on so-called naked honesty. But the depravity of his personal and professional behavior—masturbating in front of women—should serve as a reminder that his performances were often exactly that: a way to control the narrative about himself.
So much of the focus on the wave of sexual-abuse allegations post-Harvey Weinstein has, rightly, been on Hollywood's narrow corridors of power, and how easily men like Weinstein or C.K. can use their influence to shut down claims of impropriety. But C.K.'s onscreen persona had its own incredible power, helping him to get away with things in even plainer sight. The supposed authenticity of his comedy contributed to the image of a man deeply, and humorously, aware of his own shortcomings. The statement of apology he gave to The New York Times (which doesn't actually contain the words "I'm sorry") does not.
When C.K. first emerged as a comedian, he was an absurdist. His '90s stand-up, and stints on shows like Late Night With Conan O'Brien and The Dana Carvey Show, tended toward the surreal. But in the mid-2000s, as he went through a divorce and began recording comedy specials for HBO, C.K. became a national phenomenon for his openness about his home life and his dysfunctional attitudes toward sex, along with his hilariously bleak view of the 21st century. His stand-up, beginning with the one-hour set Shameless, didn't hold back. "Sometimes you find ecstasy, but it's followed by the deepest self-hate and depression you've ever felt," C.K. says about masturbation in one stand-up segment. "What the fuck is wrong with me? God dammit. … Then you get married, now you gotta hide!"
Masturbation was one of many topics C.K. revisited in his specials—his disintegrating (and, eventually, dissolved) marriage, his ups and downs as a father, the struggles of dating as an older man. It was all so alluringly believable: the tribulations of a middle-class guy in his early 40s baring his soul to the world. He built up a relationship of genuine trust with his audience, in the way only a great stand-up comedian can, often by demonstrating a willingness to put his own image on the line. C.K. earned the "right," so to speak, to push into more uncomfortable territory, by offering sharp insights into both societal and personal hypocrisies.
Louie, which amassed Emmys and acclaim for years since it debuted in 2010, was more artful but similarly emotionally raw, putting an indie-movie spin on C.K.'s material and only becoming more sophisticated in its storytelling over the years. Present throughout that show was Pamela Adlon, the hugely gifted comic actress who played a fictional version of herself: a fellow parent at Louie's kids' school and, eventually, an object of his affection. Adlon's character—also named Pamela—mostly functioned as a truth-teller, the brassy but righteous woman whom C.K. knew had his number. It was a broad role she played in his failed 2006 HBO sitcom, Lucky Louie, and it's one she reprises in I Love You, Daddy.
Adlon, who co-created her own series, FX's Better Things, with C.K., has issued a short statement describing her devastation over his "abhorrent behavior." Her various appearances on C.K.'s shows often served as evidence of his ability to listen to criticism about himself and confront his own worst tendencies. One memorable scene in Louie features his character grabbing Pamela and forcefully trying to kiss her; at one point during their lengthy, distressing struggle, she pushes him off, yelling, "You can't even rape well!" The moment seems designed to be a daring condemnation of pathetic, and dangerous, male behavior—a reading reinforced by the fact that the same episode includes a stand-up segment by C.K. that lays into the long history of patriarchal control of women. That additional context worked to distance Louie the character from C.K. the comedian; today, the episode resembles a half-hearted apologia.
Much of C.K.'s work—some of which I've praised in my years as a critic—can be parsed differently now that his private harassment has been made public, and so it should be. Tougher will be separating out his undeniable impact on the comedy world at large, given that he was such an exemplar of the proudly degenerate heterosexual man. The final curio to consider, though, is I Love You, Daddy, which played at the Toronto International Film Festival and was screened for critics multiple times before being abruptly pulled from the broader release schedule.
In some ways, the film is more oblique and less autobiographical than much of the comedian's other work. C.K. is basically playing himself, yes, but as a successful television executive named Glen, awash in money and perhaps bereft of artistic talent. His daughter, China (Chloë Grace Moretz), on the verge of turning 18, falls in with a famed director named Leslie Goodwin (John Malkovich), who is 50 years her senior. Leslie is a Woody Allen type, a respected artist who has been accused of pedophilia. Glen worships him from afar, but is disgusted by him in actuality, growing increasingly uncomfortable about his daughter associating with such a known creep.
The outward pitch of I Love You, Daddy is clear: C.K. (who wrote and directed) is poking at that grand question of separating art from artist. But the movie is yet another example of C.K. performing his self-awareness. Glen is a nincompoop, to be sure, but he's morally resolute enough to know that statutory rape is wrong, and that Leslie is not to be trusted. In one scene, Glen's love interest Grace (Rose Byrne) defends China, saying that she herself had a relationship with a much older man at the age of 15, and that young women are entitled to make mistakes. "I'm sorry Grace, but you were raped," Glen tells her, not backing down from his conviction that, in this case, consent can't be given.
Even considered purely on its own terms, I Love You, Daddy is a mess of a film. Now it could be described as a provocative piece of claptrap at best, one that suggests C.K. had some desire to self-immolate. Near the end of the movie, after Glen has driven so many of the women in his life away from him with his pompousness, he talks to his long-suffering producing partner Paula (Edie Falco). "I'm sorry, women. Please, on behalf of all women, please let you all know that I'm very fucking sorry," he tells her. "We accept your apology," she says, sighing. It could well be the last time C.K. begs for forgiveness and gets it.