How Kristaps Porzingis Became New York's New King of Sports
The fans booed his arrival. He bided his time behind a hometown star. Now, this 22-year-old Latvian's breakout moment is finally here—and the NBA may never be the same.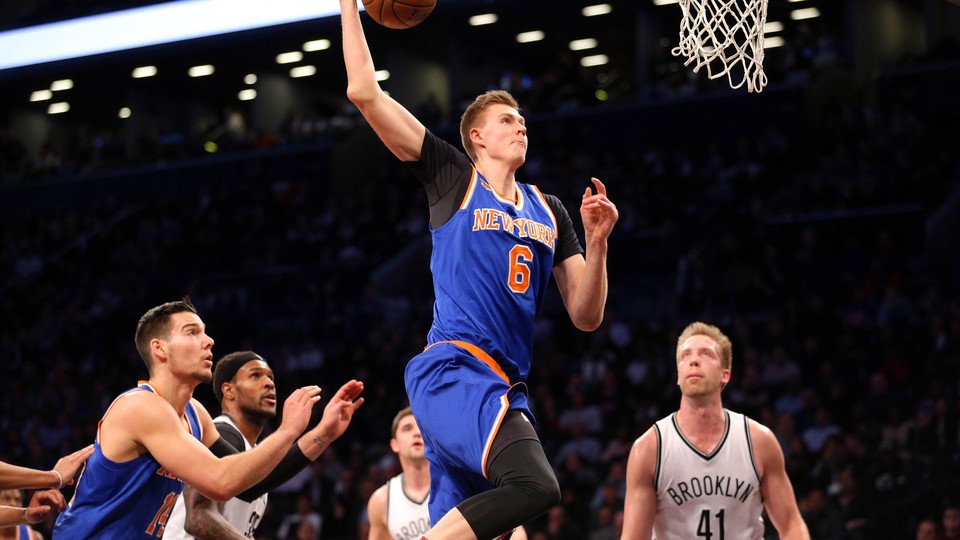 For a time, at least, New York Knicks fans hated Kristaps Porzingis. When the 7-foot-3, 19-year-old Latvian's name was announced as the No. 4 overall pick in the 2015 NBA Draft in Brooklyn, supporters of Manhattan's team unleashed a barrage of boos. Cameras zeroed in on one man in a Knicks jersey burying his face in his hands, then cut to a child sobbing and raising a thumbs-down. To devotees of a once-proud franchise that had, for the last decade, vacillated between the statuses of also-ran and laughingstock—marked by just three playoff appearances in the past 13 seasons—the selection looked like another of the desperate gambits that had come to define the team. "Perhaps Kris Porzingis can turn these fans around at some point," said ESPN host Rece Davis over the jeers, sounding rather unconvinced himself.
Porzingis was prepared for the reaction. "My agent, my brother, everybody around me, they were like, 'It's New York,'" he said in a 2015 interview. "'Especially if you're European and they don't know you here, you're going to get booed.'" Porzingis had enjoyed an accomplished career in Spain, where he started playing professionally at 17, but résumés like his were suspect. Too many European prospects, in recent years, had been unable to cut it stateside. As the league insider Adrian Wojnarowski, then of Yahoo Sports, wrote of Porzingis prior to that draft, "He comes to the NBA with the full understanding that popular basketball culture declares him guilty until proven innocent of the basketball crimes of [highly drafted busts] Darko Milicic and Nikoloz Tskitishvili and Andrea Bargnani."
Two years later, Porzingis is everything a team, and a city, could want in a player. On the court, he is an ascendant superstar in the midst of a breakout season, part of a group of new-age phenoms whose absurd physical proportions and deft skills are redefining the very notion of assigned positions. Taller than most centers, he has the agility and touch of a smooth small forward, an unprecedented combination that has won him the nickname "The Unicorn." Off the court, he is fast becoming an icon, enamoring himself of New York and the NBA alike: simultaneously global and local, unbelievable and relatable, a man who can pluck a layup right out of an opposing player's hand and still be blown away by Disneyland.
Those draft-night groans turned to cheers almost as soon as Porzingis suited up for the Knicks. He averaged more than 14 points and seven rebounds during his rookie year and followed that with an 18-point, seven-rebound sophomore campaign, as comfortable shooting feathery three-pointers as he was swatting shots or swooping in for what quickly became his trademark putback dunks. By the start of this 2017-18 season, and especially in the wake of New York trading away incumbent leader Carmelo Anthony, Porzingis has transitioned from a promising curiosity to a full-fledged supernova. His scoring average has ballooned by 67 percent, to 30.2 points per game (second-best in the league, as of Monday), and he's shooting better than ever, making 50 percent of all his shots and nearly 37 percent of threes. The normal statistical evolution of NBA players—even excellent ones—sees their efficiency drop as their usage rate climbs, but Porzingis has scaled up both at once.
The specifics astound even more than the general. Against the visiting Phoenix Suns on Friday, Porzingis brought Madison Square Garden to hysterics when, in the span of just 11 seconds, he swatted a layup, ran back the other way, corralled a bounce pass, and slammed the ball while drawing a foul. Two nights later, he set a career high of 40 points—on long-armed jams, shimmying pull-ups, and everything in between—as New York overcame a 19-point deficit to beat the Indiana Pacers. "An electrifying performance from Kristaps Porzingis!" shouted announcer Mike Breen, pitching his voice against the crowd; not since the '80s heyday of Patrick Ewing have Knicks fans given in so completely to a budding star.
Porzingis's appeal extends past the boroughs. Much has been made lately of the NBA's unique relevance to the modern consumer; in place of the NFL's recent controversies and innate violence and MLB's endless efforts to make its games quicker and its viewers younger, the NBA has a surplus of marketable stars. It is not just that, unlike baseball players who bat only four or five times an evening, basketball players can command an entire game, directing its macro-flow and making its crucial decisions. It is that these players walk off the floor and remain worth following. LeBron James hosts barbershop roundtables and speaks out against racial injustice; Russell Westbrook talks in surly code and wears avant-garde outfits. The trades and signings of the offseason are accompanied by real-time social media dialogue among All-Stars—recruiting one another, predicting and analyzing moves. Even missteps offer intrigue, as when Kevin Durant was caught using an alternate Twitter account to criticize ex-teammates during the offseason. If the NFL has aspired to relevance on every day of the calendar, then the soap-operatic NBA wants to stay on its fans' minds every hour of the day.
Porzingis, well on his way to becoming one of the league's best players, already numbers among its great characters. His persona mirrors his evolving talent, a blend of self-assured ease and Pollyannaish charm. He posts the gladiatorial training pics now required of modern athletes—impromptu push-ups in arena hallways, for example—but gangly limbs and a schoolboy profile render them more goofy than intimidating. He pays heartfelt tribute to his basketball heroes. Some part of him remains the young Latvian who, idolizing the pros across the ocean, had his hair braided into cornrows; even as he starts to dominate the sport, Porzingis seems not to have lost his wide-eyed view of it.
That apparent earnestness, along with his incredible and varied abilities, has secured Porzingis's popularity. He sold more jerseys than all but six players last season, outdoing MVP candidates James Harden and Kawhi Leonard, and his backstory, bilingualism, and comic timing made him a centerpiece of the NBA's marketing efforts for its Christmas Day games. This summer, Knicks fans followed the news of Anthony's departure with resignation—his tumultuous stay had run its course—but rumors that then-president Phil Jackson was thinking of dealing away Porzingis sparked an uproar. He is the basketball equivalent of the Yankees' Aaron Judge, a player whose folk heroism surpasses even his considerable in-game effectiveness.
Porzingis can't save the Knicks on his own. With a roster filled out by overpaid has-beens and unproven youngsters, their record thus far is a mediocre 5–4, and should they sneak into one of the lower playoff spots, they would likely be dismissed by one of the Eastern Conference's established powers. The team still feels the lingering effects of systemic dysfunction, its on-court product often out of keeping with the franchise's historic luster. Porzingis has expressed occasional frustration with his employer. He skipped his exit interview following last season, and his brother said last week that the chance to win, not dollar amounts, would decide whether he remained in New York for more than the duration of his current contract. (Porzingis, in an even savvier leverage play, quickly affirmed his affection for his adopted city.)
But the degree to which Porzingis would be missed, were he to leave someday, is itself a kind of victory. Once a scrawny and suspect prospect, he has morphed into a one-of-a-kind star. He stokes Knicks' fans' nostalgia for better times even as his abilities portend basketball's future. Though the greater portion of his career's success likely still lies ahead of him, Porzingis has already become what his franchise, and his league, need above all else: a player from whom it is impossible to look away.