He Doth Brotest Too Much
Louis C.K., Harvey Weinstein, and many other men alleged to be abusers have something else in common: They were great at seeming to be good.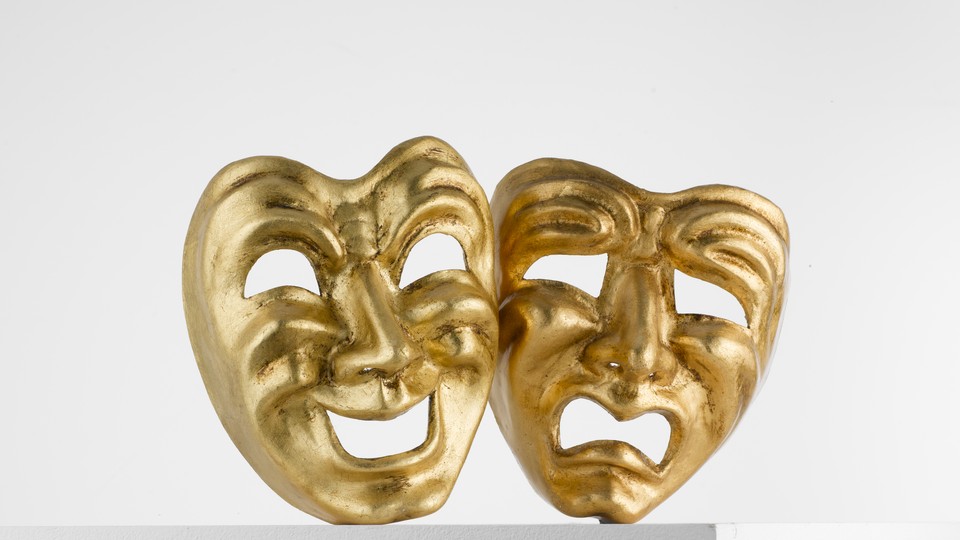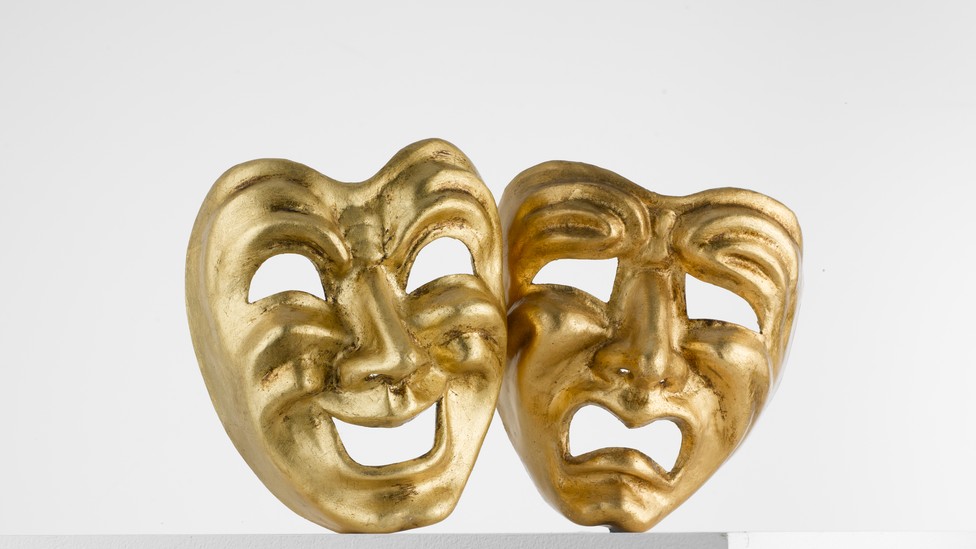 Before Louis C.K. said, late last week, that "these stories are true," he said that the stories were lies. During a 2016 interview with New York magazine, which asked C.K. about rumors of sexual harassment that had been circulating around him for years: "I don't care about that. That's nothing to me. That's not real." During a 2017 interview with The New York Times, after the comedian Tig Notaro mentioned those rumors in a conversation with with The Daily Beast: "I don't know why she said the things she's said. … I don't think talking about that stuff in the press and having conversations over press lanes is a good idea." During that same interview: "I'm not going to answer to that stuff, because they're rumors. If you actually participate in a rumor, you make it bigger and you make it real."
What's striking, through the jaded lens of retrospect, is how well C.K.'s protests—Louis, the victim of salacious gossip; Louis, the indignant genius; Louis, the affable guy who would never—seemed to track. C.K., after all, dressed the part of an ally. "To many," the writer Lindsey V. Thompson put it, "Louis C.K. was one of the good guys." He was the one who was in the audience for Tig Notaro's now-iconic "Hello, I Have Cancer" set—the one who tweeted and effused and insisted that the set be shared with the world, the one who helped make Notaro the thing she deserved to be all along: nationally famous. C.K. provided a similar career boost to Pamela Adlon: He cast her in both Lucky Louie and Louie, and then championed her show, Better Things—and served as, among other things, its co-creator. "I knew you could do it," he told her at an event in late September, magnanimously.
C.K.'s comedy, too, played the part. Under the guise of confessional grotesque—an unvarnished id, clad in a rumpled T-shirt and shuffling uncomfortably in the spotlight—C.K.'s act insisted that its performer was in on feminism's jokes. ("Globally and historically, we're the No. 1 cause of injury and mayhem to women. We're the worst thing that ever happens to them.") It was comedy, as my colleague David Sims put it, that conveniently served as a smoke screen. How, after all, could an act so shruggy and schlubby and slouchy and grouchy be anything but the truth? Why would the guy who talked so openly about his 4-year-old being an asshole lie about that other thing? And so Louis C.K. managed, for years, to pull off that tidiest of tricks: His character wrapped itself in layers of postmodern impunity. C.K. wasn't just C.K.; he was the emblem of Men as a category, satirizing modern masculinity and, at the same time, sanitizing it. A little bit P. T. Barnum, a little bit Barney Gumble, he filled sweaty clubs and airy amphitheaters and TV screens the nation over with the promise that, joke by joke, he would reveal that rarest of spectacles: the feminist dirtbag.
But then. But then. But then. The rumors, it turned out, were true. The bro, it turned out, had brotested too much. The New York Times' report of the five women who had come forward to detail C.K.'s sexual misconduct featured an interview with Notaro—who, after C.K. became an executive producer on her show One Mississippi, had fallen out with him. Notaro now fears, she said, that C.K. "released my album to cover his tracks": that he engaged, essentially, in crisis management of a cannily preemptive strain. "He knew it was going to make him look like a good guy," she said, "supporting a woman."
There are so many #HeToos woven among the #MeToos. There is so much human truth lurking in all the hypocrisy: The louder he talked of his honor, the faster we counted our spoons. And there are so many "nice guys" who are being proved to be, in retrospect, anything but. C.K. might have put the lie in ally; he has had, though, a lot of company. Many of the men who are now alleged to be predators and abusers and harassers have also been among the loudest and most insistent voices of goodguyism. They have been marching for women's equality. They have insisted on women's humanity. They have used their power for the good of the general populace. The brotesters are public and proud and just so great. Until they are not.
So Harvey Weinstein not only created star-vehicle movies for women; he also publicly supported feminist causes. The Weinstein Company distributed The Hunting Ground, a documentary about sexual assault on college campuses. Weinstein himself helped to endow a faculty chair at Rutgers University—named for Gloria Steinem. He gave a $5 million endowment to the USC School of Cinematic Arts to support women filmmakers. (The donation has since been rejected.) On January 21, along with many others, he marched for women's rights.
Kevin Spacey has long made a point of serving as a mentor to younger actors. In a 2014 appearance at the University of Virginia, he spoke of the mentorship he had received from his idol, Jack Lemmon—and spoke of the "send the elevator back down" idea that animated him even, especially, in his great fame. In a 2016 interview with the Harvard Business Review, Spacey said: "It's incredible to help young people find their own self-esteem and voice and learn collaborative skills … No matter what happens in my life, no matter what success I achieve, I don't want to ever be out of touch with that."
Richard Dreyfuss, whose son Harry was one of Spacey's alleged victims,  shared the story Harry wrote for Buzzfeed with the following preface: "I love my son ‪@harrydreyfuss more than I could explain with all the words in the world. And I am so incredibly proud of him right now." This was just before the writer Jessica Teich came forward to allege that Dreyfuss the elder had exposed himself to her.
This time last week, The Flash, executive produced by Andrew Kreisberg, aired a feminism-themed episode. (Sample line: "Because we live in a society that's dictated by the male gaze. I wanna control the narrative of feminism, okay?") Later the same week, Variety reported that multiple people are accusing Kreisberg—who has also served as an  executive producer on Arrow, Supergirl, and DC's Legends of Tomorrow—of harassment.
Ben Affleck, in 2014, spoke about raising feminist daughters: "[They're] a little young for a sort of Gloria Steinem doctoral thesis, but without getting into exactly what it means politically to be a feminist, our daughters understand what my wife understands full well, which is it's important to be strong, present, and powerful, and accept nothing less than a man would—in fact, ask for more." Ben Affleck, in 2017, apologized for groping the breasts of Hilarie Burton on live television in 2003: "I acted inappropriately toward Ms. Burton and I sincerely apologize."
Leon Wieseltier, the former literary editor of the New Republic, was known as a champion of women, many of his former colleagues said. He mentored them, advised them, and took an interest in their careers—even as he, those same colleagues said, objectified them.
Roy Price, the former head of Amazon Studios, helped to bring the groundbreaking show Transparent into the world; in October, Isa Hackett, an executive producer on The Man in the High Castle, came forward with allegations that he had lewdly propositioned her.
The offenses vary; so do the distances between the men's words and the men's actions. What they have in common is their reliance on a culture of impunity for the powerful and the wealthy and the talented. (Dreyfuss, commenting on the allegation against him: "At the height of my fame in the late 1970s I became an asshole—the kind of performative masculine man my father had modeled for me to be. I lived by the motto, 'If you don't flirt, you die.' And flirt I did.") Niceguyism can be pernicious specifically because it invests the nice guy with even more power than he already enjoys: To make and break careers. To give money or hold it back. To keep abusing his power—and to keep getting away with it. The niceness helps to justify the other stuff, to cajole, to enable. Brad Pitt, knowing what Harvey Weinstein had allegedly done to Gwyneth Paltrow, his ex-fianceé, and making more movies with him nonetheless. Quentin Tarantino doing the same, knowing something similar about Mira Sorvino. Jon Stewart, hearing of the C.K. rumors during a podcast taping in 2016, responding, "So the internet said Louis harassed women." Aziz Ansari—who has made the exploration of sexism a core element of his stand-up and his show and his book—refusing, in 2015, even to discuss the rumors about C.K.
Insulation; protection; closed ranks: Taken together, it reads as an extended version of C.K.'s act, both shocking and yet, at this point, pretty much what you'd expect. Hypocrisy is a bug in the system of civilization. It's one of the inevitable consequences of messy people colliding with the relatively rigid rules of culture. And it's especially present now, as new norms blend with old ones, as the world shifts even as it turns, as power redistributes and closes in on itself. Earlier this year, Saturday Night Live's "Girl at a Bar" sketch—guys in pussy hats and "The Future Is Female" T-shirts, hurling misogynistic insults when women reject their advances—went viral. It captured, in the way comedy at its best so uniquely can, the workings of a world that loves talking about feminism but resents having to listen to women.
In March, on the eve of International Women's Day, State Street Global Advisors unveiled a statue, placed opposite the iconic Charging Bull in the heart of Lower Manhattan. Fearless Girl was a chiding reminder of women's paltry representation on Wall Street, and a defiant announcement that things would be, from then on, changing. But: not, do not worry, too defiant. Later in March, the artist Kristen Visbal said that she had sculpted Fearless Girl with intentionally "soft" features, lest she appear overaggressive in her fearlessness. ("She's not defiant," Visbal said; "she's brave, proud, and strong, not belligerent.") In October, the State Street Corporation, Global Advisors' parent company, paid $5 million to settle federal allegations that it had been paying its women executives less than the men in the same positions.
Shocking. Unsurprising. A nice thing that, also, isn't. And on and on it goes. In 2014, a celebrity ambassador for the Prince's Trust, a British charity dedicated to educating and employing teenagers and young adults, delivered a speech about the importance of nurturing youthful dreams. "I strongly believe," he declared, "that all young people—regardless of their circumstances—should be supported and nurtured to fulfill their potential." Kevin Spacey, ambassador to the youth, concluded his speech with this: "No matter how tough the road becomes, we must be there for our young people. We must walk with them, listen to them, believe in them and, when they are ready to spread their wings, help them to fly."