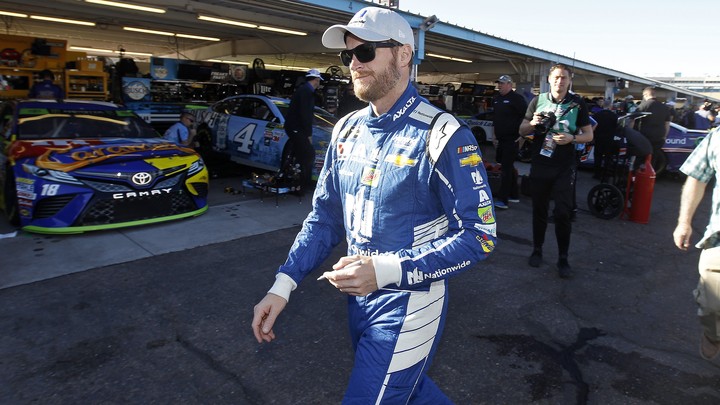 Dale Earnhardt Jr. is in every way a full-grown man—43 years old with a reddish beard sporting patches of gray—but in NASCAR circles he shall forever be thought of as Junior. That infantilizing can be partly blamed on his boyish good looks and rascally charm, though most of it has to do with his late father being a seven-time Winston Cup champion. The racing world had dubbed the latter The Intimidator, born from his habit of methodically stalking his rivals on the racetrack. A healthy percentage of fans that follow stock-car racing will always remember Junior as the smirking towhead grilling his mustachioed old man in a 1990 post-race interview: "Are you gonna give me some [prize] money when we get home?" Even in the throes of victory, Earnhardt tried to remain the responsible parent. "I doubt it," he replied. "You spent enough down here this week."
The memory persists even though Junior would go on to forge his own formidable NASCAR career. But after almost three decades at the wheel, his long road trip will roll to a stop. Sunday's Ford EcoBoost 400 in Homestead, Florida, will be his last professional race. Speaking with the media Friday, Earnhardt Jr. seemed satisfied with his decision. "I don't need to reconsider," he said. "This is great timing for me. It's time for somebody else to get in that car and get out of it what they can."
In some ways it's a miracle that Earnhardt Jr. lasted 19 Cup seasons. It wasn't that he didn't have talent, as evinced by his 26 career victories, including a pair of Daytona 500 triumphs in 2004 and 2014. His bigger challenge was the baggage that accompanied his particular set of skills. One couldn't overstate the expectations that came with sharing a name with a man many believe to be the greatest racing driver who ever lived. When Earnhardt Jr. began racing full-time in NASCAR's premier league in 2000—after claiming consecutive championships one level down in the Busch Series—it was with the family operation known as Dale Earnhardt Incorporated (DEI). It was the perfect setup for high-profile failure, but Junior instead capitalized on this great inheritance, winning two races and just missing out on Rookie of the Year honors.
That same year, Earnhardt Sr. finished second in the championship standings while driving for Richard Childress Racing—yes, he owned one NASCAR team while racing for another—and that performance only ballooned expectations for the following year. The Earnhardts were poised to become the most successful father-son tandem the sport had ever witnessed, better even than Lee Petty, a three-time champion and unassuming star of NASCAR's post-moonshine days, and his son Richard, the seven-time champion and flamboyant star of NASCAR's tobacco-shilling era.
The Earnhardts were already hurtling toward that destiny as the 2001 Daytona 500 reached its dramatic finish. With nine laps to go, the top three cars all bore the family name. Michael Waltrip (driving for DEI) was in the lead, followed close by Earnhardts Jr. and Sr., the latter fighting like hell to protect the trio from the cavalcade speeding right behind them. As Waltrip and Junior entered the final turn on the final lap, Earnhardt Sr. got bumped on his left rear quarter panel by one driver before being T-boned by yet another.
That harrowing sequence sent Earnhardt Sr.'s car scraping into the concrete barrier nose-first between two turns. It sent Junior running through the infield to see about his father, while Waltrip waited in vain for his boss to join him in celebrating his first career victory in 17 years on the circuit. Earnhardt Sr. was forcibly extracted from the car, taken by ambulance to a nearby hospital, and pronounced dead. An autopsy cited his cause of death as a fracture near the base of his skull that was caused by blunt force trauma from behind. He was just 49; Junior was 26.
Earnhardt Sr.'s death ushered in a new era of safety in racing that is most evident today in the "soft walls" that ring circuits all over the world and the neck restraints that cradle drivers' skulls. It came as NASCAR was venturing beyond its southeastern roots to secure a lasting and profitable future, deep into the western and northern territories of Sonoma, California, and Indianapolis with young telegenic drivers like Earnhardt Jr., Jeff Gordon, and Tony Stewart leading the way. All the while attendance and viewership skyrocketed, to the point where stock-car racing began threatening football's claim as America's pastime. It was a culture era that gave rise to an influential new demographic: the NASCAR dad.
Earnhardt Jr. thrived in this new era, winning 12 races from 2002 to 2007. That following season, some industry folks were taken aback when he left DEI for Hendrick Motorsports—the super team led by mega-stars Gordon and Jimmie Johnson, who, at the time, had six Cup titles between them—in the hope that he could finally secure his own elusive championship in NASCAR's ever-evolving playoff format.
But Junior didn't get close to the promised land. He could never quite hold on to a crew chief long enough or find the precise words to relay to engineers about his car so they could make it faster. The setbacks, though, didn't stop him from becoming stock-car racing's top endorser (with hundreds of millions earned from the likes of PepsiCo and the Department of Defense), or from becoming the kind of mainstream celebrity that Kid Rock or Jay-Z could call on to appear in a music video.
It also didn't stop Earnhardt Jr. from becoming an unlikely progressive voice in a sport that has given rise to few. In the last two years alone he has condemned the Confederate flag ("offensive to an entire race"), opposed the Trump administration's proposed immigration ban ("my fam immigrated from Germany in 1700s escaping religious persecution"), and lent his support to the NFL players kneeling during the national anthem to protest systemic police violence and racial injustice. (Meanwhile, some owners in his own sport threatened to fire any employee who demonstrated similarly.) Somehow, for all of Earnhardt Jr.'s left-leaning espousals, his curb appeal among NASCAR's conservative base hasn't visibly subsided. (He'll almost certainly be voted the sport's most popular driver, for the 15th time overall, at year's end.)
His following has remained intact, perhaps, because he's genuine. Midway through the 2016 season, Earnhardt Jr. took himself out of competition to recover from lingering symptoms related to concussions, the fourth time in his career he's been so afflicted. He was frank about his ongoing struggles with balance and nausea, sincere about his concerns for his long-term health, and serious about offering up his brain for CTE research in the future. His voice has changed the way NASCAR handles concussions; drivers can't simply shake them off any longer.
For all his popularity and influence, this is not the career that was mapped out for Earnhardt Jr. His father won far more Cup races—76 checkered flags in 22 full seasons—but the son's celebrity has been cemented for decades to come. And the reality that this phase of his career is finally ending has loomed over all of NASCAR since he announced his retirement plans seven months ago. Even more damning for the governing body's top executives is that Matt Kenseth (the 2003 Cup champion) and Danica Patrick (a global icon on every level) are almost certainly leaving as well, at least as full-time racers. It would present a terrifying development for a sport dealing with freefalling television ratings and attendance figures. It didn't help that Earnhardt Jr. was rarely a competitive force in his final season, but a victory in Homestead would be a welcome finale for all parties.
The Earnhardt name couldn't tow NASCAR forever, and priorities invariably changed. Junior, a recent newlywed who is expecting his first child in May, has a long career ahead of him as a podcaster and broadcaster. And he won't stray far from the track, as he will keep advising JR Motorsports, the team he runs with his older sister, Kelley.
But by retiring on Sunday, Junior gets to do what his father never could—quit while he's ahead and go out on his own terms. The sport's fans were fortunate to witness a dashing upstart figure out his own path and finish out a career that fell short of his namesake's remarkable success but remained enthralling in its own ways. NASCAR may not be ready to let Earnhardt Jr. go, but that figures. Kids always grow up too fast.
We want to hear what you think about this article. Submit a letter to the editor or write to letters@theatlantic.com.
Andrew Lawrence
is a writer based in Beaufort, South Carolina. His work has appeared in
Sports Illustrated
,
The Guardian
, and the Associated Press
.