The CMA Awards Address Las Vegas, Lightly
The country-music ceremony mostly focused on uplift, unity, and maintaining the status quo in the face of tragedy.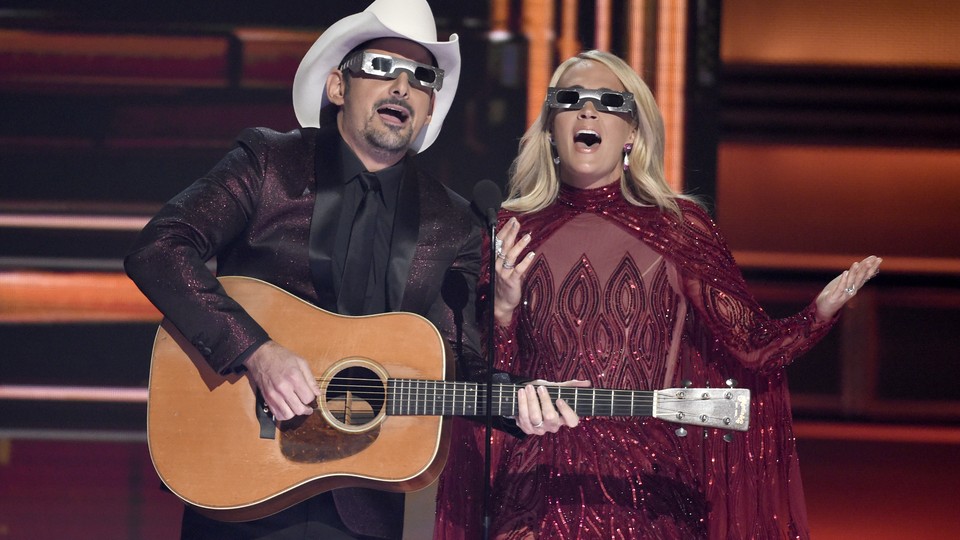 Perhaps Hootie and the Blowfish can heal America?
The 2017 Country Music Association Awards opened how you might expect an annual summit would for a community that, a little more than a month earlier, was targeted in the worst mass shooting in modern U.S. history. On a darkened stage, under one spotlight, Eric Church began singing "Amazing Grace."
But then came incongruously bright guitar sounds, and into the frame arrived Darius Rucker, the '90s-era pop-rock band leader now enjoying a second act in country music. "With a little love and some tenderness, we'll walk upon the water," he sang, from Hootie and the Blowfish's joyful 1994 hit "Hold My Hand." Keith Urban, by his side: "With a little peace and some harmony, we'll take the world together." The ensemble expanded to include Lady Antebellum, Reba McEntire, Little Big Town, Brooks and Dunn, Thomas Rhett, Luke Bryan, Tim McGraw, and Faith Hill.
As the warm, darting melody began to work its nostalgic power, one might have thought that the message of the segment was that it's time to reevaluate the Blowfish's legacy. The real point, though, was uplift: I've got a hand for you.
Co-host Carrie Underwood, in a sparkling crimson ensemble perhaps meant to evoke a risen phoenix, then took the stage with a recitation of recent catastrophic events. "Las Vegas, Charlottesville, New York, Sutherland Springs; historic storms in Texas, Puerto Rico, and Florida," she said. "The list goes on and on. This has been a year marked by tragedy, impacting countless lives, including so many in our country music family. So tonight, we're going to do what families do. Come together. Pray together. Cry together. And sing together too."
Her partner in hosting, Brad Paisley, himself in a metallic burgundy jacket, explained the just-keep-strumming philosophy the show would hold to: "The way we see it, the best way to honor our fans is to play our music, loud and proud."
From there, it was the CMAs as unusual: a generous performances-to-awards ratio and current events, including politics, acknowledged only by clasped hands or eye rolls. A vague theme of unity snaked throughout, as seen in Paisley wearing a shirt that said "Unity." People, and industries, can of course mourn tragedy how they see fit. But if Vegas or the other recent horrors Underwood mentioned had fundamentally shaken Nashville, or if there was any sense that the country world might advocate for a course of action to help avert future violence or environmental calamities, the evidence on this front was scarce.
Headlines before the show had focused on the producers' aborted ban on reporters getting "political" with their questions on the CMAs red carpet. Underwood and Paisley made a gentle mockery of the brouhaha with parody songs ribbing both sides. To the tune of Waylon Jennings: "Well she's gone gone gone / gone gone gone / oh no, she wrote a memoir, Hillary's back!" To Underwood's biggest hit: "It's fun to watch, that's for sure / until little Rocket Man starts a nuclear war / and maybe next time he'll think before he tweets." (The FoxNews.com headline, posted almost immediately after the song: "CMA Awards start out somber, then mock Trump.")
The present state of mainstream Nashville was represented by a clutch of scruffy-but-coifed young men selling the expiring trends of pop music with a light country gloss. Thomas Rhett, best known for his 2015 crossover ballad "Die a Happy Man," sang a tune with a sing-talky cadence and wistful chorus that could have gotten it mistaken for a Chainsmokers cover. The spirit of Drake animated Luke Bryan, who crooned over skittering programmed drums about the intricacies of dating through text message.
On the female side of the ledger, the new star Kelsea Ballerini, fresh off a lovable new album that unapologetically recreated the sound Taylor Swift perfected in 2012, smiled through a solid duet with Reba McEntire. Swift herself, not in attendance, won Song of the Year for "Better Man," the smash she wrote for Little Big Town. That band in turn put on a striking, nearly a cappella tribute to the late Glen Campbell, with a cover of "Wichita Lineman."
Back on the male side of the ledger, Keith Urban performed "Female," his rapid response to the Harvey Weinstein scandal in the form of a pillow-plush power ballad rendering his opposite sex as a mythical creature. The words of the chorus flashed on the screen behind him, and an invisible Nicole Kidman and Nicolle Galyon cooed. It's almost like he was talking over them.
The genre's legends received their yearly tributes as well. Garth Brooks took Entertainer of the Year for the sixth time after flagrantly lip-syncing during his brooding on-stage performance (he says he was sick). Tim McGraw and Faith Hill roasted Paisley and Underwood at the start of the night, and dueted later. Alan Jackson, fresh off his Country Music Hall of Fame induction, played twice. When he closed the show with 1991's "Don't Rock the Jukebox," the lyrics' tribute to country music made for one of the more subtly poignant moments of the night: "I ain't got nothin' against rock and roll / But when your heart's been broken, you need a song that's slow."
The most urgent-seeming singing came late in the evening, from Underwood, during the in memoriam segment. She delivered the hymn "Softly and Tenderly" for the famous country names recently departed. Then the screen blacked out and Underwood's voice seemed to catch, and the faces and names of the 58 victims in Las Vegas were shown. "We love you, and we will never forget you," Paisley had said at the start of the show, but from then until that brief ending memorial, it was strangely easy to put out of mind the awful context in which the celebration had been taking place.