The Sumptuous Love Story of Call Me by Your Name
Luca Guadagnino's tale of budding gay romance in 1980s Italy is one of the most mesmerizing films of the year.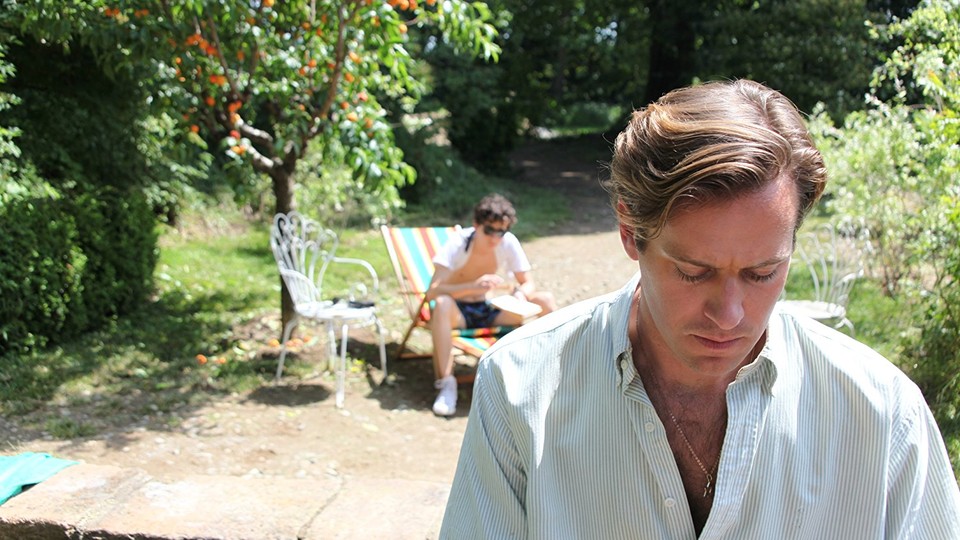 "What do you do around here?" the tall, strapping Oliver (Armie Hammer) asks Elio (Timothée Chalamet), the 17-year-old giving him a tour of the charming Italian village where Oliver will be living for the next six weeks. "Wait for the summer to end," the bored-seeming Elio says with a sigh. "And what do you do in the winter? Wait for the summer to come?" Oliver shoots back. That only gets a chuckle from Elio, but that line nails the initial mood of Call Me by Your Name, Luca Guadagnino's sumptuous new romance, which follows a deep connection that springs out of those restless days of late adolescence.
Elio is the intelligent, charming son of archeology professor Samuel Perlman (Michael Stuhlbarg), with whom Oliver, a graduate student, is interning for the summer. Guadagnino's film, based on the 2007 novel by André Aciman, charts Elio and Oliver's relationship, which develops haltingly at first but then burns brightly. It's a swooning tale about the seismic power of first love—one that doesn't dismiss Elio's experience as a folly of youth, but instead digs into the unmistakable trace it leaves, for better or worse.
It's also a story of queer love that isn't tinged with horror or tragedy, a gay romance about a genuine attachment. At the same time, Call Me by Your Name doesn't attempt to sanitize itself as a bland, "universal" film in hopes of appealing to a wider audience. It's both intensely erotic and intensely contained, acknowledging the very private lives gay men were forced to lead in the early 1980s, when the film is set. As a result, in Call Me by Your Name, virtually every bit of physical contact is crucial and electrifying.
The intimacy Guadagnino (and James Ivory, who wrote the film's script) finds in these characters is present from the beginning, but Chalamet (a 21-year-old budding superstar whom I knew best from an old season of Homeland) is the audience's way in, as a boy on the verge of adulthood who develops immediate, if confused, attraction to the confident Oliver. Not long after the two first meet, Elio retires to his room and reclines in his bed, looking at the tuft of hair sprouting from his armpit, and lazily blowing on it. A few scenes later, Elio is bold enough to sneak into Oliver's empty room and put Oliver's swimsuit over his head.
Guadagnino doesn't include these moments to advance the plot or to let the audience in on some secret; the connection between Elio and Oliver is apparent very quickly. Rather, he's trying to sketch a portrait of personal, formative experiences of sexuality, and of Elio's relationship with his own body. It's tremendously insightful work from a director who has long appreciated actors' bodies as more than aesthetic objects. In his 2009 film I Am Love, Guadagnino presented Tilda Swinton—as a married woman having a dangerous affair—at her most ravishing, and then spent the movie digging into her vulnerable psyche. In A Bigger Splash, a music producer played by Ralph Fiennes was all physicality, dancing wildly for the camera in an extended introduction, but Guadagnino goes on to expose just how strung out his character really was.
Even compared to the director's previous films (which are excellent and worth watching), Call Me by Your Name is a huge step forward for Guadagnino. The story manages to transcend all its genre trappings: This isn't just a luxurious vacation movie, but it's still crammed to the gills with gorgeous shots of the Italian countryside and Elio's family home. This isn't just an erotic drama, and yet the love scenes are all choreographed with care. And most importantly, this isn't just a coming-of-age tale, but the ardor Elio and Oliver have for each other feels utterly vital, as if every touch will be seared into their memories.
Chalamet is handed the difficult task of making Elio authentically aloof and cold at times. Though he's a teenager desperate for the approval of everyone around him, he possesses a vulnerability that he displays only occasionally. Hammer, who could so easily be reduced to the part of a typically handsome Hollywood stand-in, is mesmerizing; he switches between Oliver's public brashness and private tenderness with ease, making his character far more than a simple object of desire. And lurking in the background is Stuhlbarg, wonderful as a knowing father who is content to mostly let his son figure things out by himself, but who steps in with a guiding hand when things get a little tougher. (He also delivers one of the most astonishing film monologues of recent memory.)
Call Me by Your Name soaks in that end-of-summer mood throughout, one where each move in Elio and Oliver's courtship is loaded with tension (simply because their time together is so short, and thus so meaningful). As such, it's thrilling to watch, even as the pair waste the days away swimming, biking, and talking around their feelings; when their dynamic finally explodes into passion, it's one of the year's most satisfying film moments. Each element is carefully calibrated, but deployed with consummate grace—this is a film to rush to, and to then savor every minute of.