Can a New Vogue Editor Make Britain Great Again?
Edward Enninful, freshly installed at the U.K. magazine, has a dynamic and inspiring vision of an embattled nation.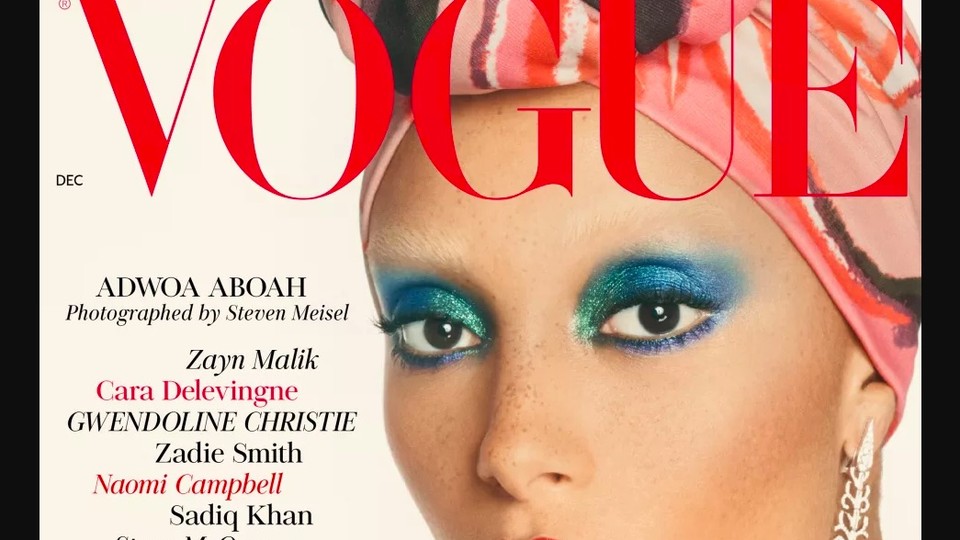 LONDON—To misquote a great Londoner, if these aren't necessarily the worst of times for post-Brexit Britain, they aren't the best of times, either. The nation has suffered through what feels like one disaster after another this year, from terrorist attacks to political catastrophes to the increasingly dysfunctional organization of its impending divorce from the European Union. Britain, according to a recent opinion piece by The New York Times's Steven Erlanger, is "unmoored, heading to nowhere" and "embracing an introverted irrelevance." Ouch.
But then, almost out of nowhere, came the December issue of British Vogue. The new installment is the first released under the management of Edward Enninful, whose appointment as editor-in-chief was announced in April, and its tone is one of defiant, gleeful, unabashed pride in where it comes from. The cover photo, which sports a striking close-up of the British model and activist Adwoa Aboah, makes a statement all by itself, even without the roster of names accompanying it: Zadie Smith, Naomi Campbell, Sadiq Khan, Steve McQueen, Grace Coddington, Skepta. The tagline for the issue? Great Britain.
Enninful, 45, was born in Ghana but raised in West London. After an early foray into modeling as a teenager, he became the fashion editor for i-D magazine at 18, combining his new career with a degree at the University of London. His resume includes a stint as fashion and style director at W, and a contributing editorship at Italian Vogue, where he spearheaded that magazine's first ever "Black Issue," featuring only black models, which sold so successfully it necessitated a print run of 60,000 additional copies. His conception of fashion has long embraced inclusivity rather than ivory towers, something the model Naomi Campbell noted in August when she posted a picture of British Vogue's previously all-white editorial staff to her Instagram page. "Looking forward to an inclusive and diverse staff now that @edward_enninful is the editor," Campbell wrote.
The transition, though, hasn't been entirely smooth. Enninful's predecessor, Alexandra Shulman, who edited the magazine for 25 years, wrote an article in October for The Business of Fashion that was presumed to be taking shots at Enninful, whose Instagram account has more than 600,000 followers, and regularly features personalities including Campbell and Rihanna. Editing a major magazine, she wrote, is "certainly not a job for someone who doesn't wish to put in the hours and thinks that the main part of their job is being photographed in a series of designer clothes with a roster of famous friends."
Condé Nast International didn't respond to The Atlantic's request for an interview with Enninful, although he's responded graciously, for the most part, when asked about Shulman in the past. But it's clear from the December issue that his vision for British Vogue is heavily influenced by the social circles he occupies—ones that include a broad array of talent from a wide variety of backgrounds. The lines between fashion and popular culture are already heavily blurred, something that can be seen in British Vogue's ads even more than its editorial content. The singer St. Vincent, wearing minimal makeup, models several strings of diamond earrings in a two-page spread for Tiffany. The actress Zoë Kravitz models for Saint Laurent. An ad for Valentino places models in evening gowns and stilettos next to models in tracksuits and plastic slides.
But what's most notable about Enninful's first issue is its confidence, and its bold sense of place. "I was determined," he writes in his first editor's letter, "that my first issue of Vogue would be a real celebration of Britain. But what should such a celebration look like in 2017? … The time seemed right to redefine what Vogue can mean today. To open it up."
The December issue, he declares, is "the British issue: a tribute to our country and to the people who brilliantly represent it, both at home and on the world stage." This applies both to its fashion photography and to its writing. In a charming essay about the Queen titled "Mrs. Windsor," Zadie Smith pays tribute to a world leader and monarch whose cultural imprint, she argues, is "distinctly lower middle class." The Game of Thrones actress Gwendoline Christie writes about the narrow conception of women in contemporary film and television. And, in a feature called "Love Letters to Britain," figures as diverse as the former One Direction star Zayn Malik and the aristocratic fashion designer Daphne Guinness contribute fragments about the British institutions they most appreciate. (The northern city of Bradford, Malik writes poetically, is "a place with a long history of survival, an essential beat in the heart of what makes Britain great.")
The December issue is a powerful statement from a brand that seems to be asserting not just its own contemporary relevance, but the relevance of an entire nation. Britain has been buffeted by bad press recently, and by a growing conviction that its long-oversized cultural footprint is diminished. The Dutch writer Joris Luyendijk, writing in the November issue of Prospect magazine, declared that he had come to loathe England, citing "the class divide and the class fixation, as well as an unhinged press." Enninful's first issue of Vogue, though, seems to present a culture that's defined by its democracy: One where John Galliano catches a bus in Elephant and Castle for an interview about his London roots, and where Naomi Campbell reminisces with the London mayor Sadiq Khan about growing up in Streatham. The secret to London, Khan explains, is the secret to every great city in the world: "Talent."
It's that creativity and ingenuity that Enninful is showcasing, and that provides such a distinctive counterpoint to the narratives of British decline. "Whatever your views on Brexit," Enninful writes in his first issue, "there is surely one thing we can all agree on: We are a talented bunch."