An Astros Win Ends a Wildly Entertaining World Series
Baseball will endure late-night finishes and endless mound visits if it gets the kind of drama and passion that Houston and Los Angeles provided in a seven-game classic.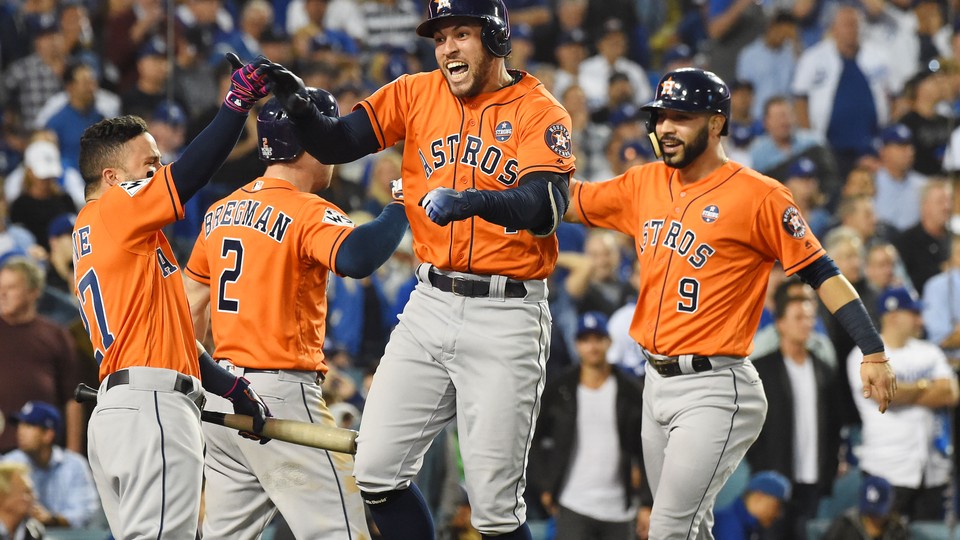 The weather—a record-setting 103 degrees at first pitch in Game 1 in Dodger Stadium—tried to warn viewers that this would be a World Series of extremes. That first pitch seems forever ago now, because so much baseball, over so many hours, has transpired since. The Houston Astros defeated the Los Angeles Dodgers Wednesday night, 5–1, to secure the first title in their franchise's 55-year history, but that news is somehow secondary. This was the rare championship that will be remembered more for how it was contested than for who won. It was raucous and entirely unpredictable. It pulled fans who went to bed early back out to their sofas. And for baseball itself, a sport that has spent much of this century trying to find its footing amid cultural shifts, it was exactly what was needed: sleep-robbing, internet-igniting, star-making proof of not only relevance but also vitality.
Where to start? Maybe the numbers can convey the scale and tenor of these seven games. In feats prodigious (Houston and Los Angeles combined for 25 home runs), tedious (the Dodgers manager Dave Roberts changed pitchers 32 times), or otherwise lamentable (L.A.'s Cody Bellinger struck out 17 times), there was unprecedented achievement all around. Two games went past the customary nine innings, the second of which—Game 5—was the second-longest Series game ever, and George Springer, Houston's fast-twitch centerfielder, tied the all-time record with five homers.
Even these superlatives, though, undersell what happened. Memories of this World Series will be visceral, not numerical. Any casual fans watching were introduced to some of baseball's best players under the most ideal circumstances. There were Houston's superstar middle infielders—the diminutive second baseman Jose Altuve paired with the towering shortstop Carlos Correa—hitting back-to-back home runs in the 10th inning of Game 2, and, after the Dodgers came back to tie it, there was Springer lifting the game-winning smash in the next frame. Game 5, a five-hour-plus absurdity featuring a combined 25 runs and seven homers, ended only when Houston's cool-headed third baseman Alex Bregman, most notably a defensive wizard, squeezed a single into left field. Even in the Game 7 loss, the Dodgers ace Clayton Kershaw performed admirably, emerging from the bullpen on short rest to throw four shutout innings and keep his team close. "For those who don't follow baseball on a regular basis," said the Fox Sports announcer and Hall of Fame pitcher John Smoltz of the series's turbo-charged back-and-forth, "that is not normal."
Also abnormal, and delightfully so, was the amount of visible emotion the players displayed. Altuve and Correa celebrated big hits and big outs—everything, really—with a handshake routine that they sometimes excitedly flubbed. Bellinger, during a double-and-homer breakout game in Houston, shushed the road crowd; back in L.A., Joc Pederson hit a home run and signaled to one of his teammates to pay off a bet. When Kershaw lost command of his pitches in Game 5, he let out a scream of pure anguish, offering as much access to the hurler's midgame mindset as any fan could want.
In March, this season began with the World Baseball Classic, a quadrennial international tournament whose air of excitement presented an obvious contrast with the usually buttoned-down Major Leagues. Ian Kinsler, playing for the American team, sparked a controversy when he said, "I hope kids watching the WBC can watch the way we play the game and appreciate the way we play the game as opposed to the way Puerto Rico plays or the Dominican plays. That's not taking anything away from them. That just wasn't the way we were raised." If Kinsler's comments seemed out of touch even at the time, appealing to an outdated ideal of stodginess, this Series provided the final word: Baseball is better when its players let loose.
The numbers bear it out. This year's World Series achieved television ratings as high as any in recent memory; Sunday's Game 5 even outdid that night's primetime NFL game. There was some chatter, before the opener last week, that the league offices would have preferred the presence of the New York Yankees, but their absence makes the surge in viewership all the more notable. This triumph didn't belong to a lone storied franchise; it belonged to the sport.
The sport's foibles, too, were on display. The marathon games surely meant that many younger fans couldn't witness the endings, and the pace of play—a chief concern of Commissioner Rob Manfred—slowed as managers made changes and pitchers labored over strategies. A season-long controversy over the makeup of the baseballs themselves also found new life. Where during the regular season pitchers had complained about lowered seams that allowed record-breaking home-run numbers, World Series participants also noted a bothersome slickness; the Astros' Justin Verlander compared its surface to a Starbucks receipt.
But in the context of this anomalous, otherworldly Series, even controversy felt welcome (save for the matchup's ugliest moment, when Houston's Yuli Gurriel made a racist gesture toward the Dodgers pitcher Yu Darvish). For a week and a half, baseball was at the center of the sports world, the subject of every morning's bleary-eyed talk. If some of the sudden relevance is unsustainable—games like this won't happen every October, no matter what they do to the equipment—it does seem to mark the arrival of a welcome accord. These seven games proved that baseball can rival any sport for sheer excitement, especially when the players let themselves show it.