About That Secret Button in Matt Lauer's Office
The anchor's door-locking mechanism acts as a particularly vivid metaphor for the amount of power and protection many influential men enjoy.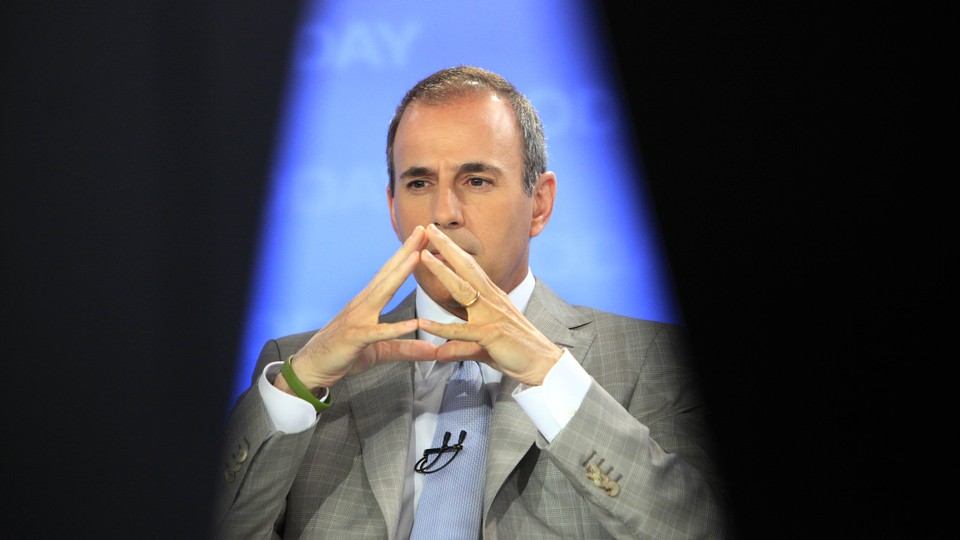 Perhaps the single most horrifying detail from the litany of stories alleging sexual harassment and inappropriate behavior by Matt Lauer is his secret button. "His office was in a secluded space, and he had a button under his desk that allowed him to lock his door from the inside without getting up," according to a Variety story published Wednesday, only hours after NBC fired him, citing a detailed complaint it had received about the Today show host. "This afforded him the assurance of privacy. It allowed him to welcome female employees and initiate inappropriate contact while knowing nobody could walk in on him."
A second piece, published later that day by The New York Times, also acknowledged the button. In one instance, an unnamed former staff member said that Lauer summoned her into his office to discuss a story, and then locked the door from his desk before beginning to have sex with her; at some point, she passed out and woke up on the floor, after which Lauer had his assistant take her to a nurse.
The Times reported that the button is a "regular security measure installed for high-profile employees" at NBC. Whether it's a mundane precautionary tool or an accessory worthy of a Bond villain, it's also a concrete manifestation of a reality reflected in so many of these recent allegations: the unabridged power and protection that accompany celebrity. Even beyond that, the button is a potent metaphor for the way that systems—those seemingly disinterested institutional structures—can insidiously work in favor of the people who already wield the most influence.
In a memo sent to staff Wednesday morning, the NBC News chairman Andrew Lack suggested there had been no previous reports to management of misconduct by Lauer. "While it is the first complaint about his behavior in the over 20 years he's been at NBC News, we were also presented with reason to believe this may not have been an isolated incident," he said after firing the host, who was one of the highest-paid personalities on television with a $25 million annual salary. In a later statement, the company added that "prior to Monday night, current NBC News management was never made aware of any complaints about Matt Lauer's conduct," wording that could imply awareness by previous management.
Lauer worked at NBC for 25 years and was the host of The Today Show for 20; for most of that time, the program was the most-watched morning show in America and Lauer was the network's favored son, anchoring the show alongside Katie Couric, Meredith Vieira, Ann Curry (who was fired in part because of tension with Lauer), and Savannah Guthrie. "Management sucks there," an unnamed reporter told Variety. "They protected the shit out of Matt Lauer." Further revelations of just how insulated Lauer was may still come, but for now, the image of the button, while slight, feels significant.
The mechanism seems to have given Lauer even greater control within a setting where any request he made would have already felt like an order because of his immense influence at NBC. It's the same dynamic Harvey Weinstein allegedly sought when inviting actresses up to his hotel room, or that Louis C.K. took advantage of when exposing himself to women. C.K.'s apology in response to the accusations against him acknowledged the leverage he had when he was alone with a woman. "What I learned later in life, too late, is that when you have power over another person, asking them to look at your dick isn't a question," C.K. said. "It's a predicament for them. The power I had over these women is that they admired me. And I wielded that power irresponsibly."
That's a power Lauer appears to have wielded in summoning female employees to his office. The button, too, points to the instinct an institution has to protect its assets at all costs—sometimes, knowingly or not, to the detriment of the very individuals who most need that support. Lauer's stature at NBC may have encouraged management to ignore any overheard complaints, and convinced Lauer's alleged victims that talking to someone, or declining his demands, could mean they'd lose their jobs.
The Times and Variety stories about Lauer also include reports of unprompted sexting, loud games of "fuck, marry, kill" about co-workers, and inappropriate leading questions about female colleagues' infidelity. Unfolding alongside all of this, Variety said, were consensual affairs with co-workers, which would have been affected by power imbalances.
Lauer, in a statement released Thursday, offered a by now familiar semi-apology: "Some of what is being said about me is untrue or mischaracterized, but there is enough truth in these stories to make me feel embarrassed and ashamed. … Repairing the damage will take a lot of time and soul searching and I'm committed to beginning that effort." The recent reports help paint a picture of the extent of that damage. "He knew people wouldn't ever complain," an unnamed former producer said of Lauer's affairs with NBC staffers. But it's also hard to complain when you're stuck in a locked room with a superior. Lauer had the influence and, with little effort, he could essentially hold his colleagues captive. His wasn't the only button in his industry, and it probably isn't the last one that'll be exposed. But Lauer's case is just one of the latest to reveal how easily such mechanisms of control can be abused.