A High-Scoring Revolution Has the Rockets Soaring
Daryl Morey has spent a decade orchestrating a new kind of basketball juggernaut. Finally, Houston appears ready to deliver a title.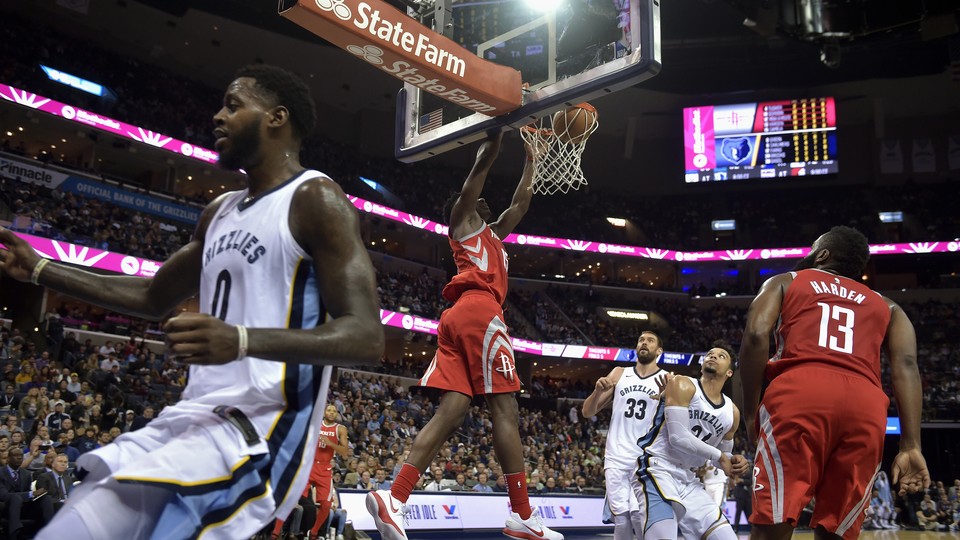 For a basketball team obsessed with data and analytics, the Houston Rockets have a lot of numbers working in their favor thus far this season. Through their first 21 games, they've made 340 three-pointers, more than any team in NBA history over a similar season-opening span. (The previous record was 292, which Houston set last season.) Their shooting percentage on threes is around league average, but they clearly make up for it on volume, with 53 percent of all their shots coming from long range. (No other team cracks 40 percent.) Inside the three-point arc, nearly 75 percent of their shots occur within five feet of the rim, which also explains why no team boasts a better shooting percentage on two-point shots. Houston's approach to the sport is largely predicated on this dual-pronged offensive strategy: Score at the rim and shoot threes. Everything else is all but discarded.
In this way, Houston has also produced the most important statistic of all, a 17–4 record that bests all other Western Conference teams—including the defending-champion Golden State Warriors. It is the fully realized version of their advanced approach to analytics, one embraced by the head coach Mike D'Antoni but ultimately implemented by the general manager Daryl Morey, the only person in today's NBA to have a playing style ("Moreyball") named after him.
The emphasis on statistical analysis in the NBA has been in full bloom over the past decade. Today, teams have entire departments devoted to mining analytics for every advantage they can find. Broadcasters, historically wary of alienating audiences with newfangled stats, now embrace per-possession metrics with fervor. Coaches and players around the league have also familiarized themselves with terms like true-shooting percentage and win shares.
But Houston's influence has been most readily seen on the court. Players are shooting more threes than ever in league history, with the average team attempting 27 per game last season—a 47 percent uptick in just five years. And any coach or executive who discusses installing a more modern offense is often just angling for an approach that aligns with the Moreyball philosophy.
Take the Brooklyn Nets, who held Houston to a respectable 117 points in a loss earlier this week. Since taking over as head coach at the start of last season, Kenny Atkinson talked about establishing a playing style that emphasizes high-value shots. During his tenure, Brooklyn has been among the league leaders in pace, drives, three-point attempts, and free throw rate. When they played on Monday, Houston and Brooklyn set a single-game NBA record by chucking up 89 three-pointers. (The previous record of 88 was set last January by the same two teams.) It's little surprise then that nearly 72 percent of the Nets' shots this season are either near the rim or from three-point range—a ways to go from the Rockets' 87 percent clip but on the right path.
So if such a playing style has turned Houston into a legit title contender, and may even help a team like Brooklyn escape the league's bottom tier, why doesn't every team simply adopt it? A recent statistical analysis by Stephen Shea, the math professor and sports quantitative analyst, showed that almost every team in the league would hypothetically improve on a points-per-game basis if their shot profiles mirrored Houston's.
Morey thinks the answer has to do with proper personnel fitting in with a specific kind of strategy. "You maximize success in the NBA when your players fit your style and your style fits your players," he told me last week. He pointed to how the San Antonio Spurs play a more traditional offense at a slower pace under Gregg Popovich, their long-time head coach who has won five championships at the helm. "He's maybe the greatest coach ever, so I think he knows what he's doing," Morey said. "He's not playing our way because he has personnel that fits his style."
Between D'Antoni, who perfected the art of the up-tempo offense while coaching the "Seven Seconds or Less" Phoenix Suns of a decade ago, and the superstar guard James Harden, the Rockets have the perfect player/coach combination to execute Morey's grand vision. In transitioning to point guard last season, Harden averaged more than 29 points and nearly 11 assists in his first year playing under D'Antoni, finished second in Most Valuable Player voting, and became the first player in NBA history to score 2,000 points himself while assisting on 2,000 more. The Rockets won 55 games but were knocked from the playoffs in the second round to Popovich's Spurs.
Over the offseason, Morey spoke about raising the team's risk profile in order to build a team that could compete with the Warriors, who have won two of the last three championships and show few signs of slowing down. Because he has never played professional hoops, earned an MBA from MIT, and boasts deep ties to the analytics movement, Morey has been criticized as someone who just blindly follows a set of principles, acquiring assets and then "crossing his fingers that they pan out." In reality, Morey's success has proven him one of the most flexible team-builders in the league, someone unafraid to turn the roster over even after winning seasons in the hopes of exploiting new market inefficiencies.
"Defense was more undervalued earlier in my career," Morey said. "Now offense is more underrated, so we've shifted our focus. Sometimes you have to take what players are available and what is undervalued at the time." And sometimes, to give yourself a chance to beat a historically great team like the Warriors, you have to take risks. After last spring's disappointing playoff exit, Morey acquired the nine-time All-Star Chris Paul in a blockbuster, eight-player trade with the Los Angeles Clippers.
Whereas skeptics questioned the logic behind pairing together two ball-dominant point guards like Harden and Paul, the Rockets saw an opportunity. "There's always more risk when you take multiple players who are helping you and consolidate it into one player," Morey said. "But from a player perspective, if Chris was healthy, we didn't feel like there was a lot of risk." Since coming back from a left knee injury suffered in the preseason, Paul has put up 62 assists against just eight turnovers in six games—all double-digit Houston victories.
Morey's roster-building approach hasn't focused solely on finding superstars. In 2009, Michael Lewis profiled the Rockets role player Shane Battier for The New York Times Magazine, dubbing him the archetypal "No-Stats All-Star" who can make a team better without putting up traditionally gaudy numbers. Today, these are exactly the types of players—ones that can shoot threes, play defense, and guard multiple positions—that teams seek out in free agency at a bargain price.
The Rockets acquired two such bargains this past offseason in P.J. Tucker and Luc Mbah a Moute, and impact has been immediate. After finishing last season with a decidedly mediocre defense, the Rockets are now a top 10 team in defensive efficiency. "We have to continue improving and get it into the top five," Morey said. "If we want to be able to beat the Warriors in the playoffs, we have to get there."
This year's Rockets feel like the platonic ideal of the Moreyball principles, but the next frontier in analytics is always near. It's often found every winter in Boston at the MIT Sloan Sports Analytics Conference, which Morey co-founded—the largest annual gathering of the sports industry's biggest stars and promising up-and-comers. (Imagine Comic-Con, but for sports nerds.) One of this year's highlights was a research paper by Panna Felsen and Patrick Lucey that analyzed different NBA shooting styles while focusing on injury prevention and post-injury recovery. Another notable paper by Rachel Marty and Simon Lucey tracked more than 1.1 million three-point shots and identified the optimal angles to attempt shots from beyond the arc.
Teams are still working toward exploiting every competitive advantage they can with the available data. Morey points to the draft as one area that still needs more attention. "Every team is still not very good at forecasting players out of the draft, and how players will do in new systems," Morey said. "We feel like we're better than the average team, but we still have a long way to go. In terms of forecasting players who have the right psychology to keep improving after college, that's an area where we could do better [at the draft] if we could predict it."
Since Morey took over as general manager before the 2007–08 season, the Rockets have the third most wins in the league but have advanced past the second round only once. Despite the lack of postseason success, Morey disputes the idea that his team's playing style doesn't intrinsically translate to the playoffs. "I think the way we play is pretty proven," he said. "You already have multiple titles won by teams playing a similar style as us."
Morey doesn't think he needs a championship to validate his approach, but the specter of such a celebratory coda looms large in his thinking, both now and for the future. "It's obviously the pinnacle of the sport and it's frustrating we haven't gotten it," Morey said. "The success we've had just doesn't mean as much if we don't also have a ring as well. We're getting much closer. We feel like we have a real shot to win a championship, and that's all you can ask for in this league."