World Series Hopes Ride on a Pair of Aces
Despite sluggers aplenty on Houston and Los Angeles, each club's title chances hinge on the pitching prowess of Justin Verlander and Clayton Kershaw.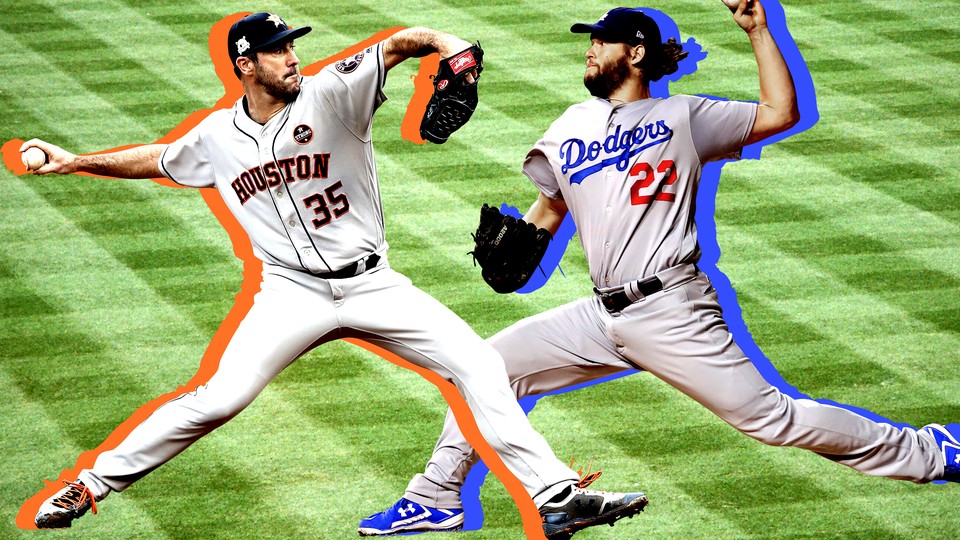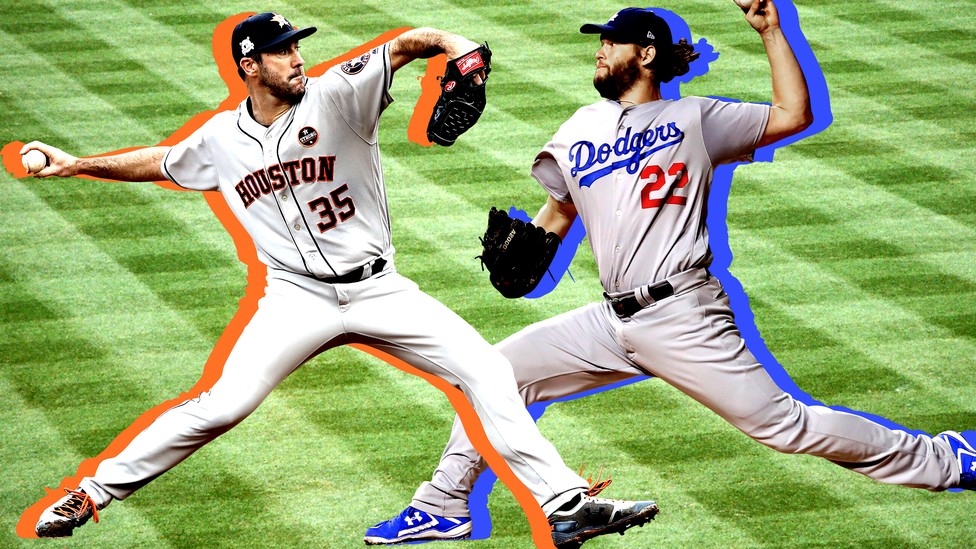 Baseball retains its sly humor. The early talk of the 2017 postseason centered on the diminishing importance of starting pitchers and the preeminence of bullpens; games stretched well beyond their time slots as managers brought in scores of fresh arms. The October ace—long one of baseball's sturdiest archetypes—had all of a sudden become outdated, his endurance and inning-by-inning know-how no longer necessary. The future was for specialists, and the future had arrived.
Of course it would end up, then, that the two teams in the World Series feature the two most accomplished starters of their generation, the embodiments of that supposedly endangered ideal. In Game 1 on Tuesday night, Clayton Kershaw will take the ball for the Los Angeles Dodgers. Justin Verlander will then go for the Houston Astros in Game 2. Between them, they have hoarded the last decade's worth of pitching honors: 13 All-Star appearances, four Cy Young Awards, two MVPs—true rarities for players who appear only once every five days—and three no-hitters. They have not only fulfilled all the terms of their profession; they have set them.
The fact that Kershaw and Verlander have reached the Series does not signal a reversal of said patterns. The statistical and player-developmental trends that have reliever usage on the rise this autumn will likely become even more pronounced in future Octobers, as managers and pitchers alike get more comfortable with shifting norms. But at the end of a postseason charging headlong toward the brand of all-hands-on-deck baseball to come, these two remind fans of the thrill of watching someone take on the burden himself. If this era in baseball is ending, it is doing so by putting forward its very best.
There is, in baseball parlance, a distinction between "throwers" and "pitchers." The former subsist on pure "stuff" (triple-digit fastballs, madly swerving breaking balls), while the latter master the subtler arts of location and sequencing. For the better part of his 13-year career—all of it, until two months ago, with the Detroit Tigers—Verlander has been able to inhabit either role, and often both at once. Standing on the mound between pitches, he looks the part of the flamethrower, all chiseled limbs and set jaw. But then he moves, and he is all of a sudden the perfect pupil, his windup as immaculate as something out of an instruction manual. His leg kicks forward and his right arm arcs over the top; it is a motion that coaches at every level wish their own pitchers would emulate.
That combination of talent and precision results in pitches that not only move unbelievably but end up just where Verlander wants. He favors a high, hard fastball—hitters see it well and swing, only to realize it's already past them—that he complements with trickier offerings: a slider that breaks sharply, a changeup that seems to stop a foot in front of the plate.
There is also a dash of old-school gamesmanship to his approach; unique among modern-day pitchers, Verlander saves his biggest efforts for the pivotal final innings. "When you look at his track record, for a good part of his career, he's gaining velocity in the sixth, seventh inning," Jack Morris, himself a former postseason hero, recently noted. "That says a lot about his durability and his physical and mental makeup."
The statistics astound. In three out of four seasons from 2009 to 2012, Verlander led all of baseball in both innings pitched and strikeouts. But it is that makeup that most enamored Houston of him. "He's a winner," the Astros manager A.J. Hinch said when his team acquired the pitcher's talents. "He's as big of a potential impact as we could have imagined." Even that high praise now seems conservative. Houston has won all four of Verlander's postseason starts, most notably a complete-game, 124-pitch, 13-strikeout tour de force in a 2-1 victory over the upstart New York Yankees in Game 2 of the American League Championship Series. (He would go on to win Most Valuable Player for the series.) It was the most pitches anyone has thrown in a game this postseason; it didn't appear to bother the 34-year-old a bit.
Kershaw, for all his accolades, often looks bothered. The 29-year-old Texan has famously exacting work habits, and when he takes the hill he does so with an expression of absolute seriousness, verging on anger. His body, too, moves angrily, in near-spasms. His leg rises, drops straight down, and then lunges forward in a motion intended to upset the batter's timing, and he exhales hard as his left arm follows. It is often said of great players that they make their sport look easy, but Kershaw belongs to that class of athletes who are all the more impressive for showing their effort, who don't so much transcend the difficulties of their jobs as spectacularly endure them.
There may be no current pitcher more associated with a specific pitch than Kershaw. It is what the legendary Dodgers announcer Vin Scully, during a Spring Training game back in 2008, christened "Public Enemy Number One": a mirage of a curveball, sitting high in the strike zone and then spinning straight down, nearly impossible for a hitter to track. But though that curve is a beauty—and an effective one, as batters have hit just .125 against it—Kershaw's true genius is for sussing out and executing what is needed. He can put his wire-straight fastball wherever he likes; his slider can dip into or out of the strike zone at the last instant. Even with his singular pedigree, he is not above experimenting. Before the 2016 season, Kershaw added a changeup to his arsenal, and he surprises hitters on occasion by dropping the angle of his arm.
It all adds up to one of the most distinguished pitching careers in history. For nine straight years, Kershaw has tallied earned-run averages below 3.00—an indisputable standard of excellence—and led the National League in the category five times. He has suffered occasional injuries, including a strained back that kept him on the disabled list for a month earlier this season, but exhibited no lasting effects, returning to his own remarkable standards.
Kershaw's only blemish, to this point, has been the postseason, where his ERA is more than a run higher than his regular-season mark—an occurrence attributed to everything from nerves to a formerly unreliable L.A. bullpen to overuse to bad luck. In eliminating the Chicago Cubs in Game 5 of the National League Championship Series, though, Kershaw cruised through six innings and allowed only one run, looking like what Dodgers fans wanted to see most: his usual self.
Neither pitcher has won a World Series, and so the coming days will take on the tenor of a referendum. One will be a hero, the other will come up short. What makes the postseason such compelling television also makes it a cruel arbiter; it can't produce a nuanced survey and a champion at the same time.
For baseball fans, though, there may be a rare joy in resisting the urge to view Verlander and Kershaw in opposition. The World Series is the ultimate team competition, but their participation in it amounts to a separate spectacle. It is a special thing to see one pitcher of this caliber on baseball's biggest stage; it's truly rare to see two. This fact alone should be cause for as much celebration as scrutiny. It may be a long time before it happens again.