Will YouTube, Facebook, or Apple Be the Next Great TV Network?
The streaming industry is reinventing itself yet again, and now Netflix, Amazon, and Hulu are part of the old guard.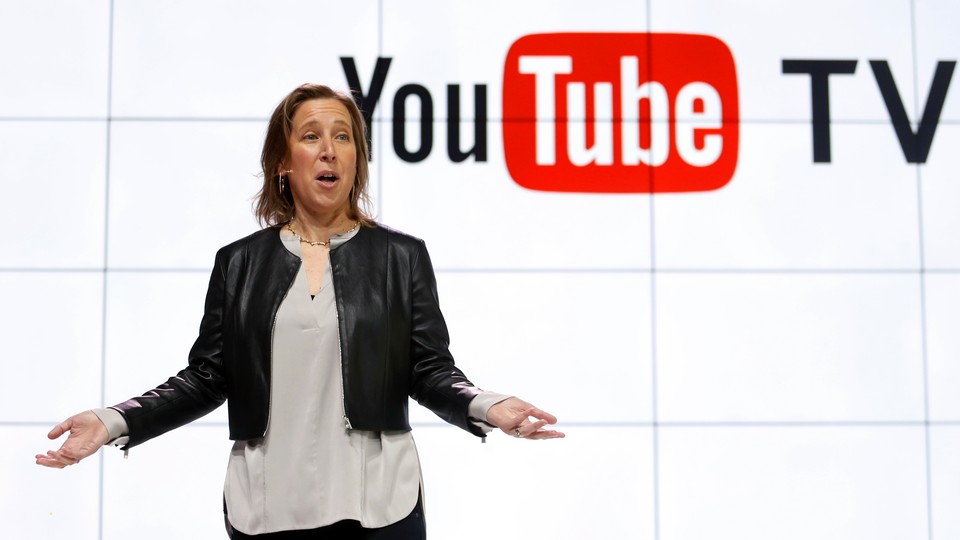 Once again, television is going through another rapid revolution. Five years ago, nobody had seen House of Cards, and the idea of any streaming site existing on a level playing field with the giants of network and cable TV was farfetched. But the best way to understand just how quickly things have changed is to consider how quickly they're changing again—and how insurgent disruptors like Netflix and Amazon have become an old guard that's being challenged by tech giants like Google, Apple, and Facebook. Just as TV changed, it may have to change again, this time leaving broadcast networks in the dust entirely.
That's a future more plausible, though, if the Silicon Valley titans trying to elbow their way into the original-programming market learn the biggest lessons of the last five years in television, when Netflix and Hulu went from being seen as high-tech repositories for reruns to dominating at this season's Emmys. The Hollywood Reporter's recent deep-dive into the coming streaming wars is mostly focused on the immense budget and outlay required to break out as a destination for well-regarded shows. YouTube, Apple, and Facebook have the money to be TV networks, if they want to be. But do they have the patience?
YouTube, which is owned by Google, has made the biggest strides into original programming, offering shows like Foursome and Mind Field on its $10-a-month "YouTube Red" service, which also offers ad-free access to the whole platform. For $35 a month, you can get "YouTube TV," a Sling-like application that offers a network-TV package along with YouTube's own programming. Younger viewers more attached to the website's existing celebrities might be drawn to signing up, but a broader subscriber base isn't going to appear until YouTube offers more acclaimed shows that cut through the Peak TV noise.
When Netflix launched early hits like House of Cards and Orange Is the New Black, there was less competition—those star-studded, critically acclaimed shows were an exciting novelty to pull more people in, helped along by Emmy nominations and lavish advertising. To keep subscribers on the hook, Netflix has ramped up its scripted content year after year, but newer services like YouTube's are faced with a much more crowded field of contenders. Netflix's breakout model is not replicable. Better examples might be Amazon and Hulu, who have both established strong footholds in recent years.
Hulu's trajectory, in particular, seems like the right one to imitate. It has an existing subscriber base that's not nearly the size of Netflix's, but big enough to attract real attention. For years, its original shows failed to break out, with the service concentrating mostly on foreign acquisitions and niche comedies. Then Hulu started making a bigger effort to get its own House of Cards, a star-studded marquee series that could win critical favor and make the site a must-have for TV viewers. Quantity of content is important—eventually. Quality is what gets people on board in the first place.
Shows like The Path and 11.22.63 were expensive extravaganzas that didn't land with quite the splash Hulu desired, but The Handmaid's Tale, based on the Margaret Atwood novel, did. It was a critical sensation that swept the Emmys, winning Best Drama Series this summer (a feat Netflix has yet to accomplish) and marking Hulu as a prime landing spot for major talent. YouTube's move into original content cannot let go of the site's millennial-skewing, homegrown talent, but it wants splashier shows to go alongside its lower-budget material.
"If you can offer talent the same level of fame and exposure and pay them the same—if not more—than they get elsewhere, you can get access to anybody," the media analyst Richard Greenfield told The Hollywood Reporter. "There are no barriers anymore." In turn, Amazon has started to move away from its original concept of programming, which also favored quantity over quality. CEO Jeff Bezos has been saying over and over that Amazon wants the next Game of Thrones—the kind of true zeitgeist event series that everyone has to tune into week after week. Amazon's pursuit of that lofty aim has been reflected in some of the network's recent cancelations of shows like Z: The Beginning of Everything and The Last Tycoon, which debuted to mediocre reviews.
Before, streaming networks barely paid attention to reviews, instead trying to beef up their back catalogs to keep subscribers around. Now, Netflix and Amazon are actually canceling shows and thinking about their futures as real networks. For the next wave of competition, it'll be even harder; it's difficult to imagine even more scripted television coming on top of what's already available.
Netflix's content budget for the year, according to THR, is $6 billion. Amazon's is $4.5 billion, and Hulu's is $2.5 billion. Apple, which is making vague moves into TV but hasn't announced how its offerings will be made available, has committed more than $1 billion to the project and hired the former presidents of Sony Pictures Television to head it up. YouTube's budget is at least in the hundreds of millions; Facebook is more in the elementary development stages, looking for programming that will appeal to high schoolers.
Money is crucial (Facebook's lack of a big financial commitment has apparently turned off major TV players), but in this next wave of scripted TV, quality matters the most. Bezos might sound ridiculous for saying he's looking for the next Game of Thrones, since there may never be a show with that kind of cultural pull again. But he at least recognizes that approach is the best, and fastest, way to break out in an industry that's hurtling toward total reinvention.