What Martin Scorsese Gets Right About Rotten Tomatoes
The director is blaming the critical aggregator for dooming more complex films, but the deeper problem is studio neglect.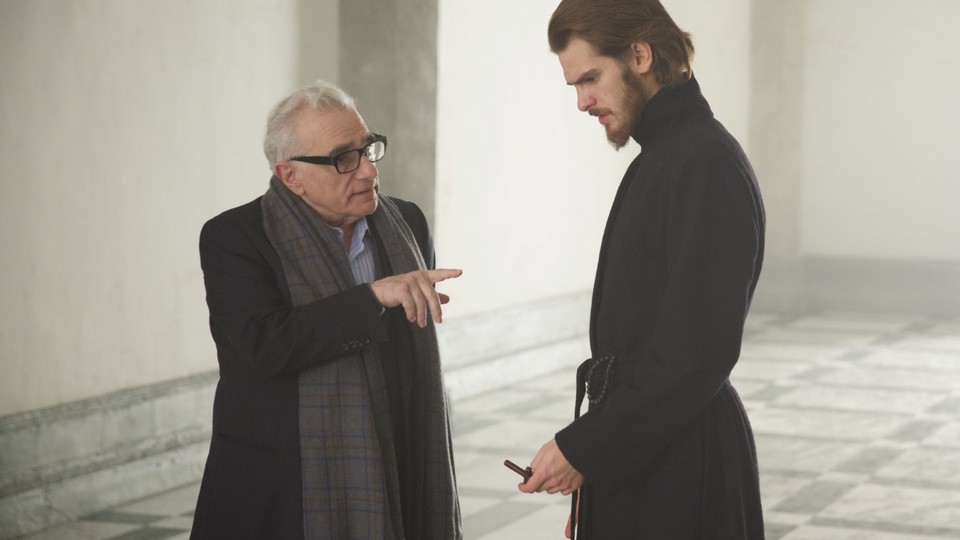 Last weekend, Professor Marston and the Wonder Women, a drama about the creator of the famed comic-book character, became the latest mid-budget casualty. It was marketed on the back of its connection with Wonder Woman, one of the biggest hits of the year. It received a moderately wide release and got strong reviews, but its three-day box-office total was just $736,883—a flimsy average of $600 per theater, which essentially doomed any future chance of success. Critics and industry insiders alike have lamented for years the decline of modestly budgeted movies aimed at grownups, the sort of film that was once the backbone of Hollywood.
Professor Marston would likely have at least one sympathizer in Martin Scorsese, who recently wrote an op-ed for The Hollywood Reporter on how many good, artistic movies are struggling to find receptive audiences in this new era for the industry. "Box office is the undercurrent in almost all discussions of cinema, and frequently it's more than just an undercurrent," said the Academy Award-winning director, who also works tirelessly in the field of film preservation. Indeed, in most cases, a movie is judged a flop or a hit within the first few days of its release. Box-office prognosticators can predict a film's final grosses almost immediately, and there's very little chance for word-of-mouth to help build up hype, except in the cases of certain smaller independent works.
But then Scorsese turned to a more dubious, though quite popular, argument about how Hollywood has changed for the worse. "The brutal judgmentalism that has made opening-weekend grosses into a bloodthirsty spectator sport seems to have encouraged an even more brutal approach to film reviewing," he said, going on to blame the likes of CinemaScore (which gives each major film a rating based on interviews with theatergoers) and Rotten Tomatoes for why interesting movies tank. As an example, Scorsese cites mother!, which was given a wide release in September and debuted to a disappointing $7.5 million, before quickly dropping off. Though reviews were generally positive, audience reaction was apparently universally negative enough to earn it an F CinemaScore, an extremely rare feat.
Scorsese isn't wrong to critique how the current industry environment hampers creativity and originality: "The filmmaker is reduced to a content manufacturer and the viewer to an unadventurous consumer," the director argued. But while Scorsese aptly identified many of the challenges artists must deal with, there's also a much deeper problem facing films like Professor Marston and mother!—the sheer amount of competition they have to overcome to get noticed, and the fact that Hollywood no longer seems very interested in marketing itself to adults.
In his piece, Scorsese wrote that "firms and aggregators [like Rotten Tomatoes and CinemaScore] have set a tone that is hostile to serious filmmakers," suggesting that they have conditioned viewers to be less interested in complex offerings. "People seemed to be out for blood, simply because the film couldn't be easily defined or interpreted or reduced to a two-word description," Scorsese continued. "Good films by real filmmakers aren't made to be decoded, consumed, or instantly comprehended. They're not even made to be instantly liked. They're just made, because the person behind the camera had to make them." It's a passionate defense of not just mother!, but also the kind of chance Paramount took by releasing a movie that was tricky to categorize and even trickier to advertise.
But (as Scorsese himself acknowledges) CinemaScore has existed since the 1970s, giving Fs to excellent, if similarly difficult-to-summarize films like Jane Campion's In the Cut or Steven Soderbergh's Solaris (along with genuine bombs like I Know Who Killed Me or Disaster Movie). Rotten Tomatoes, too, predates this current age of Hollywood, having been launched in 1998. Its aggregated percentage scores of positive and negative reviews might play some part in a consumer's decision to buy a movie ticket, but they're just a reflection of the critical industry itself, even if, as Scorsese said, "the actual name Rotten Tomatoes is insulting." As my colleague Derek Thompson wrote, it's long been true "that film criticism moves audiences at the margin but isn't determinative."
While Scorsese's essay also mourns the decline of meaningful film criticism, his ire seems vaguely aimed at "many people" who won't give unusual movies a chance. This is likely because the real problem is much bigger than Rotten Tomatoes—it's that so much of Hollywood is now fixated on capturing the widest audience possible with every film. Blockbuster action movies, superhero franchises, jolty horror pictures, and animated family films that can draw large crowds are the order of the day. Even mother!, which was light on actual scares but heavy on mood and allegory, was marketed as a horror movie in an attempt to pull viewers; theatergoers who felt misled by the advertising may have contributed to the F CinemaScore rating.
It's also worth considering that, despite some polarized reviews, mother! actually received a "fresh" rating on Rotten Tomatoes before bombing at the box office. Other well-reviewed, smaller-budgeted pictures like American Made, Battle of the Sexes, and Stronger have similarly been ignored by audiences. Steven Soderbergh's Logan Lucky, which tried to buck the trend of wide releases needing to be expensive extravaganzas, sadly failed, grossing less than its $29 million budget domestically. When studios themselves complain about the negative influence of Rotten Tomatoes, they tend to do so in defense of movies like Baywatch or the latest Pirates of the Caribbean—terrible films that audiences clearly were not interested in seeing in the first place.
Professor Marston's failure can't be attributed to bad reviews, either. The movie was distributed by Megan Ellison's Annapurna Pictures, an independent production company that used to work with bigger studios like Sony or Fox to release its films, but is now handling the entire operation itself. This summer, Annapurna suffered another notable failure with Detroit, a harrowing re-creation of the Algiers Motel incident by the Oscar-winning director Kathryn Bigelow. Ellison's studio is obviously trying to upend the idea that an awards-focused, adult-oriented drama can't be given a wide release the same as any other studio tentpole. But that does look like an increasingly impossible task.
Scorsese's next film, The Irishman, is being produced by Netflix for $100 million, after his last effort, the critically acclaimed but dense and difficult religious drama Silence, made a paltry box-office impact in December 2016. Netflix is the company that's most aggressively trying to disrupt the current studio system, lobbing films at customers at an unprecedented rate (it's planning to release 80 in 2018 alone) and largely ignoring theatrical distribution. New releases land on its app with little fanfare and can be tough for viewers to find, but Netflix doesn't care—its algorithms, supposedly, will get the right movies to the right viewers eventually.
That makes it harder to know if a Netflix film "succeeded" or "failed" in its first few days of release, to be sure. But the streaming service's approach doesn't solve Scorsese's deeper concern, which should be held by any movie fan—most studios' apparent disinterest in bankrolling challenging, difficult material and releasing it around the country. The brutal gauntlet of reviews, audience reactions, and box office is making it harder and harder for interesting art to survive. But much more poisonous than Rotten Tomatoes is Hollywood's current business strategy: stubbornly relying on films that don't need good reviews to make money.