What Makes Eminem's Trump Diss Special (and What Doesn't)
The rapper's unique in speaking to the president's supporters—but his freestyle is otherwise typical of 2017's hip-hop politics.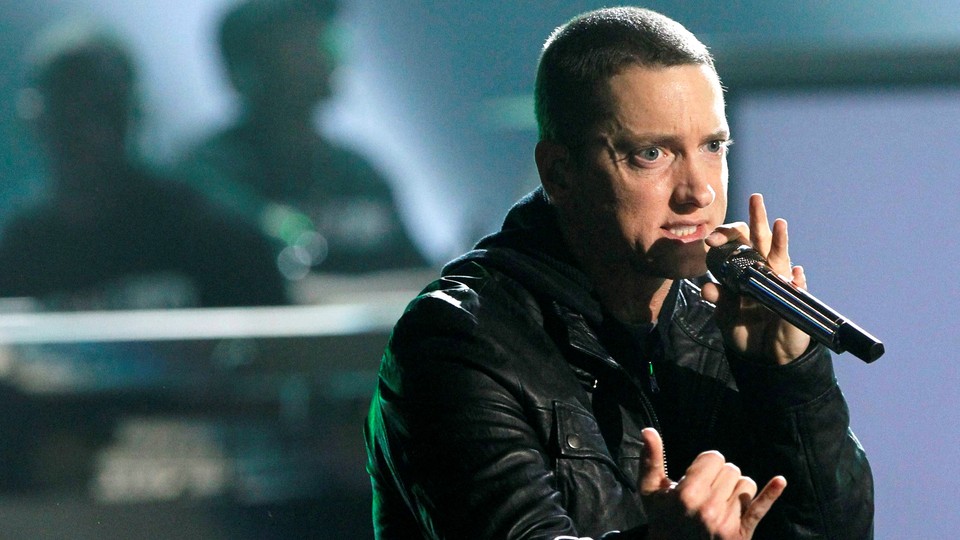 Maybe you loved Eminem's immediately viral BET Hip-Hop Awards diss of Donald Trump on Tuesday, from the way he nails the president's distraction techniques to the way he rhymes "historical deplorable factors." Or maybe Eminem's heavy panting and dumb-then-clever-then-dumb-again lines like "Racism's the only thing he's fantastic for / 'Cause that's how he gets his fucking rocks off and he's orange" put your brain in a fight with your finger to hit "close." Maybe you didn't tune in because of Eminem's long history of misogyny and homophobia. Maybe you're Keith Olbermann and it's, frighteningly, the best rap you've heard in 27 years and the best political writing you've read all year.
But it's worth noting that if you're a pundit or pure political junky—someone listening out of an interest in trending topics—the rap isn't primarily for you.
My colleague Conor Friedersdorf is right to point out that Eminem's vulgarity is a fitting weapon against a vulgar president, a fact the rapper acknowledges in his freestyle when he says "'Cause like [Trump] in politics, I'm using all of his tricks." Still, the most revolutionary thing here isn't Eminem's substance or style but his intended audience. The rapper closes by telling his fans who are supporters of Trump that he's drawing a line: "If you can't decide who you like more and you're split on who you should stand beside, I'll do it for you with this: Fuck you!"
Eminem, more than most rappers, has fans in Trump's camp. The New York Times found that Eminem's fan base "is strongest in whiter and more rural places." As the music critic Brian McCollum pointed out recently, three of the most surprisingly politically relevant artists of the Trump era are rappers who arose from white working-class Detroit in the late '90s: Kid Rock, Insane Clown Posse, and Eminem, all of whom hold very different political views but can talk to much the same constituency. Also, Marco Rubio is a stan. (To break your brain, here's Trump endorsing Eminem for president on MTV in 2004.)
Though tracking expressions of partisanship on social media is tricky in the era of propaganda bots, Eminem's rant has been met both with GIF-laden airings of awe and jeers from longtime listeners. True fans should already know Eminem has offended across the political spectrum but roots against Republicans in office: He blasted George W. Bush in song multiple times, and has already released anti-Trump music this year. Telling a portion of his supporters that they're not welcome is a new move that could force some political conversions—but it's already clear that some fans of Trump and Eminem are happy to straddle his new line in the sand.
There's been an odd response outside of regular Eminem listeners, though. As previously mentioned, the pundit Olbermann tweeted out the freestyle with the note, "After 27 years of doubts about rap I am now an @Eminem fan. Best political writing of the year, period." The music-industry analyst Bob Lefsetz sent out an email gushing about the rap: "This is everything today's 'musicians' are against. They don't want to alienate a single potential audience member. … The only person with a voice as big as Trump's is a rapper. And tonight the king of rappers called him out."
Those are pretty out-of-touch statements: Eminem isn't saying much that other rappers haven't been saying. Arguably the most significant protest song of this era, "FDT" by YG and Nipsey Hussle, is an elaboration of the words "Fuck Donald Trump." Kendrick Lamar called Trump "a chump" in his lyrics. Jay-Z sent the president "all disrespect" in an interview. Snoop Dogg sparked a presidential tweetstorm by holding a toy gun up to a Trump lookalike. Vince Staples has audiences chanting, "Tell the president to suck a dick."
Eminem wasn't even the sole Trump antagonist of last night's BET Hip-Hop Awards Cypher, the freestyle slam that he was participating in. "KKK / that's just Trump in disguise," Fat Joe rapped in his segment, following similarly politically tinged performances from Belly and Cyhi the Prynce. Such artists may not have literally said they were drawing a line in the sand with their fans, but their music certainly implies one.
The irony is that treating Eminem like a brave outlier betrays Eminem's own message. After all, the most powerful parts of his freestyle point out America's double standards on race. He scorches those who support "the Klansmen / Tiki torches in hand for the soldier that's black / And comes home from Iraq / And is still told to go back to Africa." He calls hypocrisy on Trump criticizing black athletes as disrespectful to the military when Trump himself has disrespected war veterans. Eminem argues that Trump embodies how white people can get away with what black people can't. Praising him as more courageous and engaged than the rest of hip-hop is, in many ways, worse than missing the point.