What a Forgotten Kids' Book Reveals About U.S. Publishing
Released in 1927, the poignant children's novel Gay Neck was written by an Indian immigrant who became the first person of color to win the Newbery Medal.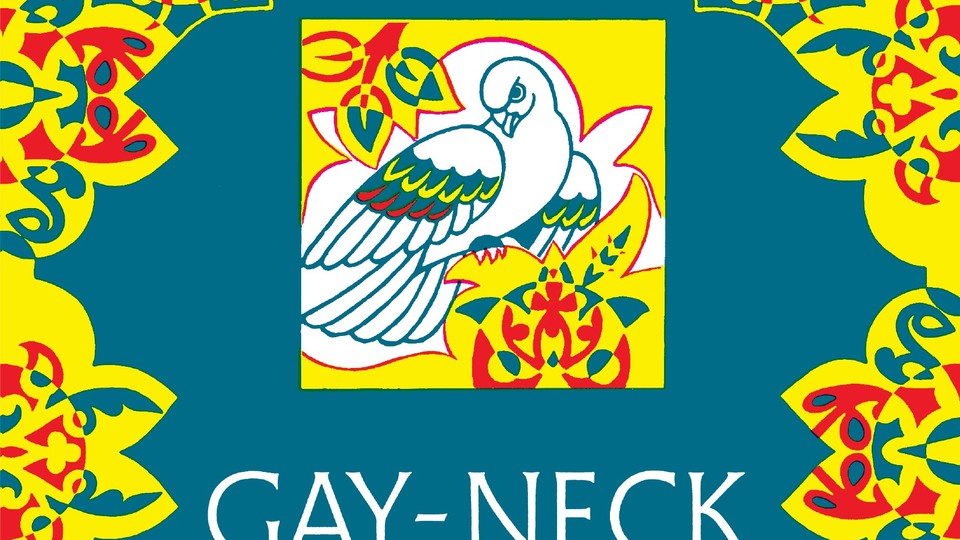 In 1927, the author Dhan Gopal Mukerji published a slim novel, Gay Neck: The Story of a Pigeon, which follows the adventures of the titular Calcutta carrier bird, and the bird's young owner, Ghond. Gay Neck (referring to the bird's Bengali name, Chitra Griva) sympathetically portrays a bond between a young boy and his beloved pigeon as they encounter hawks and tigers in the jungles of Bengal and elude German fire in France during World War I. "The message implicit in the book is that man and the winged animals are brothers," Mukerji explained in an interview published in Newbery Medal Books: 1922-1955.
Gay Neck is as informative as it is lyrical and profound. Mukerji not only traces the bird's flight patterns and mating with exacting insight, but he also allows the bird to "speak" directly to the reader. "It is not hard for us to understand him," the first-person narrator says of the pigeon, "if we use the grammar of fancy and the dictionary of the imagination." In a deeper sense, the novel is a meditation on courage and redemption in a time of war. When Gay Neck and Ghond return to India after their military service, they are battle-scarred. "I need to be healed of fear and hate," Ghond says. "I saw too much killing of man by man." War leaves Gay Neck fearful and unable to fly. But with the help of the lamas in a Buddhist monastery deep in the Himalayas, the duo overcome their wartime fears and find inner peace.
At the time of its release, the book was widely lauded. The magazine The Horn Book said of the novel: "Gay Neck is truly a carrier pigeon, a bearer of messages, and his messages are words of courage and love." The New Republic called Gay Neck "a distinguished contribution," and praised Boris Artzybasheff's illustrations as "altogether beautiful." In 1928, Mukerji won the John Newbery Medal, awarded every year for the best work of American literature for children. He's widely considered the first Indian American who successfully wrote for American audiences, and Gay Neck was his fourth book for young readers.
Yet, 90 years on, this once-celebrated book, which has remained in print since its publication, is rarely mentioned in discussions of racial and ethnic diversity in books for kids, as if Mukerji were some sort of aberration rather than an early chapter of what could have been. In recent years, there has been more activism in the children's literature community centered on representation—but diversity advocates can sometimes have a limited view of the genre's history, argues Uma Krishnaswami, an author and an instructor in the low-residency MFA program in writing for children and young adults at the Vermont College of Fine Arts. "By all reckoning, Gay Neck should have established a publishing trend, but didn't for many complicated reasons," she told me.
Gay Neck and Mukerji found unlikely success nearly a century ago thanks to the collision of a number of forces, both personal and historical—including Mukerji's prodigious talent, U.S. immigration policy, and seismic events such as world war and decolonization on the Indian subcontinent. Understanding why the book fell out of public view can help American writers and illustrators, as well as educators, better understand how geographical shifts, politics, and migration today shape the literary world for the children of tomorrow.
* * *
Mukerji's life illustrates the ways the history of South Asian literature intersects with the history of the South Asian diaspora in the U.S. The writer was born in 1890 in a village outside Calcutta, and made his way to California in 1910, soon earning his bachelor's degree in English at Stanford University.
It was at Stanford where Mukerji began distinguishing himself as a literary talent. "My father was a masterful storyteller," his son, Dhan Gopal Mukerji Jr., told me in a phone interview in 2004, five years before his own death. "He discovered that he could make more money as a poetry reader than washing dishes while he was a graduate student at Stanford." So Mukerji connected with Paul Elder, a prominent San Francisco publisher who later released Mukerji's first two volumes of poetry and his first play. "My father would charge 50 cents per head to listen to him recite poetry. He had a great command of the English language and knew Milton's Paradise Lost by heart. He would charge a special price on the nights he recited that," Dhan Gopal Mukerji Jr. said.
Soon after the publication of his early works, Mukerji and his wife, Ethel Ray Dugan, became involved in cultural life, first in San Francisco and then in New York City, where Mukerji became serious about pursuing a literary career. He was not only a prolific writer but also a prominent public intellectual, said Daniel Elam, an assistant professor of postcolonial literature and transnational studies at the University of Toronto. "He advocated for Indian independence, interracial dialogue, and greater awareness of Indian philosophy," Elam said. Mukerji befriended American intellectuals, such as Roger Baldwin, one of the founders of the American Civil Liberties Union, and corresponded with Jawaharlal Nehru, a leader in India's independence movement at the time who later became the country's first prime minister after the end of British rule.
Mukerji's first three children's books, Kari, the Elephant; Jungle Beasts and Men; and Hari, the Jungle Lad, were well-received and sold handsomely, bringing him national fame. "He was incredibly savvy about figuring out the American publishing industry at a time when a lot of people weren't," Elam said. Mukerji's correspondence with his publisher, E.P. Dutton, reveals that he was especially adept at identifying markets and "translating" India for a middle-class white audience.
Gay Neck, Mukerji's fourth children's book, won him popular acclaim. In 1928, when Mukerji went to collect his award in West Baden, Indiana, he had to be hidden behind a stand of trees on the hotel grounds prior to the announcement of his win, according to Irene Smith's A History of the Newbery and Caldecott Medals.  The identity of the winner had been shrouded in secrecy by the award's jury, and they worried that the presence of an "East Indian man" in a crowd of all white librarians would make the evening's winner obvious. Mukerji may have taken this drama as a slight, or all in good humor. "He was very Indian, although he was not self-conscious about it," his son said.
Although his best-known works were behind him, Mukerji continued to publish children's books for the remainder of his career. Toward the end of his life, he fell into a depression that robbed him of his "fantastic sense of humor," in his son's words. Prior to his death by suicide in his Upper East Side apartment, he suffered from a six-month nervous breakdown, perhaps exacerbated by repeated and exhausting cross-country lecture tours, explained Elam. According to his New York Times obituary, headlined "Friend of Gandhi Dies by Hanging," Mukerji was 46 years old. His death shocked family, friends, and fans at the time, and then Mukerji and his work faded. "His popularity in the 1920s was matched only by the obscurity into which he fell following his suicide in 1936," Elam said.
* * *
Mukerji was one of a handful of students from colonial India who migrated to the United States in the early decades of the 20th century. Although the first known South Asian immigrant entered the United States in 1790 as a maritime worker in Massachusetts, emigration from the region began in earnest in the late-19th and early-20th centuries. Many of these early migrants were either Sikh men from Punjab who settled in farming communities in California and Washington, or Bengali Muslim peddlers who integrated into other communities of color in New Orleans, New York, Detroit, and Baltimore.
Shortly after Mukerji came to the United States, Congress closed the door to all immigrants from South Asia by passing the Immigration Act of 1917. Six years later, in the landmark case United States v. Bhagat Singh Thind, the U.S. Supreme Court ruled that immigrants from India were not only barred from naturalization, but could also retroactively have their American citizenship revoked. (This ruling was reversed in 1946 with the passage of the Luce–Celler Act.) In 1965, in response to the American civil-rights movement, the Immigration and Nationality Act ended this immigration-admissions policy based on race and ethnicity.
The effects of that 1965 bill's passage were profound, influencing the flow of immigrants to the United States, the country's demographic profile, and ultimately its cultural output. A provision in the Immigration and Nationality Act gave preference to professionals with skills in short supply in the United States, so "when [immigration] got started again, South Asian people didn't come to the United States to become writers; they came to be engineers and doctors," Krishnaswami said.
Children's bookshelves might look very different today had Congress not passed such restrictive immigration laws designed to maintain a white majority in the United States. Once the door closed on migrants from Asia, so closed the white publishing establishment's imagination, it would seem. One can easily imagine an alternate reality in which South Asians immigrated to the U.S. in increasing numbers in the early decades of the 20th century, formed literary communities, and accumulated capital, and in which the publishing of South Asian books for children flourished following the commercial success of Gay Neck.
Generations later, as the children and the grandchildren of the migrants who arrived on American shores after the passage of the 1965 act have come of age, several South Asian books for children have been recognized by establishment institutions for their literary merit and popularity. Tanuja Desai Hidier's seminal early-aughts young-adult novel Born Confused—the first book about a South Asian teenager coming of age in the United States—was named as one of the greatest young-adult novels of all time by both Rolling Stone and Entertainment Weekly. Mitali Perkins's 2007 children's book, Rickshaw Girl, about the changing roles of girls and women in Bangladesh, was chosen by the New York Public Library as one of the top 100 books for children in the past 100 years. Perkins's 2017 release, You Bring the Distant Near, a sweeping multigenerational saga of the girls in a Bengali family struggling to find acceptance in the United States, was just named as one of 10 contenders in the Young People's Literature category of the National Book Awards. "It's taken time to establish a presence long enough and vocal enough to matter again in the American context," Krishnaswami said.
* * *
Still, despite increasing viability, no other South Asian American writer has been awarded the Newbery Medal, the pinnacle achievement in the field, since Mukerji took home this honor in 1928, and the Newbery's next awardees of color came almost a half century later: Paula Fox, whose mother was Cuban, in 1974 for The Slave Dancer, and Virginia Hamilton, who was African American, for M.C. Higgins, the Great, in 1975. Only two other Asian Americans have won the Newbery—Linda Sue Park, in 2002 for A Single Shard, and Cynthia Kadohata, in 2005 for Kira-Kira.
"There are contentious, ongoing conversations regarding the lack of diversity among award winners," said Sarah Park Dahlen, an associate professor of library and information science at St. Catherine University who teaches courses on children's and young-adult books. She attributes this lack of diversity among award winners, in part, to the lack of diversity in librarianship. "The committees [who select the winners] tend to be white," she said. "Although they know that diversity continues to be an issue, perhaps their criteria are still determined by what they already know and are comfortable with."
According to census projections, non-Hispanic whites will no longer be the majority of the U.S. population by 2044—but the publishing industry hasn't kept apace: The Cooperative Children's Book Center found that in 2015 only about 11 percent of children's books were written by and about people of color. The CCBC's statistics only go back to 1985, and there is little hard data about the diversity of books published before this. The rise and quiet disappearance of Gay Neck is not only a reminder of how publishing success waxes and wanes with shifts in groups' social and economic capital, but also how erasure hurts and representation does, in fact, matter to contemporary narratives about art. "Whose story is being told and why?" Krishnaswami said. "Why do these collective choices get made? These are really important cultural questions for us all to consider."