Tom Petty's Psychedelic Curveball Triumph
"Don't Come Around Here No More" is an outlier in the late rocker's catalogue—and all the more glorious for it.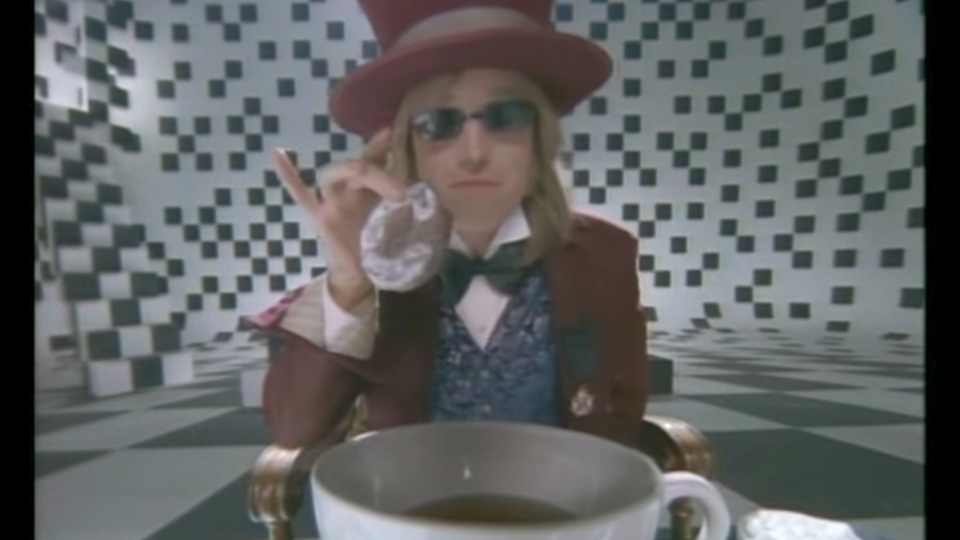 Tom Petty, fairly or not, is often talked about as a voice for the center, someone whose music is like the point where all the tangled roads on the map of rock-and-roll history meet. His signature song is a vision of universal American feeling, and so are many of his other hits. He didn't provoke, he didn't confuse, he didn't alienate. As the wave of remembrances following his death at 66 have attested, he performed well, again and again, in a job that nearly everyone could appreciate.
And yet there are people for whom the name Tom Petty conjures not a crackling guitar riff but the gurgle of an electric sitar, not a shout-out-the-window yowl but a confused mumble, not denim and open roads but a checker-board nightmare of cannibalism. They are people who first really encountered him from "Don't Come Around Here No More," the 1985 hit that stands as an outlier in his catalogue yet can be ranked in influence not far behind "American Girl" or "Free Fallin'."
The genesis of the song lay with David Stewart of the Eurythmics who, fresh off his band's smash "Sweet Dreams," was lending his synth-pop skills to rockers. He'd end up producing Petty and the Heartbreakers' 1985 album Southern Accents, but first went to work for Stevie Nicks at the invitation of the producer Jimmy Iovine.
Stewart's autobiography describes the fraught backstory to the sessions: Stewart and Nicks had recently had a bizarre hook-up, Iovine and Nicks had recently dated, and Iovine accused Nicks of singing "Don't Come Around Here No More" as if it were Shakespeare rather than a rock song. Petty was brought in to help finish with the writing and recording, but—accounts differ on this—either he liked the song so much or Nicks was indifferent enough to it that he ended up with the tune.
Petty and Stewart hit it off, and from the sound of it, the recording process was a blast. "I wanted to make a single that sounded like nothing anybody had ever done, and to this day, I don't know that anybody's ever made a single like that," Petty told the journalist Jim DeRogatis in 2003. "We worked very hard on that song—maybe a month—and we were doing things like right in the middle, there's a big piano note, a grand piano, and we literally grabbed the tape and pulled it across the heads [of the recorder] so it makes this kind of 'whoooooo' [laughs]."
Stewart once reflected, "I think most of [Petty's] band—and I don't blame them —were going, 'What the fuck is this?' [The record] was called Southern Accents, and it sounded like we're in India." To startle one of the background singers into hitting a high note, Petty has said, Stewart jumped into the recording studio in his underwear. To make "Don't Come Around Here No More" a true Heartbreakers song, Petty's band added in the final, Ramones-like coda.
Petty's talk of "a single that sounded like nothing anybody had ever done" isn't too much of an exaggeration—you might hear some Grace Jones or Talking Heads in the song's vibe, but it's a truly odd mishmash. There's the lumbering, reverberating drum pattern. There's the electric sitar, drawing on all the mystical associations that many Americans have with such an instrument. There are the women shouting in the background—"stop!" There are the bright flourishings of cello, synthesizer, and guitar. And there is Petty, sounding like he's singing from a fetal crouch—paranoid, defeated, cranky. The artificial, burnt-out vibe now seems a perfect rejoinder to his openhearted late-'70s rock.
Somehow, the trip was a catchy one, and the song hit No. 13 on the Hot 100, higher than "Mary Jane's Last Dance" or "Runnin' Down a Dream."  Today, you can also hear its influence on the radio—especially in this particularly synthetic and strung-out pop moment. Jack Antonoff, the producer behind Taylor Swift's latest smash as well as a slew of other recent important records, tweeted yesterday that "Don't Come Around Here No More" "changed the way I looked at songwriting and production. so odd and complex yet direct all at once. that's TP."
The song's Alice in Wonderland–themed music video is a landmark of VH1 and MTV history, inspired by the British Stewart's bewilderment at '80s Los Angeles. With Petty as the Mad Hatter, the director Jeff Stein created a creepy-fun hallucination of edible tea cups, size-changing spectacles, and polymorphing piglets. Throughout, Petty leered with gusto, and today at The Washington Post, the critic Chris Richards nails the aspect of Petty's career that this song most embodied: "As handsome as they were, his rock-and-roll songs came coated in a thin residue of psychedelic strangeness. … He used the powers of MTV to burnish his image as a troubadour burnout whose closet happened to be overflowing with cool sunglasses and freaky top hats."
At the end of the video, Alice meets the unhappy fate of being turned into a sheet cake and devoured by the band. As such an image could easily be read as a celebration of predatory sex and drugs, controversy ensued. "[MTV] actually made me edit out a scene of my face when we were cutting her up," Petty told Billboard in 2005. "They said it was just too lascivious. It was just a shot of me grinning, and they were like, 'Well, you can do it, but you can't enjoy it that much.'"
There's a charming 2013 interview with Louise "Wish" Foley, the actor who played Alice, at Noblemania.com. "I was too young to articulate what I was thinking at the time, but my thought on violence against women was 'It's just a video!'" she said. "It doesn't have any deeper meaning. It is a fantastical, funny, imaginative concept, committed to film." For her efforts, Cohen received a one-time payment of $2,500 and a pair of Tom Petty's prop sunglasses. To hear her tell it, she's lived more or less a stereotypically "normal" life since then, moving on from acting into HR computing systems and raising kids. "Don't Come Around Here No More" was just a remarkably odd highlight in a longer, more recognizable arc for her—as it was, in a way, for Petty, and for his listeners.