The Square Is a Masterful Symphony of Discomfort
Ruben Östlund's Palme d'Or–winning follow-up to Force Majeure is a cutting satire of the Swedish art world.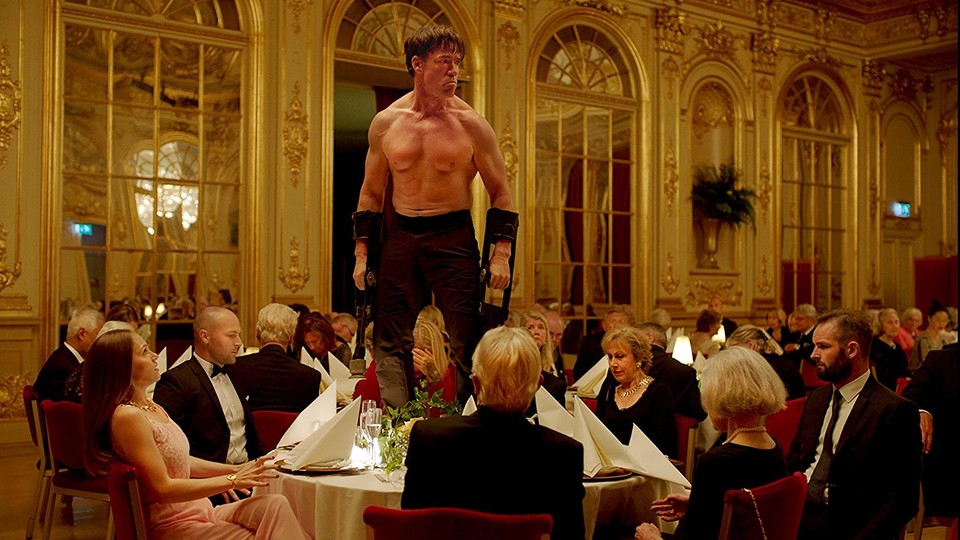 Nothing seems to fascinate the writer and director Ruben Östlund more than the life cycle of a bad decision. Early on in his new film The Square, which won the Palme d'Or at this year's Cannes Film Festival, the well-to-do museum curator Christian (Claes Bang) takes it upon himself to right a perceived wrong: the theft of his cellphone. A tracking app tells him it's somewhere in a tower block in Stockholm; encouraged by his co-worker, Christian decides to go apartment by apartment, floor by floor, posting a somewhat threatening letter under every door demanding the return of his stolen property.
It may sound like a fraught idea, but Östlund meticulously lays out the case for Christian's foolishness. The curator endures the quiet indignity of losing his phone after being scammed by hustlers on the street, but the film has also already established Christian's passive sense of superiority at work, where he's respected by all as an intellectual and cultural authority. So when Christian goes around stuffing his mean notes under anonymous doors, the insanity—and strange logic—of what he's doing is immediately apparent and transfixing. The Square goes on to poke further at the bubbles of entitlement and stuffy notions of politeness that guide supposedly upstanding folk into moments of madness.
Östlund's last film, the wincingly funny Force Majeure, was also about a moment of madness, but one that played out in a split-second: a father deciding to flee and abandon his family at the sight of an avalanche that turns out to be harmless. Over the course of two hours, Östlund picked at the fraying threads of his hero's masculinity, and his wife's inability to forget the instinctual, cowardly choice he made in the face of danger. That film was an instant smash (as much as a caustic Swedish comedy can be considered a smash), and in winning the top prize at Cannes for his follow-up, Östlund has a lot of hype to live up to.
While Force Majeure was more intimate, centered on one distressed family, The Square is sprawling and ambitious, diving headlong into questions of art, sex, human morality, and the value of political correctness over an intimidating 142-minute running time. Though the film is mostly in Swedish, Östlund has brought on English-speaking stars like Elisabeth Moss, Dominic West, and Terry Notary (who is most famous as a motion-capture performer) to feature in several memorable scenes. Unlike Force Majeure, which had a tight narrative, The Square unfolds as a series of extended sketches, like Curb Your Enthusiasm for the Swedish art world, but even more awkward and brutally wry.
The "square" of the film's title is a new art installation, a simple physical border (four meters by four meters) that's etched in front of Christian's grand museum and proclaimed to be "a sanctuary of trust and caring ... within it we all share equal rights and obligations." It's a piece of art asking why such a space should need to exist, why it would be so painfully small, and how one would even share "rights and obligations" when gender, racial, and class disparities are so shamefully apparent in Western society? Though Christian is interested in these questions, in his personal life he seems as lost as anyone, stumbling from one moral gray area to the next.
The genius of Östlund's writing, and his careful staging of each major set piece, is that he's never inviting the audience to sit back and simply laugh at the ridiculousness. He wants viewers to identify with the characters—to see themselves in their frustration and sometimes peculiar decision-making, and in Christian's propensity to offend even when he's striving to do just the opposite. One hilariously tense sketch sees Christian and a reporter named Anne (Moss) arguing over who should dispose of a used condom after a long, drawn-out sex scene. Another sees a performance artist (Notary) invading the personal space of various attendees of a museum gala, pretending to be a chimpanzee and pushing members of Sweden's high society to their absolute breaking point.
That latter scene highlights the tenuous divisions between art and reality that Östlund is getting at with his "square." Why is some behavior automatically more acceptable if it's part of a performance, and where does the line between depiction and endorsement fall? That issue is the crux of another central plot point in The Square, where two ad execs cut an outrageous and arguably tasteless commercial for the museum, drawing a storm of controversy. Östlund isn't interested in providing clean (or any) answers, but poses the questions with skill and relish.
The Square could easily feel like a piece of performance art itself, particularly because its story is so aimless, bouncing in different directions in pursuit of the themes that most intrigue Östlund. But the film works because it doesn't come off as empty provocation; every maddening choice evolves in ways viewers can understand, even if they're grimacing as they watch. The Square is darkly amusing, but it's also bracingly honest in its absurdity, and that's what kept me coming back to each one of its wonderfully knotty scenarios even months after seeing it.