Is The Mayor the Future of Politics?
The new ABC comedy about a rapper who runs for office is charming, funny, and oddly hopeful.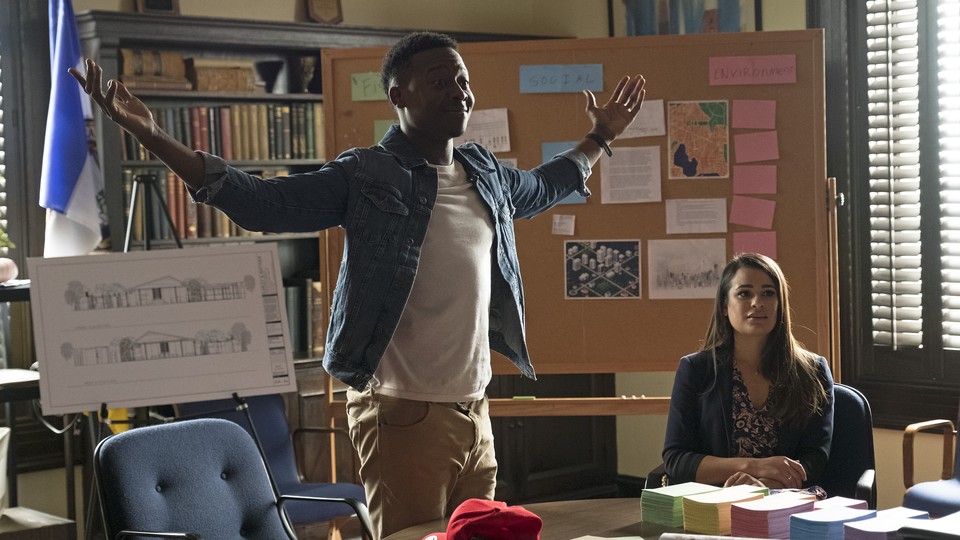 The Mayor, ABC's new Tuesday-night comedy, has a cynical premise. Like "The Waldo Moment," the episode of Black Mirror that some have compared to the current dystopian reality, it's set up around a stunt, where a failing entertainer stages a political campaign to boost his flagging career, assuming there's no way he'll actually get elected. But, whether out of nihilism or disillusionment or for simple lulz, the people like what they see. The joker goes up in the polls. The integrity of the political process is undermined. Chaos reigns.
Only The Mayor, which is created by Jeremy Bronson and executive produced by Hamilton's Daveed Diggs, isn't cynical at all. It is, despite everything, actually hopeful about what could happen if millennials start running for office. Courtney Rose (Brandon Micheal Hall) is a 27-year-old rapper in the fictional Bay Area city of Fort Grey (population 32,000), and his initial campaign is all devised to help publicize his music and himself. "Why does anyone in my generation do anything?" he tells his mother, when she asks him what he's up to. "Attention."
The secret of the show, though, is that Courtney really cares about his community, and it's this that draws voters to him, rather than simple anger or iconoclasm. In the first half-hour episode, which aired Tuesday night, the show introduced Courtney working on a track in a makeshift recording studio in his closet (the raps are all written by Diggs, and this one, "Right Here," is an ode to Fort Grey). When his mom, Dina (the magnificent Yvette Nicole Brown), arrives home in time to catch Courtney's debut on local news, he assures her that it's all part of a 10-year plan that ends with him and Taylor Swift teaming up "for a Super Bowl performance red and blue states can both enjoy."
At the mayoral debate, Courtney faces off against Ed Gunt (David Spade), a career politician who's mastered the art of platitudes. ("I am the proud son of a steelworker," he tells voters, oozing faux-sincerity from every pore. "And her husband.") Courtney, stymied by a question about an educational bill he knows nothing about, is mostly just making noise onstage, until Gunt mentions his efforts to clean up a park in Courtney's neighborhood. That park, Courtney tells the audience, contains "so much trash Bravo gave it a second season. … Don't tell us about our reality, Mr. Gunt."
Somehow, the moment wins voters over, and when Courtney is announced as the next mayor of Fort Grey, no one's more appalled than him. His entourage, Jermaine (Bernard David Jones) and T.K. (Marcel Spears), advises him to quit after the first day so he can get a pair of those "giant scissors" mayors use to cut ribbons. But Dina is more attuned to Courtney's promise. "You put your name on a ballot," she tells him. "In this country, that means something. It has consequences. It's you telling the people, I want to make your life better." And who better than Courtney, she argues, who uses his music to incisively critique the world around him, to help make it better?
As a character, Courtney is loosely inspired by Chance the Rapper, whose own philanthropic and activist efforts have so inspired his hometown of Chicago that there's a website pleading with him to run for mayor. But The Mayor is a family comedy, so there are the requisite pitfalls and learning experiences and sworn enemies/possible love interests (Glee's Lea Michele plays Valentina Barella, a political operative and Tracy Flick type who becomes Courtney's chief of staff). In the first episode, Courtney learns about integrity, and that his actions as mayor affect his entire community.
What sets The Mayor apart, though, is its conviction. It's the kind of earnestness not seen since Parks and Recreation—the firm belief that people have the capacity to do good in the world, even in the face of all the hypocrisy and bureaucracy small-town politics can muster. Before he was a TV writer, Bronson was a producer on Hardball With Chris Matthews, and so his show offers a surprisingly realistic view of public service. But it also possesses a kind of hopefulness and heart that Chance himself embodies. This could easily be off-putting if the jokes weren't so sharp, helped by a writing team that's one of the more diverse in network comedy.
Hall gives a winning performance as Courtney that makes it easy to believe he's more thoughtful than he seems (while he rhapsodizes about a pair of new sneakers in the opening scene, there's a portrait of James Baldwin on the bedroom wall behind him). And though the show is generally light-hearted, it drops casual but fluent references to social inequity and structural racism—Valentina, when the cops are called to one of Courtney's events and demand to see his public-assembly permit, rushes over immediately to try and defuse the situation with authority and batted eyelashes. All in all, it's one of the more promising debuts of the fall TV season. But it's also an expression of faith in a system, and a political future, that badly needs the hope.