The Florida Project Is One of 2017's Best Films
Sean Baker's follow-up to Tangerine includes career-best work from Willem Dafoe and a breakout performance by 7-year-old Brooklynn Prince.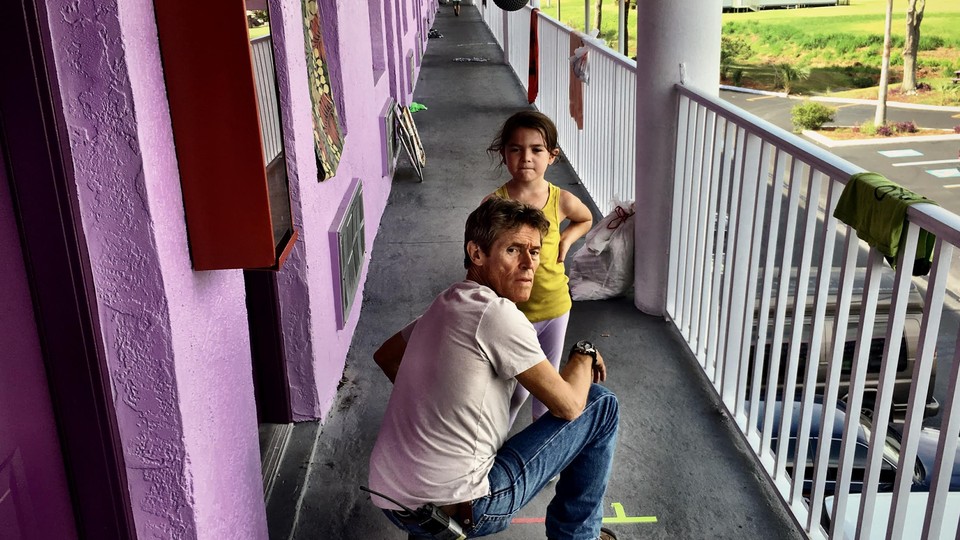 The setting of The Florida Project is a three-story motel, coated in resplendent light-purple paint, called The Magic Castle. It's named for the nearby Walt Disney World, a few miles away in Orlando, Florida, but it's just a sound-alike knock-off; at one point, the building draws in customers who mistakenly thought they had booked a week at the Magic Kingdom. Still, for Moonee (Brooklynn Kimberly Prince), the 6-year-old who lives in Room 323 with her mother Halley (Bria Vinaite), it's a genuinely enchanted place, one where she roams freely with her friends, cheerfully antagonizing the neighbors and the beleaguered manager Bobby (Willem Dafoe), leading an existence that's at once carefree and chaotic.
The Florida Project is the newest effort from the director Sean Baker, the master of micro-budgeted storytelling whose films focus on lives most Americans might not think about. His movies Starlet (2012) and Tangerine (2015) were made for next-to-no money (the latter was shot entirely on an iPhone) and starred first-time actors; both are among the best offerings of their respective years. The Florida Project is a comparatively epic production, even featuring a couple of well-known actors (Dafoe and Caleb Landry Jones), but that wider scope matches Baker's ambitions. His latest film is an intelligent, unpatronizing look at life on the margins, told from a child's-eye view without ignoring the bleak realities she faces.
Moonee is a brash, defiant troublemaker, the ringleader of a group of kids who amble around The Magic Castle and other nearby motels looking for ways to entertain themselves. We're introduced to her as she screams obscene insults at another resident, but there's not a lot of malice to Moonee, just waves of childish energy that arc off her in every direction. Some of Moonee's antics, like scamming tourists for ice-cream money by pretending she has asthma, are light-hearted. Others, like starting a fire in an abandoned housing tract, or turning off the motel's power grid, are unambiguously destructive.
Baker always keeps Moonee at the center of his story, as though he's transfixed by Prince's astonishing performance. An absolute firecracker of charisma and kinetic charm, Prince has a better grasp of her character than most experienced grown-up actors do in big-budget blockbusters. Moonee's youthful transgressions feel entirely natural, and at times joyful; Baker wants viewers to exult in the fun of her days, even as he's continually reminding us of how harrowing things are for families like hers.
Moonee's mother, Halley, is in her early 20s, and mostly earns money by selling perfume out of shopping bags to tourists at nearby Orlando hotels. Her life with Moonee in Room 323 is balanced on a knife's edge. In making the film, Baker has said he's trying to draw attention to the country's "hidden homeless," who try to scrape by in low-rent motels like The Magic Castle. But in The Florida Project, Baker, who documented the lives of porn actors in Starlet and trans sex workers in Tangerine with similar intimacy, isn't gawking at his subjects. This is a story told with authenticity and power, helped along by its cast of newcomers.
The Florida Project's more whimsical childhood setting is reminiscent of the "Little Rascals" of Our Gang, or the seminal work of early-'50s naturalism Little Fugitive, which followed a working-class runaway navigating the chaos of Coney Island. But the difficulties of Halley's life are constantly encroaching on the edges of Baker's film, especially as money becomes more of an issue for Halley. Even Moonee's blithe descriptions of The Magic Castle's other residents, tossed off as she gives a new kid the tour of the property, suggest her awareness of her troubled surroundings. "The man in there gets arrested a lot," she says, marching down the hotel balcony.
Protecting Moonee from these more frightening elements is the final, and most crucial, part of the world Baker has created: Bobby, the good-hearted proprietor of The Magic Castle, which might be the finest role of Dafoe's storied career. Bobby is a quasi-protector, quasi-enforcer for Moonee, always there to scold her for her latest infraction, but also quietly trying to make sure she's as safe as possible given the circumstances. Dafoe grounds his performance in the same tone of his non-professional colleagues—he comes off like an understated and deeply empathetic presence, not a movie star dropping into a small-budget indie.
As The Florida Project progresses, Baker's narrative twists don't grow belabored; just as he acknowledges the sweeter dimensions of Moonee's world, he also pushes in on the challenging ones with the same honesty. His overall approach makes the film easier to stick with when the going gets rough; it's a "message movie" that wants to win its audience over with the truthfulness of its characters. Thanks to a handful of mesmerizing performances and Baker's deft directing, The Florida Project is a must-see work—and one of the year's best films.