The Darkness of Stranger Things 2
The new season of the breakout Netflix show takes a turn toward horror.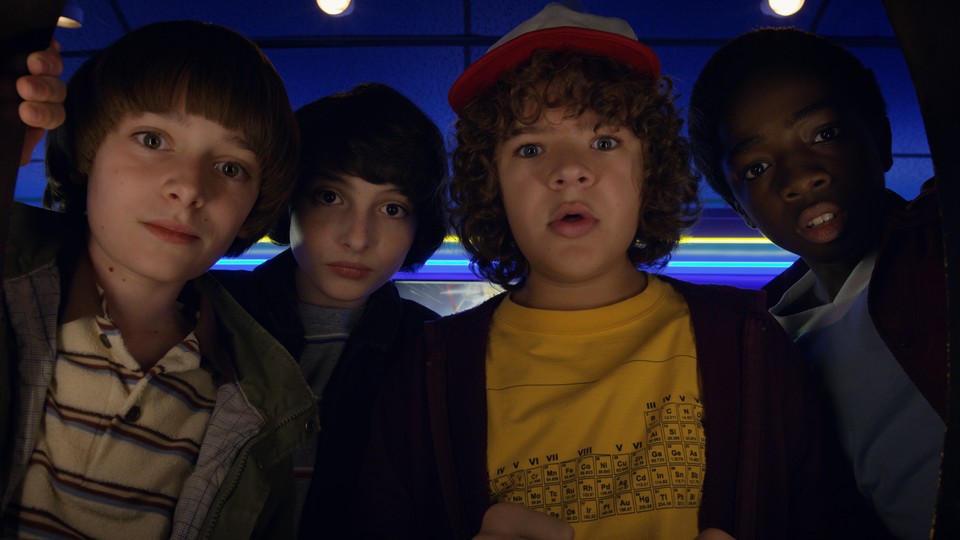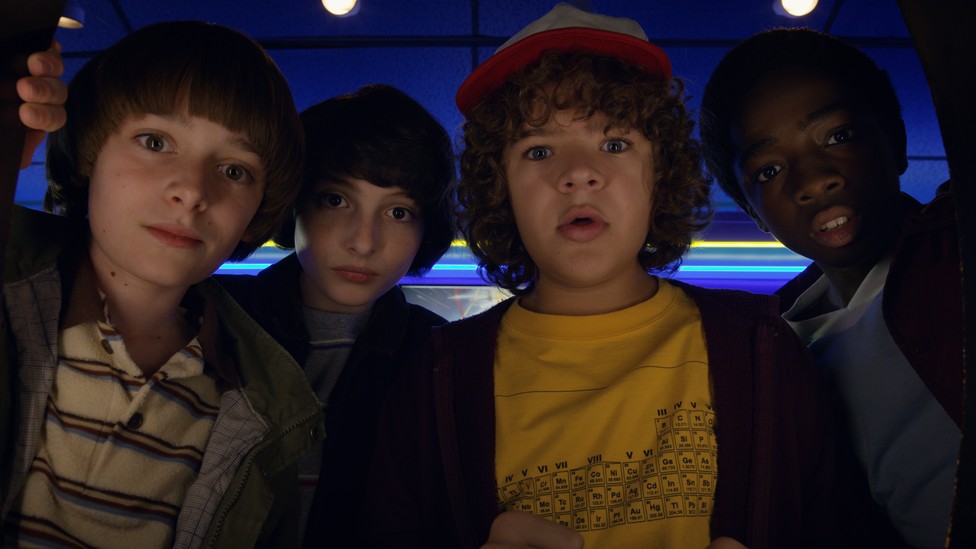 The impeccable trick Stranger Things pulled off in its first season was how seamlessly it wove together the opposing qualities of comfort and fear. Set in November 1983, the Netflix show quickly entranced viewers last summer with its aesthetic and conceptual familiarity—the kids on bikes fighting a monster, the throwback cultural touchstones, the childlike sense of wonder. Stranger Things was, by design, a kid's series for adults. Its nostalgic ambience was cozy, but real terror peeked through in flashes: the alien invasion of Will's tiny body, the psychological torture of Eleven, the cruel end of Barb.
If the first season of the Duffer Brothers' breakout hit was their homage to Steven Spielberg, the second—released in its entirety Friday—feels more attuned to Stephen King. Something is rotten in the town of Hawkins, Indiana, embodied in literal form by the Halloween pumpkins in the trailer that seem to be decaying on their vines. At the end of Season 1, Will (Noah Schnapp) vomited an otherwordly slug into his bathroom sink, and appeared to flicker momentarily back into the Upside Down. Much of the focus of Stranger Things 2, as it's titled in a nod to its cinematic precursors, is the question of how exactly Will's time in the alternate dimension has affected him.
Netflix provided screeners to critics on the condition that they withhold certain plot points, and to reveal too many specifics would be to spoil a lot of the fun. But, as revealed in the final trailer for the second season, a larger evil looms over Hawkins—one that's connected to the shadowy government building where Eleven (Millie Bobby Brown) was a prisoner for most of her life. Stranger Things 2 has the same essential elements as the first season, and its ability to remix and mashup cultural influences into a cohesive whole is still masterly. But, more than ever, the new episodes have a deep engagement with the trauma that many of the show's characters have experienced. Hand in hand with that is a willingness to communicate their suffering to viewers in more explicitly painful and terrifying ways than before.
Pivotal to Season 2's darkness is Schnapp's extraordinary performance as Will. Absent by default for most of the first season, Will is a key player in the new episodes, and Schnapp communicates exactly how isolated his exposure to the Upside Down has made him feel. As his mother, Joyce, Winona Ryder has a newfound steeliness that makes her less of a caricature, as well as a new boyfriend, a genial local named Bob (Sean Astin). There are richer subplots for Lucas (Caleb McLaughlin) and Dustin (Gaten Matarazzo), the two most unfailingly entertaining characters on the show. One involves Max (Sadie Sink), another new character, a redheaded girl with a skateboard and a genius for arcade games whose addition seems perhaps intended to address some of the critiques about the limited characterization of Eleven in Season 1.
About that: The status of Eleven, who disappeared into a cloud when she destroyed the Demogorgon at Hawkins Middle School, is supposed to be another big secret. But the trailer reveals that she does return in Stranger Things 2, and the series even affords her a journey of self-discovery in one of its more audacious episodes. Still, it's hard not to feel that she's underserved by the show, defined more by a handful of quirks (a scarily short temper, those infernal Eggos) than by actual character development. That's not to criticize Brown, who's a remarkable young actress. It's more that Eleven functions within the heavily imitative Stranger Things universe as the alien archetype—enigmatic, unusual, essentially good, but other. The confines of the role she's playing don't seem to offer much emotional space for a girl who is, despite everything, deeply human.
That doesn't mean she can't do more in Stranger Things 3, which has already been greenlit. It's just that Eleven superfans might be disappointed by Stranger Things 2, which spends its best moments with previously ancillary characters. These include Dustin, Lucas (his camo bandana is the most reliable sign that things are about to get real), and Steve (Joe Keery), the handsome-jerk boyfriend of Nancy (Natalia Dyer) who turned out to have not only a heart but also guts. Astin, meanwhile, is so enjoyably dweeby and earnest as Bob that you have to wonder what he's hiding. And Paul Reiser plays a solid new role as Dr. Owens, a government employee who's getting to grips with recent events in Hawkins.
Stranger Things 2 occasionally struggles with balancing its time between new and old characters, and the first three episodes have to labor through a degree of catch-up that slows down the pace. Once the series picks up momentum, though, it's a thrilling ride. The Duffer Brothers have acknowledged its tonal debt to Aliens (the casting of Reiser seems self-conscious in that regard), and they show a deft ability with the stylistic and structural traditions of horror. But they also demonstrate a commitment to going deeper into the darkness—to use it not just for cheap thrills, but for true psychological investigation. In that, Stranger Things 2 is much more than a sequel. It's a thoughtful and compelling trip into unknown territory.