The Kaepernick Protest Comes to SNL
In the show's season premiere, Jay-Z supported kneeling athletes, Alec Baldwin's Trump dissed Puerto Rico, and bad typography got called out.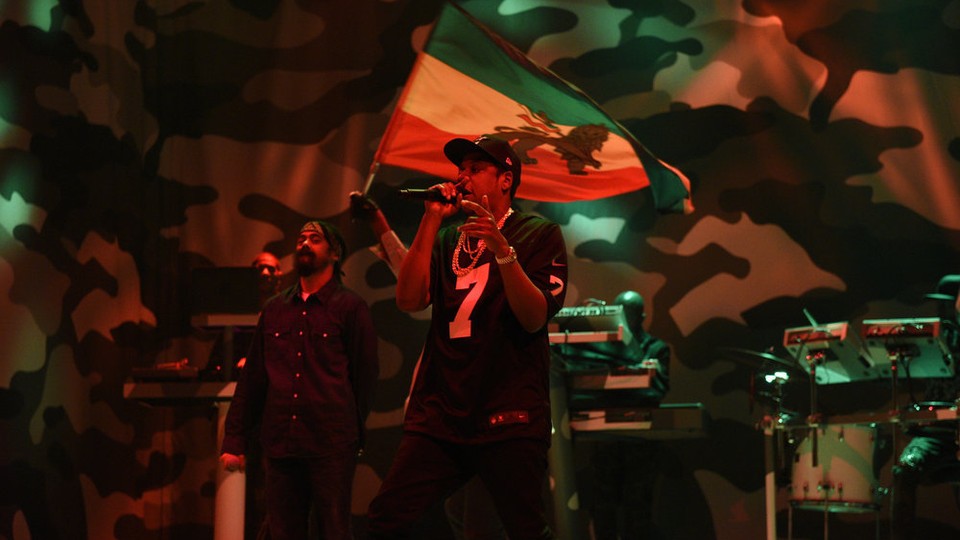 Colin Kaepernick's protest against police brutality continues to reverberate off the football field one weekend after Donald Trump alluded to it by calling for the firing of athletes who knelt during the national anthem. Saturday night, during SNL's season premiere, Jay-Z took the stage in a No. 7 jersey—the same as Kaepernick's—with the name "Colin K" emblazoned on the back.
The rapper didn't kneel, but the outfit added additional charge to his performance with Damian Marley of the buoyant song "Bam," about Jay-Z needing hip-hop in order to help escape from the drug hustle. The flag that was waved around onstage showed not the stars and stripes but rather the Lion of Judah, a symbol of Marley's religion.
Jay-Z's second performance was less overtly political but more artistically striking. Standing alone at the mic, he gingerly rapped "4:44," a self-lacerating apology to his wife and children for being unfaithful. He took long pauses between verses, tilting his head down, shielding his eyes, at times seeming on the verge of tears. The last two words of the climactic line, "I stew over / what if you over / my shit?" were cut, presumably for profanity. The abbreviated statement landed somehow even more powerfully than the full one does on record.
The rest of SNL's season premiere was mostly unremarkable and clunky, though it did bait headlines once again by opening with Alec Baldwin impersonating Donald Trump in the Oval Office. The sketch touched on a number of recent controversies, most prominent among them the crisis in Puerto Rico in the wake of Hurricane Maria. "You should have paid your bills," Baldwin's Trump told Melissa Villaseñor's San Juan mayor Carmen Yulín Cruz. "FEMA takes a few days unless you join FEMA Prime."
Alex Moffat showed up to play a chummy Chuck Schumer, and Kate McKinnon rehashed her adorably evil Jeff Sessions routine, but it was Aidy Bryant as White House press secretary Sarah Huckabee Sanders who was the sketch's surprising breakout. "Folks listen to me because I'm no nonsense, but I'm all nonsense," she said.
The political commentary on Weekend Update felt especially barbed this week—light on the jokes, heavy on the straightforward call-outs against the president for his handling of Puerto Rico. "Trump always said he was going to get things done faster than any president," Colin Jost said. "And now I believe him, because it took George W. Bush five years to get his Katrina."
But the comedic highlight of the episode ditched politics in favor of a bizarre in-joke for typography nerds. During what resembled a clip of a psychological thriller, guest host Ryan Gosling played a man deeply disturbed that the movie Avatar used the hackneyed Papyrus font as its logo.
The explicit question: Why was Gosling's character still fed up about this design disaster eight years later? The implied meta question, unanswerable and weirdly delightful when so much of entertainment seeks to comment on current events: Why was SNL making a sketch like this now?