Nina Simone Nominated for the Rock and Roll Hall of Fame—Finally
This year's list spans gospel and synth-pop, as well as overdue inclusions and new shoo-ins.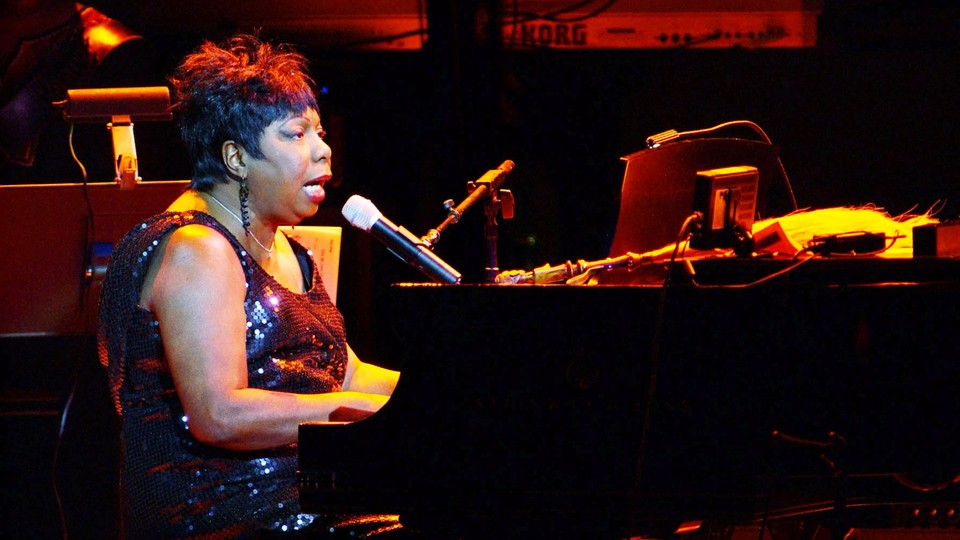 All these years, where was Nina Simone? Thursday's nominations for the Rock and Roll Hall of Fame contain a few surprises, but Simone's inclusion makes for a special shock of realization: that this singular icon—an unmatched vocal talent and songwriter, history-making protest artist, and influencer of the Beatles—is not already in the Rock and Roll Hall of Fame. She wasn't ever even nominated before.
The Hall of Fame is more or less designed to generate indignations and mysteries such as this. The quandary of Simone's longtime omission is a subset of the larger question the Hall of Fame asks: What is rock and roll? The institution's answer keeps evolving, and the issue can be as much about politics as it is about music.
The 2018 class of nominees: Bon Jovi, Kate Bush, The Cars, Depeche Mode, Dire Straits, Eurythmics, J. Geils Band, Judas Priest, LL Cool J, MC5, The Meters, The Moody Blues, Radiohead, Rage Against the Machine, Rufus featuring Chaka Khan, Nina Simone, Sister Rosetta Tharpe, Link Wray, The Zombies. It's an eclectic list spanning genres (synth-pop, hip-hop, instrumental, metal, etc.) but also eras (from Tharpe's gospel of the '30s and '40s to the '90s alternative boom as seen in Radiohead and Rage Against the Machine, nominated in their first year of eligibility).
Billboard's Andrew Unterberger has a helpful handicapping of who's likely to make the final cut (inductees will be announced in December). Bet, first, on Radiohead, who despite their experimental reputation are indisputably a rock band—see: three guitars—and have enjoyed a long span of commercial and critical success. Recently asked about the prospect of the band's induction, the multi-instrumentalist Jonny Greenwood replied "I don't care" and called the thought "uncomfortable," thus fulfilling the tradition of most everyone involved with the Hall of Fame finding the Hall of Fame unseemly.
You can bet as well on Bon Jovi, also inarguably a rocker but less inarguably a capital-G great one, perennially denied critical respect thanks in part to lasting associations with production gloss, hairspray, and karaoke. Journey's induction last year means that the slick arena rock of the '70s and '80s may increasingly be considered Hall of Fame-worthy, observers say. "Long-simmering prejudices against their brand of white-teethed crowd-pleasing may remain a temporary obstacle, but 100,000,000 Bon Jovi fans won't be denied for long," Unterberger writes.
The prejudice against synth-rock and pop has been even more significant. The New Wave has been largely ignored, with Depeche Mode and The Cars nominated and then passed over last year. Both are nominated again; also on the list are Eurythmics, the duo of the iconoclastic Annie Lennox and the enduringly influential David Stewart. It's hard to see why any of these bands might be disqualified on musical grounds—ELO and Prince's inductions proved that keyboard use isn't a dealbreaker—and given the synthetic textures and moodiness of today's musical landscape, it would seem time for their impact to get its due.
But it's Simone's case that taps into all the anxieties and contradictions at the heart of what it means to create a hall of fame for rock and roll. The institution has a spotty record on race and gender, and often genre distinctions are invoked in a way that ends up excluding women and people of color. Sister Rosetta Tharpe, a black woman long recognized as a crucial progenitor of rock, has also now been nominated for the very first time. If Simone is too much of a jazz or soul singer to be in the running, then last year's inductee Joan Baez was too much of a folk artist, and Tupac too much of a rap artist, and on and on. Slowly, the gates do get opened wider and wider. But each year presents reason anew to borrow from Simone in "Sinnerman" and ask, What's the matter with you, rock?