Remembering Hüsker Dü's Grant Hart
The musician, who died in September at age 56, helped influence alt-rock giants like Nirvana—but didn't see the appreciation he deserved in his lifetime.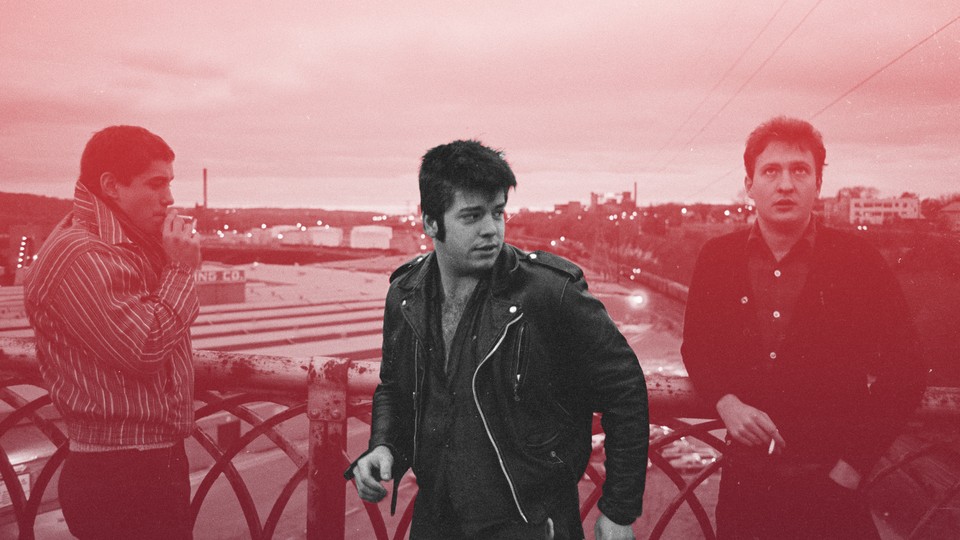 When Grant Hart died in September of liver cancer at the age of 56, modern music lost one of its humblest titans. As the drummer, co–lead singer, and co-songwriter of Hüsker Dü from 1979 to the band's dissolution in 1988, Hart was responsible for a body of songs that resequenced the DNA of punk—and of rock 'n' roll. Along with his friends and contemporaries in The Replacements and R.E.M., he paved the way for the alt-rock wave of the '90s and beyond. Although groups such as Nirvana, My Bloody Valentine, Green Day, and Foo Fighters have cited Hüsker Dü as an influence, Hart never enjoyed the post-breakup success of his erstwhile songwriting partner, Bob Mould. But even throughout Hart's patchy career in the years since Hüsker Dü split, he brought iconoclastic beauty and idiosyncratic brilliance to his forceful, fragile songs.
Hart was never the stereotypical punk. When Mould met him in 1978, the drummer "was a pudgy, hippie-ish guy, barefoot. He might have been wearing something tie-dyed," Mould remembered in his autobiography, See a Little Light. An aspiring singer-guitarist, Mould started jamming with Hart and the bassist Greg Norton. Still teenagers, they practiced in Hart's mom's basement in suburban St. Paul, Minnesota. His older brother Tom, whom Hart viewed as his hero, was killed by a drunk driver when Hart was 10; from Tom, Hart inherited the drum kit with which he'd launch Hüsker Dü. In Erin Osmon's liner notes to Savage Young Dü, a boxed set of the band's early work due out next month, Hart said he was "playing the drums and fulfilling this love of my dead brother."
As Hüsker Dü jelled into a blitzkrieg hardcore trio, the bond between Mould and Hart deepened. Though both were attracted to men, the two never became romantically involved; but during an often intolerant era of hardcore, their sexuality made them outsiders among outsiders. Their songs, however, obliterated any divisions. Taking their name from a childhood board game, Hüsker Dü evaded pigeonholes while outshining most of their punk brethren. Mould's voice was raspy and enraged; Hart's had a more melodic edge. Hart, also a visual artist, devised many of their record designs. Their earliest recording sessions, as documented in Savage Young Dü, were full of impassioned fits of fury and confusion like the band's first single, the Hart-penned "Statues"—not to mention occasional bursts of tuneful, goofy humor, like Hart's "Insects Rule the World."
Following their debut live album, Land Speed Record, the group's first studio full-length, Everything Falls Apart, came out on their own Reflex Records in 1983. Hart contributed just one track, the slashing, jagged "Wheels," to the latter, but he sang lead on another track, a cover of Donovan's 1966 psychedelic hit "Sunshine Superman." By all appearances a throwaway song, it was nonetheless revealing. "I didn't enjoy playing hardcore," Hart told The A.V. Club in 2000. "I saw it as part of a whole set of possibilities for expression, but I found the hardcore thing very limiting and very ... dumb." Despite his misgivings, Hart's drumming is some of the era's most potent. Said Mould, "Grant was behind the kit, looking much like Animal from the Muppet Show band, except with longer hair and bare feet."
Later in 1983, Hüsker Dü released a short record that marked a huge shift: Metal Circus was their first for SST Records, the legendary California label run by Greg Ginn of Black Flag, one of the biggest hardcore bands in the country. On Metal Circus, Hart came into his own. He contributed two of his most indelible compositions: "It's Not Funny Anymore" and "Diane." The latter, eerily slow and sung in a desperate, heart-wrenching wail, was written from the point of view of Joseph Donald Ture, a serial killer responsible for the murder of a St. Paul woman named Diane Edwards. Savage Young Dü archives the band's output before signing to SST, including the entirety of Land Speed Record and Everything Falls Apart, but it also includes a live performance of "Diane" from 1981. Frantic yet assured, it crystallizes Grant's transition from hardcore screamer and basher to a songwriter with depth and subtlety. The way he sings his raw-throated refrain of "Diane / Diane / Diane," it sounds like he could be chanting the word "dying" over and over.
A competition crept in between Hart and Mould, who, as the guitarist, was the more visible member of the group. Their next three albums for SST, Zen Arcade, New Day Rising, and Flip Your Wig, were released in a mere two-year span. Rolling Stone ranked Zen Arcade as No. 33 on their list of the Best Albums of the '80s, and the record featured Hart songs like the raging, anthemic "Turn On the News"—the latter chosen by the Rock and Roll Hall of Fame for their list of "500 Songs That Shaped Rock." New Day Rising yielded classics ("The Girl Who Lives on Heaven Hill" and "Books About UFOs") that showed off Hart's ability to veer from impressionistic character sketches to barrelhouse-piano hilarity. And on Flip Your Wig, he delivered, among others, "Green Eyes," the most gorgeous and unabashedly romantic song Hüsker Dü ever made.
Hart's voice and songwriting had taken on a range and emotional authority that equaled Mould's. Norton, the quietly neutral member of the group, called them "the punk Lennon and McCartney. Grant was the McCartney, the pop love songs, and Bob was the dark side, Lennon." But in the same way this analogy oversimplifies Lennon and McCartney, it oversimplifies Mould and Hart. Each was capable of lightness and darkness—and the mingling of the two brought out the best in both.
The friendly rivalry between Hart and Mould eventually degenerated, worsened by drug use. While pot, speed, and LSD were early favorites, Hart eventually fell into heroin. At the same time, Hüsker Dü were peaking in popularity. They signed to Warner Bros. Records for their final two studio albums, 1986's Candy Apple Grey and 1987's Warehouse: Songs and Stories. The production was slicker and more nuanced, and so was the songwriting—but Mould and Hart had dispensed with the fiction of being collaborators. Both albums were essentially Mould and Hart solo records woven together.
Hart's songs continued to shine. "Don't Want to Know If You Are Lonely," "Sorry Somehow," and "She Floated Away" remain some of Hart's most arresting tunes, portraits of anger, whimsy, and tenderness painted on a wall of Mould's catchy, distorted guitars and Hart's brittle beats. But in 1988, Hüsker Dü disbanded. Their final meeting took place at the kitchen table of Hart's mom's house, upstairs from where they had practiced a decade before.
* * *
Almost immediately after Hüsker Dü broke up, Hart issued his first solo record, an EP titled 2541. Mould was readying his own solo debut, 1989's Workbook, which set him on a path to success that culminated in his beloved '90s alt-rock band Sugar. Mould's music was recognizably Hüsker-like; Hart, on the other hand, struck further afield. Hart's solo album from 1989, Intolerance, expanded his horizons with acoustic guitars, organs, hushed dynamics, and a conspicuous dearth of drumming. He steered back toward Hüsker Dü's overdriven sound in his subsequent band, Nova Mob, which lasted from 1989 to 1997, releasing the excellent, under-appreciated album The Last Days of Pompeii in 1991.
Pompeii came out the same year that Hüsker Dü's most famous disciples, Nirvana, released their breakthrough album, Nevermind. Suddenly, dozens of bands bearing traces of Hüsker Dü's sound—from Green Day to Everclear to Soul Asylum, a Minneapolis band that Hüsker Dü once mentored—were rocketing up the charts, including Mould's own Sugar. Hart, however, enjoyed little of that alt-rock bounty. Although making personal inroads with sobriety, his professional life lagged. It wasn't until the end of the '90s that his solo career was rekindled with his 1999 album Good News for Modern Man. Focused and infectious, it's an album that might have made a huge splash in the immediate wake of Nevermind. Instead, it came a decade too late.
Hart experienced a triumph in 2000 when he appeared as a keyboardist on Gung Ho, the eighth album by one of his idols, Patti Smith. But another decade passed before his next solo album, 2009's stunning Hot Wax, which was recorded with members of the experimental Canadian groups Godspeed You! Black Emperor and A Silver Mt. Zion. Though lush and sprawling, the record went relatively unnoticed. The same fate befell his final album, 2013's The Argument. It did receive a bit more attention thanks to a renewed interest in Hüsker Dü, whose influence had cropped up in yet another generation of lauded bands such as The Hold Steady and Titus Andronicus. The Argument was a concept album based on Paradise Lost; Milton's themes of temptation and the fall from grace were ones Hart knew well.
Hart's death did more than end an erratic, sublime, and under-appreciated career. It also laid to rest any possibility of a Hüsker Dü reunion. The closest the band ever came was in 2004, when Mould and Hart played together onstage for a benefit concert for the late Soul Asylum bassist Karl Mueller, who was then still fighting throat cancer. Together they played two Hüsker Dü's songs, Mould's "Hardly Getting Over It" and Hart's "Never Talking to You Again"—apt choices, as both dwelt on broken ties and bitterness.
The back cover of Hüsker Dü's final album, Warehouse: Songs and Stories, features a photo of the three young men who made it: Mould, Norton, and Hart. More out of midwestern humility than punk ethos, Hüsker Dü didn't usually put pictures of themselves on their albums. Said Mould of the Warehouse photo, "This anti-image wound up being part of what we were about—the barefoot hippie drummer, the gas station attendant guitarist, the bass player who looked like he might be gay."  "The barefoot hippie drummer" became one of rock's most unique and vital voices. In Norwegian, Hüsker Dü means "Do you remember?" The day Hart died, Mould posted on Facebook: "Grant Hart was a gifted visual artist, a wonderful story teller, and a frighteningly talented musician. Everyone touched by his spirit will always remember."