Hip-Hop's 'Rockstar' Moment Gets Its No. 1 Hit
Post Malone's smash marks the biggest charts year for rap in a decade—and shows rap's obsession with the genre it dethroned.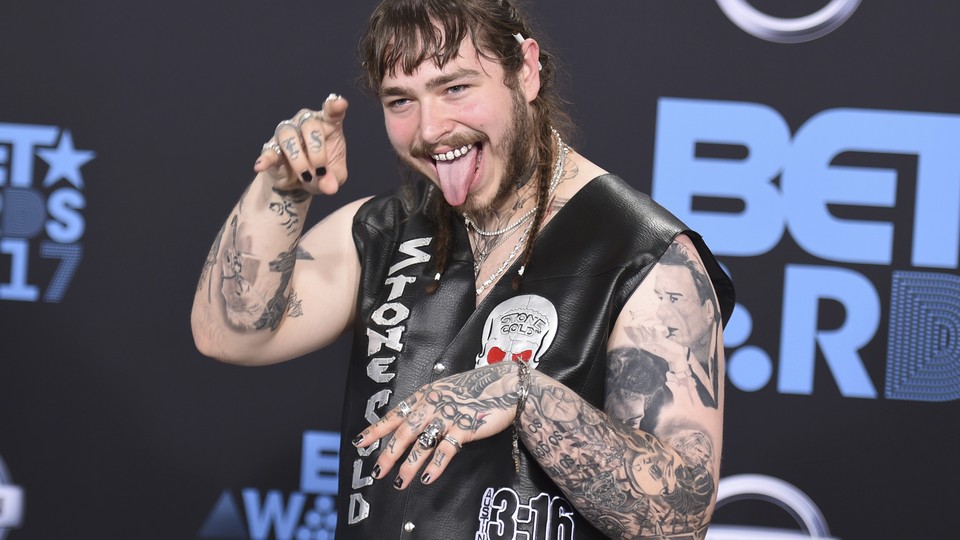 In the history of the Billboard Hot 100, the word rock has appeared in the names of 12 No. 1 songs, from Elton John's "Crocodile Rock" in 1973 to Joan Jett & the Blackhearts' "I Love Rock 'n' Roll" in 1982 to this week's new chart-topper: Post Malone's "Rockstar" featuring 21 Savage. Its lyrics read like a checklist of references to its title genre's history: "Rest in Peace, Bon Scott," "Light a fire like Morrison," "I'm with the band." For the oozing, weightless chorus, the 22-year-old who goes by Post Malone croaks that he "feels just like a rock star."
He is not, by many definitions, a rock star. He's an R&B singer and rapper, making hazily melodic hits during a commercial boom for hip-hop. Of the 10 No. 1 songs that 2017 has produced, Billboard points out, half have been rap songs, and each of those has been the first Hot 100 conquerer by the artist that produced it (Migos, Kendrick Lamar, DJ Khaled, Cardi B, and now Post Malone). The last time a year saw five rap No. 1s was 2006, the era of Nelly, Sean Paul, and Chamillionaire.
"Rockstar" also is on trend in demonstrating rap's fascination with rock and roll, which rap recently dethroned as the most-listened-to genre in America. By comparing themselves to rock stars, Malone and 21 Savage join a rich lyrical lineage that includes Run-D.M.C's "King of Rock" in 1985 and Danny Brown's "Die Like a Rockstar" in 2011. But more relevantly, they join a class of rappers going out of their way to take unlikely inspiration from the rock canon.
"We culture," Kanye West said in 2013, stating what even then wasn't a very controversial opinion.  "Rap is the new rock 'n' roll." You can hear that mentality in the title of the late 2016 No. 1 "Black Beatles" by Rae Sremmurd. Subsequent No. 1 creators Migos arrived with memes about being "the Beatles of our generation." Lil Uzi Vert, featured on Migos's smash "Bad and Boujee" and one of the trendmakers of this era, has built a brand by insisting on being referred to as a rocker and not a rapper. Pop-punk and metal echoes in his music and his look.
A lot of critical writing has already unpacked what's behind the rock obsession. Partly there's the obvious: rappers grabbing from a very fertile source of symbols for opulence and coolness. "Money and fame like David Bowie," rapped E-40 in 2012's "Rock Stars," putting it as straightforwardly as can be. Malone now sings that he feels like a rockstar because of all the sex he's having and all the pills he's popping. Of course, these are already widely publicized features of rap stardom, too—a sign that the genres occupy similar spaces in youth culture, and that famous rowdy entertainers will be famous rowdy entertainers.
But there are aesthetic markers of the genre dialogue, too. Worshipping rock hasn't exactly translated into crunching guitars or bopping live drums, though Malone does play guitar. It instead has accompanied a liquifying of rap's parameters, both musical and visual. To be a rock-aligned rapper is to not necessarily sweat traditional ideas of lyrical virtuosity and biographical authenticity. It has also been a way for black artists to claim freedom and prestige not always afforded them. "When Lil Uzi Vert calls himself a rock star, he isn't necessarily comparing himself to Kurt Cobain or even Prince," wrote David Turner in a smart MTV News piece in 2016. "He's using rock and roll to shorthand a world where creative black males can keep pushing boundaries."
But Post Malone, it must be noted, is white. He first drew notice for the woozy hit "White Iverson," in which he compared himself to a black basketball star, and his career has seen him navigating the racial dynamics of the genre with less than perfect sensitivity. This latest track sees him sliding right in with hip-hop's drugged-out, sing-song, and rock-referencing mood of late. It's not quite accurate to say the legitimately popular and influential Malone is simply trend-swiping, but you could argue that he's outsizedly benefiting from a style he didn't coin. Frank Guan at Vulture has an intriguing take on Malone's AC/DC and Doors references: "These are bands whose careful imitations of black music eventually amounted to something more original than mere duplication, and in laying claim to their heritage, the artist is effectively wagering that he can do the same."
"Rockstar" also uses, and magnifies, another rap trend for its benefit. The genre's takeover of the pop charts has been tied to the rise of streaming as the primary way that Americans consume music, in large part because streaming is the preferred listening method for young people. The Fader points out that Post Malone's label, Republic Records, uploaded a YouTube track that is just the song's chorus on loop for 3:38, the length of the real song. Without the full track anywhere on YouTube, that loop—advertised as the song itself, not a snippet of it—has been viewed 44 million times, a number reportedly included in Billboard's ranking equation.
You can argue this is viable promotion, teasing the full song on streaming services. Or you can argue it's gaming the charts, deceiving listeners, and unjustly eliminating 21 Savage from the track. Either way, the chorus on repeat does sum up the song and the movement it represents: Become a rock star by insisting you're one.