Mindhunter Probes America's Obsession With Serial Killers
David Fincher's new Netflix drama explores the phenomenon from the vantage point of its Golden Age—the 1970s.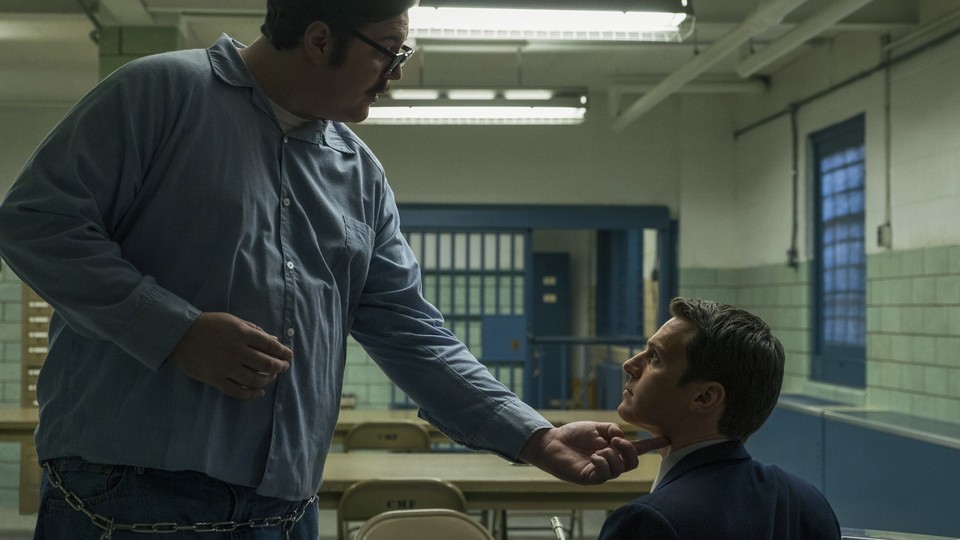 One of the welcome moments of comedy in Mindhunter, David Fincher's new Netflix series about FBI profilers, follows a prison visit. Agent Holden Ford (Jonathan Groff) is interviewing Edmund Kemper, a real-life serial killer (played by Cameron Britton) who was named "the co-ed killer" after he abducted and murdered a series of female college students in California. Kemper calmly notes the contrast between his regular life and his hobby of dismembering his victims and having sex with their severed heads, which he describes as his "oeuvre." Ford's partner, Bill Tench (Holt McCallany), is appalled by the choice of word. "His 'oeuvre'?" he asks. "What the fuck, he's Stanley Kubrick?"
You could argue, though, that the ritual murderers of the 1970s had a more profound impact on American culture than even the visionary director. Times are lean now for serial killers. After peaking in the 1970s and '80s, when as many as 700 were operating nationally and their exploits were a tabloid obsession, they've plummeted in number since 2000. But crime storytelling is more enthralled with them than ever, as my colleague Julie Beck reported in 2014. More recently, shows like Hannibal and Dexter have even presented serial killers as complicated antiheroes—murderers whose impulses enforce a dark kind of justice on a rotten world. (See also: Netflix's upcoming Marvel show The Punisher.)
Mindhunter goes right back to the grisly Golden Age: It's set in 1977, after the summer of love had curdled into the Summer of Sam, as the FBI was struggling to comprehend a new wave of depraved killers. "If we're looking for a motive, we suddenly find there is none," Ford tells a class of rookies. "It's a void. It's a black hole." How can agents stop crimes being committed when they don't understand why they're happening? It's a question that still resonates, particularly in the wake of the Las Vegas shooting. And the cultural moment the show's set in feels familiar, too, with reliable institutions fracturing under the pressure of unprecedented turmoil. "The world barely makes any sense," Ford observes to a colleague, "so it follows that crime doesn't either."
The first two episodes made available for review introduce Ford, a young hostage negotiator who's as inclined to empathize with his targets as he is their victims. This kind of radical treatment of criminals isn't entirely welcome at the FBI, a place still defined by its founder, J. Edgar Hoover. The recruits Ford lectures are almost entirely young white men whose prejudices are as ingrained as their privilege. But after Ford meets a young behavioral sciences student, Debbie (Hannah Gross), in a bar, he becomes intrigued by the possibilities of criminal psychology, and persuades Tench to join him in interviewing convicted murderers to find out not just the how of their crimes, but the why.
Mindhunter is based on a nonfiction book by John E. Douglas, one of the first criminal profilers in the U.S., who's inspired characters in The Silence of the Lambs, Criminal Minds, and countless other crime dramas. It's unclear exactly where the first 10 episodes are going, although there are fragments of scenes that hint at serial killers Ford and Tench have yet to discover. But the show, four of whose episodes are directed by Fincher, bears the hallmarks of the director's work in film and television: a drained, bleak color palette; a universe that's essentially corrupted; an intricately violent imagination. There are ingenious visual montages of Ford and Tench traveling cross-country, checking into motel after motel and establishing rituals and patterns that mimic those of their subjects: the way Ford unpacks his shirts, or Tench pours sugar into his coffee.
In its early episodes, though, the show is more interesting than compelling. Groff's Ford has more than a hint of strangeness to him, and his detachment from viewers, while alluding to possible twists in future scenes, makes him something of a cipher. McCallany's Tench, so far, is little more than the outsized, outspoken physical foil to Ford's tightly wound restraint. And Mindhunter's loyalty to the '70s culture of the FBI manifests in uglier ways, too. Although Anna Torv plays a psychologist later in the series, the only female character in the first two episodes is Debbie, who's portrayed having sex with Ford in half of her scenes. In one particularly queasy contrast, Debbie demonstrates to Ford how to use body language to tease people into giving you what you want, immediately before a scene in which Ed Kemper rants to Ford about how manipulative women are, and how inconveniently cartilaginous their corpses can be.
Mindhunter's dialogue can also be overly stiff and theatrical, perhaps because its showrunner, the playwright Joe Penhall, and its writer, Jennifer Haley, have both predominantly worked in theater. It works when Kemper is opining about his "vocation," because he's so self-consciously performing for Ford, but it's much less convincing when Debbie and Ford are casually conversing in a bar. The show's at its most absorbing when it's spending time with monsters ("It's not easy butchering people," Kemper tells Ford, with all the languid frustration of Kermit the Frog). But that doesn't mean its noncriminal characters should feel like so much of a shrug. As Debbie says to Ford, "How can you figure out the criminal mind if you can't figure out your girlfriend?"