Kyrie Irving, the NBA's Singular Star
While players around the league team up to chase the Warriors, the Celtics' new point guard looks for a heavier burden.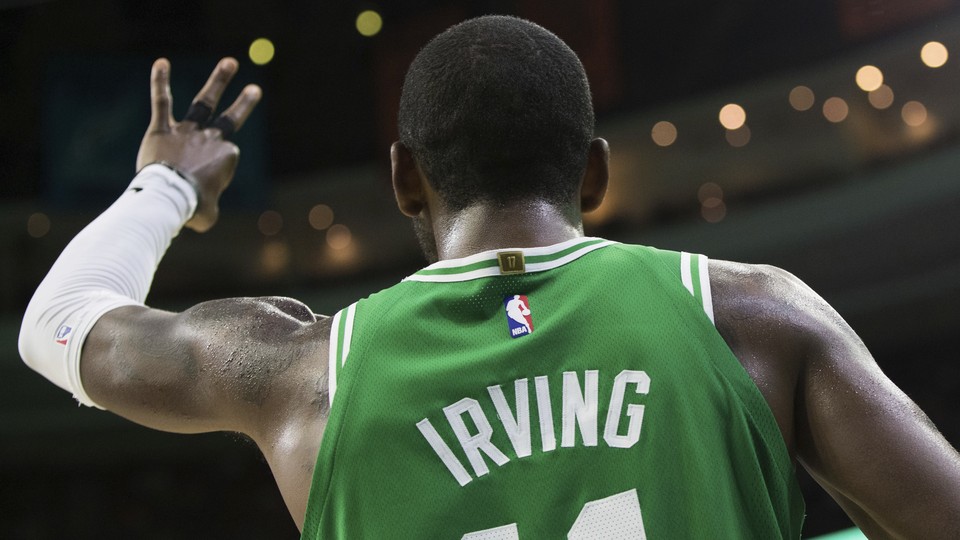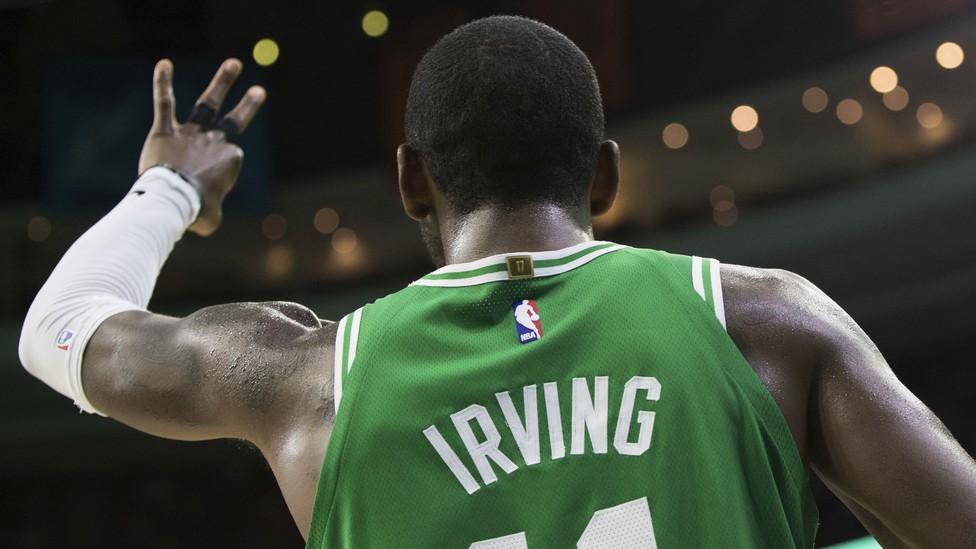 As the 2017-18 NBA season gets underway, collaboration is en vogue. The reigning champions, the Golden State Warriors, open the year again as heavy favorites due in large part to a selfless approach; their success has set not only the league's competitive terms but also its stylistic ones. This offseason saw a frantic redistribution of All-Stars—Paul George and Carmelo Anthony joined Russell Westbrook in Oklahoma City; Chris Paul teamed up with James Harden in Houston—with the purpose of following the Golden State formula. Players everywhere spoke to the appeal of working together. "[Westbrook's] going to create so much stuff for me and Carmelo," George said after his new trio's debut in the preseason, referring to the luxury of attacking a defense whose attention is divided. "It was good to get a glimpse of that."
The summer's most shocking move, though, ran counter to the trend. In late July, the virtuosic 25-year-old point guard Kyrie Irving requested a trade away from the Cleveland Cavaliers, who, with Irving and LeBron James, had gone to three straight Finals and won one championship. A month later, Cleveland sent him to the Boston Celtics—a talented enough bunch, but crucially lacking the world's best player. Sources close to Irving said that he'd had enough of James's tutelage and wanted to lead his own team. The decision to leave a top-flight title contender added another layer of mystery to one of the NBA's more cryptic figures (Irving has said, with questionable sincerity, that he thinks the Earth is flat), but it also gave the league a welcome jolt of ego. While his peers sought more help, Irving looked for less. His apparent belief that his best is enough, whether brave or foolish, makes him a source of singular intrigue and the season's must-watch player.
Six years into his career, Irving has already claimed a place in the celebrated basketball lineage of smaller guards with outsized self-regard, his predecessors ranging from Earl Monroe to Allen Iverson. He hardly ever dunks, but he produces as many highlights as anyone. Irving's tools are quickness, timing, a pool hustler's sensitivity to angles, and a preternatural gift for dribbling. In the span of a couple seconds, he might move the ball from his right hand to his left and back again, start forward and retreat, and finally, having compromised his defender's balance just enough, rise for a jumper or spin past him to the rim. In the paint, nobody in the world is better at lofting the ball off the backboard at Rube Goldberg trajectories, avoiding the long arms ready to block his shots.
For three seasons, that skill set made Irving a sometimes reluctant but often ideal running mate for James. When James drew the attention of the defense, Irving could catch a pass and knock down an open triple. When James got tired, Irving could run the show. Strain occasionally showed—after a reporter asked about James's "parental role," Irving rolled his eyes and said, "I have one father; that's my dad, Drederick Irving"—but the relationship was at its best in the victorious seventh game of the 2016 Finals. James led the Cavaliers in points, assists, and blocks while playing all but one minute, and in the closing moments, Irving stepped up to make the title-sealing three-pointer. Instead of soaking up the adulation, in the confetti-strewn moments after the game, Irving redirected it to James, the Finals MVP. "I'm very thankful that I have a guy like that that's leading our team that I can continue to learn from," he said.
Irving's present confidence that he's learned enough is not wholly matched by the basketball intelligentsia. "He's going to get you a lot of buckets, he's going to score in the clutch, and he's going to do a lot of things for you," said the veteran reporter Howard Beck on the Lowe Post podcast, summarizing the opinions of executives he'd spoken with. "Is he going to be a great playmaker, defender, leader, all these other things that you usually want in that leading man? That's the question." Irving's statistical output emphasizes the concerns. Though he averaged a career-best 25.2 points per game last season, good for 11th overall, his 5.8 assists were middling for a lead guard, and Basketball-Reference's Win Shares—a statistic designed to pull together a player's total contributions on both ends of the court—rated him as only the 23rd-most effective player in the NBA. The numbers merge the hesitation of league-wide higher-ups with the ethos of those mindbending YouTube clips: While Irving is a rare scorer and an overqualified sidekick, he may not function as a championship team's engine.
Danny Ainge, the general manager who brought Irving to the Celtics, disagrees with that assessment. "You'll see that he's a better passer," Ainge said last month of his new acquisition, arguing that the centrality of James in Cleveland stunted Irving's development. Irving himself has hinted at similar frustrations. Appearing on ESPN's First Take after the trade, he listed professional growth as a primary motivator for leaving a situation almost any other player would envy: "The request came at a time where I felt it deemed right for me, as a 25-year-old evolving man, coming in to perfect my craft every single day." This season's Celtics games will be catnip to amateur tacticians, as Brad Stevens, the traditionally egalitarian Boston coach, tries to balance a team-oriented approach with Irving's remarkable shot-making ability.
Just as interesting to chart, though, will be Irving's resonance in the broader culture in and around the NBA. Last season, suddenly without his former colleague Kevin Durant in Oklahoma City, Westbrook became as symbolic as he was unstoppable. No longer a championship hopeful, he instead turned into an avatar of self-sufficiency, averaging a triple-double, winning MVP honors, and leading an otherwise overmatched team to the playoffs. Sam Anderson summed up Westbrook's transcendent appeal in The New York Times Magazine: "In the absence of guarantees, in the absence of certainty, in the new American volatility, we can bank on only one thing: total presence, total sincerity, total effort, all the time."
Irving, by choosing the harder road, could similarly come to stand for something beyond basketball: a willingness to risk reputation and renown in the pursuit of self-discovery. He will certainly be called a fool on television many times over the coming months, and he will just as certainly do countless things that leave the mouths of basketball fans worldwide agape. He will knife to the rim for a spinning, surreal layup; he will score 40 or 50 points; he will lose games his old team would have won. Tuesday night, when the season opens with the Celtics visiting Cleveland—a bit of fortuitous scheduling finalized before the trade—Irving will be the talk of the NBA. The chatter won't likely quiet anytime soon.