Kelly Clarkson's Retro, Uplifting Dream of Unity
The singer's soul-influenced new album comes at a time when the notion of an idol for all of America seems quixotic.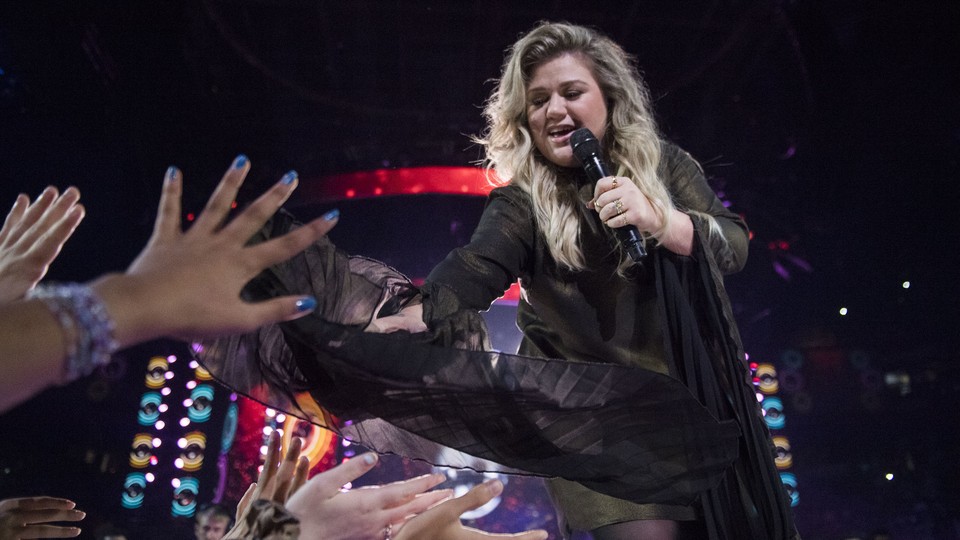 Hillary Clinton's recent memoir What Happened opens with a quote: "That which does not kill us makes us stronger." It's attributed to "Friedrich Nietzsche (and Kelly Clarkson)." When she learned of this citation, Clarkson, a Clinton supporter in the 2016 election, responded online with a "Yaaaasssss!," a string of emojis, and a new hashtag: #philosophergoals.
Clarkson is one of many pop belters in a mutual-admiration society with the first female presidential nominee for a major party. But from some angles—or perhaps from the vantage point of Clarkson's breakout year, 2002—it's odd that such an entertainer would be so publicly tied with a partisan figure. The first American Idol winner once represented the belief that the nation is, well, one nation: united in Tuesday night TV viewing and an appreciation for Etta James's "At Last," if nothing else. Listening to her new album, Meaning of Life, raises the question of what's changed—Clarkson and artists like her, or the country?
When American Idol wrapped last year, critics mourned both it and the "monoculture" it represented. Though the oft-cited notion that it attracted more votes than the presidential election is a bit of a myth, the series held the No. 1 spot in TV rankings for more years than any other show in history. A Texan and former waitress with a big voice, Clarkson has been branded with the assumption-laden, racially blinkered, but still-potent label of "everywoman." She even turned out to have a bipartisan sensibility: In the years since her victory, you could find her supporting not only Clinton and Barack Obama but, in 2012, also Ron Paul.
Idol's slowly cratering ratings over the years were attributed to viewer burnout and competition from other competitions, but also the general atomization of the viewing public in the age of infinite content. With YouTube and Netflix and presidential tweets competing for attention, it'll be rare to see any non-sports program again reach the 38.1 million people that the Season 2 finale did. As time went on, the show revealed a preference for southern and male performers, and surveys found that American Idol's viewership skewed Republican.
Clarkson's 15-year career has been defined both by monster hits and by a public struggle with the media-manipulation industry that Idol represented. She chafed under the direction of the record exec Clive Davis. She swore off Dr. Luke, the hitmaker and accused abuser. She fired back at body-shamers on social media. And she now isn't mincing words about reaching the end of the record contract she signed with RCA through Idol. Meaning of Life, being released on Atlantic Records, she has said, represents the conclusion of an "arranged marriage."
The most obvious way to read her narrative—as she has presented it, time and again in song—is as one of resilience and individuality. Who can't relate? But through other lenses, you see a feminist struggle. You see a fight against corporate control. You see a battle against bullies. You see a mascot for decency. Is that unifying in 2017?
* * *
Meaning of Life's final song, "Go High," lifts from Michelle Obama's speech at the 2016 Democratic National Convention for its chorus: "When you go low / I go high." It's the only news-referencing moment on the album, and the sound of the song is also the album's most au courant. Over a door-rattling electronic bass pulse and dreamy finger snaps, the chorus sees vocal manipulation stretching the word "high" past the upper edges of Clarkson's considerable range, as if she's huffing helium. Clarkson wields the former First Lady's slogan as neutrally as possible, singing only of being strong, taking the high road, and standing for something. Which is a familiar pop maneuver: See Fifth Harmony's recent album closer, with its call to build "bridges, not walls" in a strictly inspirational sense.
The rest of Meaning of Life has Clarkson returning to the same theme that's powered hits like "Miss Independent," "Because of You," "Since U Been Gone," and "Stronger (What Doesn't Kill You)." Over and over, she kisses off some power-imbalanced relationship and searches for a more satisfying connection. Often, she's trying to coax a less-than-enthusiastic partner into doing better. "Remember not long ago you called me hysterical?" she asks on the stuttering highlight "Didn't I." "I finally figured us out my fire was hot enough to burn on for the both of us."
But musically, there is a slight shift. Her eighth studio album is her first since leaving RCA, and she has said it's the album she's always wanted to make: one that answers the question, as she put it to The New York Times, "What if Aretha was born now and made a record today?" The majesty implied by such a comparison isn't here, but you do hear what she and her team were going for: plinking piano and swaying horns (from Earth, Wind, & Fire themselves on two songs); electronic percussion and some structural features drawn from hip-hop; and plenty of big, dramatic bridges for Clarkson to make like she's serenading Paula Abdul in 2002.
This retro-filtered peppiness and passion isn't quite the profitable fad in pop lately. But it is a sound that female stars have adopted to a surprising extent lately, whether by enlisting the Dap-Kings (Kesha) or Mark Ronson (Lady Gaga). Demi Lovato's new album is much in the vein of Meaning of Life, too, but with slightly more radio savvy. The swerve back to soul for these women comes off as both an aesthetic and ideological reply to a charts landscape ruled by heavily processed, rap-inflected male voices. For Clarkson in particular, it makes sense: "R-E-S-P-E-C-T" was always her perfect mission statement, simultaneously defiant and traditional. And nothing courts a mass adult audience like reminders of the classics.
Songs like "Whole Lotta Woman," a Tina Turner–referencing stompalong, do verge on the edge of feeling like costume play—but Clarkson connects the revival-church sound to her biography, playing up her Texan bona fides. The outro is fascinating, mutating into a trap breakdown but with women singing that style's "hey" rhythm like doo-wop. On the lead single "Love So Soft," she similarly rotates between shimmy-worthy verses from the Amy Winehouse school and a robotic, pop-and-lock chorus. It's an odd brew, and nothing sticks with the force of Clarkson's greatest hits, but her diehards should be charmed.
Yet is there still a presumed casual listener, an American Idol arena, for Clarkson to court? Her album sales have fallen (from 1.1 million units for 2011's Stronger to less than 300,000 for 2015's Piece by Piece)—but that's not at all shocking in the context of the decline of album sales in general. As much-discussed, this year's pop charts seem newly indifferent to big female voices like hers, and the notion of an entertainer who can cross the country's cultural divides is ever-more elusive. At a time when the president is calling on followers to boycott plays, TV networks, and professional sports for protesting him, Clarkson's dabbling with the Democrats may be disqualifying for some. Online and in interviews, she's made clear she's unconcerned with alienating listeners with her opinions.
Some big-tent pop attempts from Clarkson's contemporaries, like Katy Perry, have flopped—possibly for some of the reasons mentioned above, or possibly just because they aren't making the caliber of music they used to. The onetime unifier Taylor Swift seems set on dividing her potential listenership into camps of friends and rivals with her barbed new material. Beyoncé's output has gotten ever-more daring and ever-more controversial. One exception is Pink, the hitmaking stalwart with a surprising amount in common with Clarkson—including in her balancing of outspoken persona with crowdpleasing songs. Her new record, Beautiful Trauma, just debuted with the highest sales numbers since the last album by Drake, who's the exemplar of the kind of artist edging out radio-owning divas.
Clarkson hasn't generated any big hits off her new material yet, but there's still potential. Take the schmaltzy standout "Move You," which calmly and methodically insists on being added to the canon of newlywed first-dance tracks. Over clean organ lines, Clarkson strings together lump-in-the-throat phrases: She wants to move you "like the first time that you listen to your favorite singer live" or "like the home that you were raised in." In the third verse, the arrangement falls out for an acoustic-guitar interlude, and Clarkson describes "a soldier who is fallin' as he holds his country's flag and he fights for freedom's callin'." At a moment when arguments over what constitutes "respecting the troops" are newly tense, the line might read as a sop to the red states. But Clarkson's salute, like her call to "go high," is only politically fraught if the listener makes it so. Pop's great dream of uplift for everyone is still alive—if anyone wants it.