Jose Altuve, Baseball's Unlikeliest Superstar
The 5-foot-6-inch Houston Astros second baseman and American League MVP frontrunner is one of the greatest anomalies in the sport's history.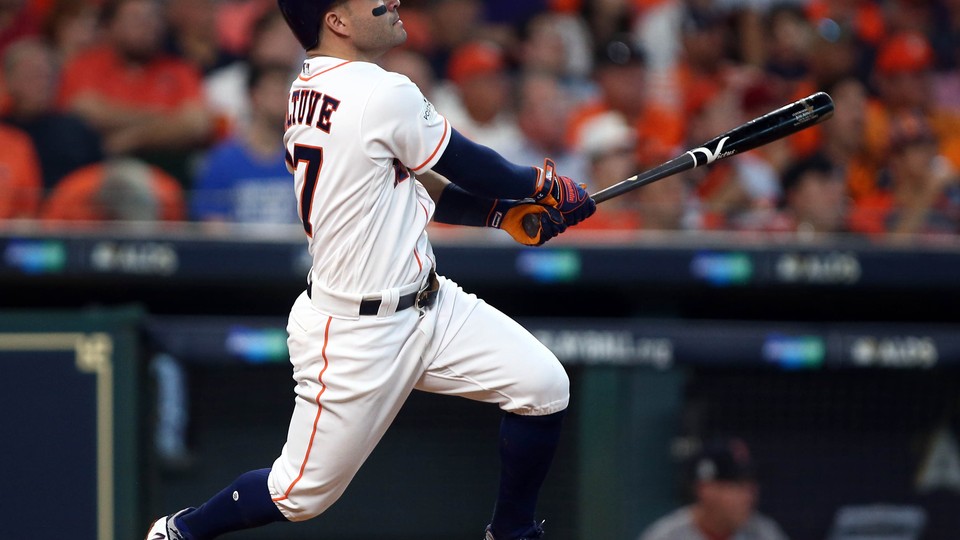 Part of baseball's charm is the everyman nature of its players. Though some stars are the types of muscular super-humans who populate sports like football and basketball, others are lanky, beer-bellied, stocky, or short. The leading man of your favorite team may possess talent you can barely fathom, but he also might be visibly indistinguishable from the guy next door.
Even so, baseball players like Jose Altuve are simply not supposed to exist.
Altuve, the Houston Astros's 27-year-old second baseman, is the shortest player in baseball, listed at 5 feet 6 inches and sometimes presumed to be even smaller. He is also the frontrunner for the American League MVP award, fresh off a season in which he won his third AL batting title in four years and led the league in Baseball-Reference's player value metric, wins above replacement. And in Game 1 of the AL Division Series against the Red Sox on Thursday, Altuve showed why he might be the best player in the MLB postseason, homering three times in an 8-2 Astros win.
Altuve was once a long-shot to become a professional baseball player, let alone a superstar. As a teenager in Venezuela, he was cut from an Astros tryout because the organization considered him too short. According to a 2014 Sports Illustrated profile, Altuve's father coaxed him to return to the next tryout, where he earned his way into a deal with Houston and a signing bonus of $15,000, a small fraction of what the top amateurs typically receive.
From there, Altuve hit his way through the Astros's minor-league system, putting up impressive numbers to little acclaim. Despite posting a .327 batting average and a .867 on-base plus slugging in five minor-league seasons, he was never named to a top-100 prospect list on any prominent site. Even when Altuve reached the Major Leagues and kept hitting, he was regularly written off as a role player at best or a fluke at worst. Optimists compared him to David Eckstein, another diminutive infielder who was lauded more for his grit and scrappiness than for his talent or production.
But by 2014, his third full season in the Majors, Altuve had risen to become one of the best players in the league, a slap-hitting, bag-swiping dynamo who led the AL in batting average, hits, and stolen bases, while winning his first Silver Slugger award. He had seemingly reached his full potential, as a feisty hitter in the Ichiro or Tony Gwynn mold. Then the most improbable thing of all happened: The 5-foot-6-inch Altuve became a formidable power threat. The spike began in 2015, when he started hitting the ball in the air more often, saw his home run/fly ball rate double, and wound up with 15 long balls, more than twice his total from a season ago. In 2016, that surge accelerated, as Altuve doubled his home run/fly ball rate again and belted 24 homers. This year, he launched another 24.
Though sudden home-run spikes sometimes signal a coming regression, Altuve's gradual slugging gains suggest he has tapped a level of power he couldn't access before. Tellingly, MLB's Statcast technology reveals he hit the ball squarely in 2017 nearly twice as often as he did in 2015. Home runs will never be Altuve's primary weapon, but he nonetheless racked up more this year than sluggers like Albert Pujols, Hanley Ramirez, Robinson Cano, and Mark Trumbo. And thanks to that newfound power, plus a steady diet of doubles, he ranked sixth in the AL in slugging percentage, a stat usually dominated by 230-pound behemoths. His performance Thursday against the Red Sox—when he submitted only the ninth three-homer game in postseason history—was impressive but not surprising to anyone who had been following his season.
If Altuve does win AL MVP next month, he will be one of the least likely honorees in recent history. As unpredictable as baseball-player development can be, most of the best athletes were still either top draft picks or big-money international signees. Take the last eight AL MVPs, for example:
2016: Mike Trout—former first-round pick
2015: Josh Donaldson—former first-round pick
2014: Trout
2013: Miguel Cabrera—$1.9 million signing bonus out of Venezuela
2012: Cabrera
2011: Justin Verlander—former first-round pick
2010: Josh Hamilton—former first-round pick
2009: Joe Mauer—former first-round pick
Over the last 12 years, 21 of the 24 MVP awards across the American and National Leagues have gone to players who were either drafted in the first five rounds or offered a seven-figure signing bonus as international free agents. The other three went to Albert Pujols, an overlooked 13th rounder who was embraced as a top prospect almost immediately upon arriving in pro ball. To find an MVP with as surprising a path to stardom as Altuve, you have to go back at least to 2004 AL MVP Vladimir Guerrero, who signed for $2,500 out of the Dominican Republic in 1993.
Altuve is great by any standard, but it's his height that has inspired internet memes and even a system of measurement, while also making him one of the most anomalous players of the modern era. As an undersized second baseman, Altuve is sometimes compared to the Red Sox star Dustin Pedroia (whom he's facing in the Division Series) but Pedroia is listed at a comparably towering 5 feet 9 inches. Famously small players like Craig Biggio, Jimmy Rollins, and Joe Morgan are all bigger than Altuve. The only real precedent for a player of similar height being this good comes from the days when nutrition meant a postgame beer. Hall of Famer Phil Rizzuto, who retired in 1956, stood at 5 feet 6 inches, but then again, he never had a season as productive offensively as Altuve's 2017 campaign. The last MVP Altuve's height or shorter was the pitcher Bobby Shantz in 1952, but he was a one-year wonder more than a reliable superstar. Hack Wilson, a 5-foot-6 slugger who starred in the 1920s, put up some gaudy stats at the plate but wasn't the all-around player Altuve is.
When I asked the official Major League Baseball historian John Thorn who was the last player 5 feet 6 inches or under as good as Altuve, he bandied about a few names but couldn't come up with anyone in the last 100 years who could definitively match the Astros second baseman. Altuve might be the best player of shorter stature since the 5-foot-4-inch "Wee Willie" Keeler, a turn-of-the-20th-century outfielder. Keeler was most famous for perfecting the "Baltimore chop," a ball hit directly downward that bounces so high that the speedy batter can beat it out for a single. He hit only 33 home runs in his entire 19-year career.
So, how is Altuve so good? Well he rarely swings and misses, his elite speed allows him to beat out infield singles and leg out extra-base hits, and he is one of the best bunters in baseball. That he has added power midway through his career is a testament to his rigorous preparation—which friend and mentor Victor Martinez once called "unbelievable"—as well as his conditioning.
There's an obvious irony to the fact that Altuve's chief rival for this year's MVP award is the 6-foot-7-inch, 280-pound Yankees outfielder Aaron Judge, one of the largest position players in baseball history. In July, a photo of Altuve and Judge standing side by side went viral due to the sheer absurdity of their mutual existence. How can two men of such drastically different size play—and excel at—the same game? It's a testament both to baseball's nature and to Altuve's exceptional persistence. In some sports, tiny players are curiosities or cute stories. In baseball, a short player can claim three batting titles, whack three home runs in a playoff game, and potentially win his league's highest honor. Almost no one saw Jose Altuve coming, but as of Thursday afternoon, everyone knows he's here.