Joan Didion Doesn't Owe the World Anything
The long-awaited documentary about her life makes clear: She has escaped the demands so often placed on other authors.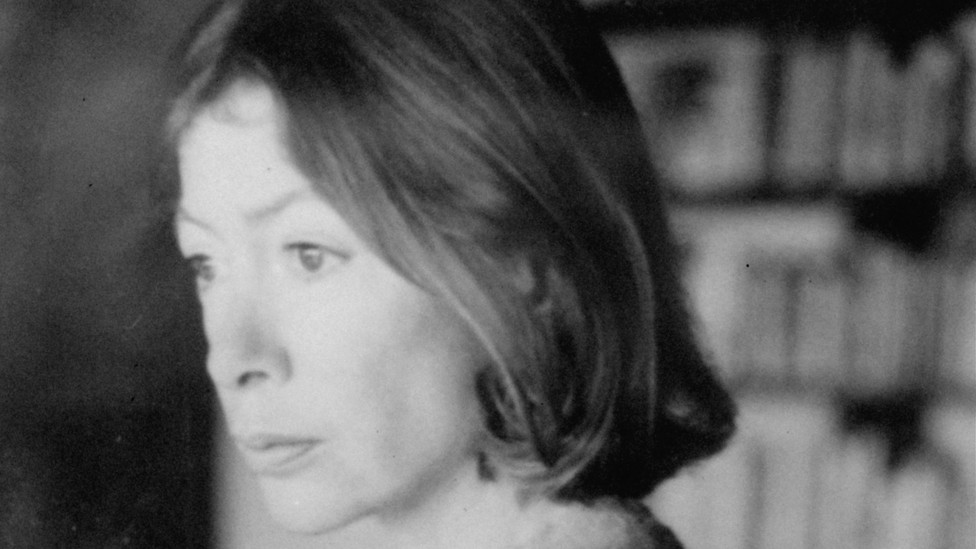 "I write entirely to find out what I'm thinking, what I'm looking at, what I see and what it means," Joan Didion confessed in 1976. "What I want and what I fear." The writer was in one way taking preemptive credit—or, depending on your point of view, accepting the preemptive blame—for the explosion of personal essay-writing that, fueled by the internet and its egotisms, would later become known as the first-person industrial complex. Didion, with her faith in the moral worth of introspection—her conviction that understanding oneself operates on a continuum with the understanding of everything else—helped to inspire a generation of writers to remain, via acts of performative journaling, on nodding terms with the people they used to be.
Didion's writing, however, can be deceptive: It pulses with the heady warmth of confession, but in fact has extremely little patience for the indignities of aimless admission. Didion's confessions are controlled, always, and extremely strategic about what they share and what they keep hidden from view. More than admitting, they imply—Montaigne, definitely, but also Monet: Didion is an essayist who is also an impressionist. The words smear and splash and streak and—through precision and, you have to assume, a bit of magic—conspire to make the whole. ("When I talk about pictures in my mind," Didion said, "I am talking, quite specifically, about images that shimmer around the edges. … Look hard enough, and you can't miss the shimmer. It's there.")
This interplay of words and pictures—the alchemy of the image—takes on, in Didion's writing, whether fiction or confession or reporting or cultural criticism, the cadences of a philosophy. To write, Didion suggested, is not merely to seek oneself; it is also to put one's faith in the notion that order can be found in this tangled and messy world—to trust in, as she put it, "the grammar in the picture."
Didion the alchemist: How would you possibly translate that to the screen? How do you make a film about a writer—about, indeed, the act of writing—that isn't hopelessly ponderous or ridiculously pompous or, worst of all, boring? For Griffin Dunne, Didion's nephew and the director of the Netflix documentary about her, Joan Didion: The Center Will Not Hold, the answer seems to have been straightforward: Take Didion's advice. Embrace impressionism. Find—and then believe in—the grammar in the picture.
And, so, the story the film tells of Didion's life itself splashes and streaks: It does not tell a coherent story so much as it creates a series of impressions. There is a certain gauziness to the proceedings: the cinematic pans across old family photos, their age giving the subjects the affects of auras; the plaintive music that accompanies Didion as she sits on her couch or walks through Central Park. The film begins with the Donner party (yes, that Donner party), whom Didion's ancestors accompanied on their way to California before they decided to take the riskier route—and weaves through Didion's early life: her marriage to John Gregory Dunne; their life together in California; their adoption of their daughter, Quintana Roo; and a writing career that spanned fiction and non-, politics and celebrity and crime and justice and its absence—and, later, grief.
As a biography, then, The Center Will Not Hold is not terribly satisfying: If, coming into it, you already know a reasonable amount about Joan Didion—as the target demographic for this film, ostensibly, does—you will likely come away from the whole thing not much more enlightened about the major events of her life than you were before. What you likely will come away with, though, is a sense of her that is more shaded and nuanced and shimmering than the image you held before. The Center Will Not Hold is, essentially, the third installment in the trilogy that began with The Year of Magical Thinking and Blue Nights, the works of extreme autobiography—memoirs of grief—that helped to rekindle Didion's fame in recent years. This memoir merely takes a different medium—and outsources its authorship to a trusted member of the family. (Two of them, in fact: Annabelle Dunne, Didion's grandniece, served as a producer for the film.) Again: Controlled confession. Strategic revelation. "It was always going to be a love letter," Griffin Dunne told The New York Times, of the project. "She's my Aunt Joan."
Dunne's film is very much in the vein of Everything Is Copy, the 2016 documentary Jacob Bernstein directed about his mother, Nora Ephron. Both are loving tributes to exceptional writers featuring testimony from luminaries across the culture. The Center Will Not Hold, however, is also that rarest of things: an elegy to someone who is still alive. And, in that, it makes no pretense of objectivity. Dunne interviews Didion's friends and colleagues, among them Hilton Als, Calvin Trillin, Bob Silvers, the longtime editor of The New York Review of Books, and Lynn Nesbit, Didion's agent and friend. The conversations hew to the long-established aesthetics of documentary fact-finding—softly-lit living rooms, insouciant piles of books, reminiscences reminisced directly into the camera—but their insights also operate, just as often, as spectral voiceovers, the interviewees' disembodied words narrating as the film's camera sweeps over images of Didion, her husband and daughter, and the corners of America that Didion has described with her cinematic pen.
The most striking elements of the film, however, are the interviews Dunne conducted with Didion herself, in her New York City apartment. As she speaks, clad in cashmere and perched on a couch, Didion, now 82, swoops her hands through the air, elegantly but also wildly, as if seeking words that are just beyond her grasp—as if outlining an image that only she can see. Her face is intensely expressive. She talks about her husband John, her partner in life and in writing. She talks about that infamous line in The White Album, about a trip taken to Hawaii—a line John, because he always reviewed Joan's words, had edited: "We are here on this island in the middle of the Pacific in lieu of filing for divorce."
Didion, all these years later, explains to her nephew the logic of that stinging sentence. "We thought generally that you wrote what—you used your material." She looks directly at Dunne, sitting just to the left of the camera. "You wrote what you had." And then she looks down to the floor, her expression giving way to a frown. "And that was what I happened to have at the moment. At that moment." The camera lingers on her face for an instant more. The image shimmers.
Didion, as a public figure, has tended to embrace an orderly mingling of contradictions—frail and strong, vulnerable and cutting, passionately caring and incorrigibly cold, troubled and, yet, transcendent—and Dunne's documentary revels in those dimensions. One moment, we're hearing her fellow writers discuss Didion's singular ability to capture the impassioned ennui of the American '60s, '70s, '80s, and '90s; the next, we're learning about her inability, in her youth, to start a day without an ice-cold Coca-Cola. One moment, a voiceover reads selections of Didion's aching prose, as the camera lingers on home-video footage of Quintana on the beach; the next, Dunne is asking his aunt about the food contained in her extremely large refrigerator. (Soup? he asks. No, she corrects: ice cream.)
And though Didion may be a singular kind of celebrity, she has also, the film makes clear, been one in a decidedly conventional manner, as well. In 1977, the television anchor Tom Brokaw interviewed her about her novel A Book of Common Prayer. (To get the interview, Brokaw tells Dunne, he sent a letter "'To Joan Didion, somewhere on Malibu beach'—and she got it!") While they lived in L.A., Didion and her husband socialized with, among many other stars, Janis Joplin, and Steven Spielberg, and Brian De Palma, and Martin Scorsese, and Warren Beatty (the latter of whom, we learn in the documentary, had a crush on Joan, a fact that John Gregory Dunne apparently found hilarious).
In 1971, the couple contracted with a team of carpenters to do a remodel of their beachside house in Malibu: a place carved into an oceanside cliff, its backyard the expansive Pacific. In 1974's Vegas, his "memoir of a dark season," John Gregory Dunne tells the story of a construction project that ended up taking much too long and costing much too much—so much that, after the two-month project stretched into four and then five and then six months, he fired the contractor. "Jesus, man, I understand," the contractor said, according to the memoir's retelling.
The contractor, it turns out, was Harrison Ford. The actor, who would go on to become a friend of the couple, tells Griffin Dunne in The Center Will Not Hold that he spent long days at the house, alternating between working and explaining "why we hadn't made more progress, and how it was going to cost even more money."
So the consummate outsider, for all her Sphinxian mystique, was in many ways the consummate insider: another Hollywood power-player, remodeling her kitchen and laughing at the dinner party. A subject of photos as well as an observer of them. And her aura of easy cool, of course, would only expand the older she got. Didion has long been an icon, but in recent years—that viral packing list, that Vogue reprint of "On Self-Respect," that Céline ad, those face-obscuring sunglasses—she has also become something decidedly more banal: a brand. (In The Last Love Song, Tracy Daugherty's unauthorized 2015 biography of Didion, the author describes his subject as "working her brand.") Which is also to say that Didion has become a celebrity, in large part, in a thoroughly modern way: commodified, deconstructed, her insights teased from their stories and passed around on Tumblrs and T-shirts and the email signatures of girls who are smart enough to be jaded. She is the subject of ephemeral enthusiasms.
And, yet, at this point: She isn't fully a celebrity. She isn't fully an author, in the modern way of it. To be an author, today, is generally to be required, repeatedly, to acquiesce: to give in to demands of omnipresence, of performative relatability. To live-tweet The Bachelor. To write op-eds in the Times. To accept that being part of the zeitgeist requires that one first accept the terms of geistiness: disembodied, environmental, miasmic. To be an author, today, is in some part to sacrifice oneself. "I believe that books," the writer Elena Ferrante said, "once they are written, have no need of their authors"; this was shortly before the anonymity she attempted to maintain for herself was undone. Harper Lee repeatedly insisted that she did not want to publish a sequel to To Kill a Mockingbird; there Go Set a Watchman is, nonetheless, for sale on Amazon. To be an author—particularly, perhaps, a female author—is to accede to the demands of a world that wants ever more from you.
Unless, that is, you are Joan Didion.
The Center Will Not Hold, its entropic title notwithstanding, is, in the end, a tribute to this particular dimension of Didion's singular status in American literature. It is a monument to strategic self-control. It is fighting against the notion of the author as fashion, the author as brand—the author as a transaction. Didion, this film makes clear, owes us nothing. She has navigated the world on her own terms—what I'm thinking, what I'm looking at, what I see and what it means—and that applies to her public persona, as well. It's one of the many ironies of the documentary that the final product, its production initially financed through Didion's fans on Kickstarter, is now fighting against the kind of celebrity that helped to enable its existence: This film cares not a whiff about Didion's viral packing list, or about that $1,200, Didion-themed leather jacket. That is ephemeral exhaust.
The Center Will Not Hold is instead a celebration of the thing that existed far before the internet came along: Joan, the person. Joan, the mother. Joan, the wife. Joan, the aunt. And, finally, Joan, the weaver of words—the writer who gazes at the world in all its chaos and absurdity and tragedy and comes forward to reassure the rest of us that, just at the edges, there is something that shimmers.