'It Feels Like Someone Has Opened a Window Into Hell'
Faced with the horror of Las Vegas, late-night's comedians showed their despair.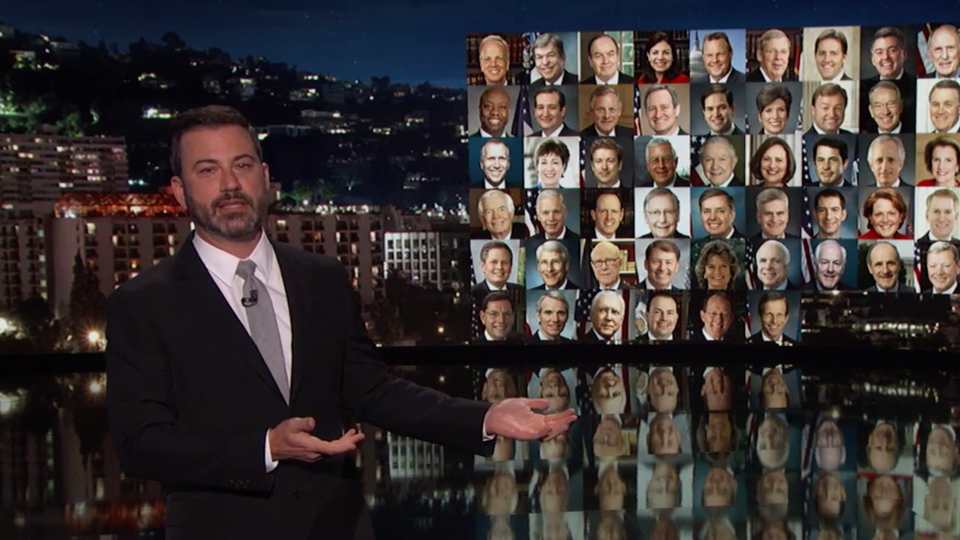 "If comedy is tragedy plus time," Jon Stewart said in 2014, responding to the death of Eric Garner, "I need more fucking time."
That was three years ago, and Stewart is long gone, but his legacy is the stable of comedians on late-night television who use the news not just to entertain, but to advocate. It's gotten harder. Increasingly, over the last three years, Stephen Colbert, Trevor Noah, Seth Meyers, James Corden, Conan O'Brien, even Jimmy Fallon, even, yes, Jimmy Kimmel, have been handed an unflinching cavalcade of horrors to turn into humor. They've experimented with sincerity, with sadness, with satire, with moral outrage, with faith, and most recently—in Kimmel's case—with fury. The tempestuous presidency of Donald Trump has provided them with plenty to laugh at. And plenty to despair.
But faced with the events that unfolded on Sunday night in Las Vegas—when a 64-year-old Nevadan with no history of criminality or mental illness fired from his hotel window on an assembled crowd of 22,000 country-music fans, killing 59 of them and injuring more than 500—the late-night comedians seemed as defeated by the news as everyone else. "We've talked about gun violence on the show before. … I also know nothing I say will make any difference at all," said Meyers. "It's hard for me to fathom," said Corden. "Gun violence should not be a staple of American life."
"The people of Las Vegas, I can't give you thoughts and prayers," Noah said. "I can only say that I'm sorry. I'm sorry that we live in a world where there are people who would put a gun before your lives." Colbert reiterated that, once again, it was his job to "address the shock and the grief and the anger that we all feel," the "unimaginable cruelty" of another American tragedy. "How could there be a file of mass shooting remarks for a late-night host?" O'Brien asked. "When did that become normal? When did this become a ritual?" Fallon abandoned his opening monologue altogether, ceding the stage for Miley Cyrus to sing a heartfelt cover of Dido's "No Freedom" with Adam Sandler.
Kimmel, though, was different. He's historically been less political than the Colberts and the Stewarts of late night, less deft with the medium of outrage than Meyers and Noah. But Kimmel's infant son's recent medical issues spurred an engagement with the reality of healthcare in America, and a public anger that you could argue put the final nail in the Graham-Cassidy bill to repeal Obamacare. As my colleague Megan Garber wrote last month, the power of Kimmel's newfound rage was "its ability to make the political personal: to drive home the idea that, while 'health care' might seem academic and theoretical, it can, in an instant, become intensely personal, with stakes no less than life or death."
For Kimmel, what happened in Las Vegas, where he grew up, was personal too. So for almost 10 minutes, crying openly for much of it, he despaired. He lamented that the deadliest mass shooting in modern American history could come so soon after the last one, and that it could happen at a music show, where everyone had gathered to just have fun. He grieved, his voice breaking, for the lives lost, the "children without parents and fathers without sons, mothers without daughters," the police officers and nurses and special-ed teachers who'd been killed. "It's the kind of thing that makes you want to throw up or give up, it's too much to even process," he said.
And he was angry, again, that this could happen, again. That "our so-called leaders continue to allow this to happen." He excoriated the hypocrisy of people like the White House press secretary Sarah Huckabee Sanders, who, he noted, stated that the aftermath of appalling gun violence isn't the right time to debate what might be done about appalling gun violence. "Senate Majority Leader Mitch McConnell, Speaker of the House Paul Ryan, a number of other lawmakers who won't do anything about this because the NRA has their balls in a money clip, also sent their thoughts and their prayers today, which is good," Kimmel said. "They should be praying. They should be praying for God to forgive them for letting the gun lobby run this country."
Late-night comedy has proven itself, lately, to be so much more than just entertainment. In August (just a month and a half ago, although it feels several eons longer than that), when Meyers and Fallon sensed a vacuum of moral leadership in the White House after Trump's defense of white-supremacist marches in Charlottesville, they stepped in. Once again, it was personal. Both men are fathers, and Fallon talked about wanting his children to grow up with a better model of behavior than the man currently occupying America's highest political office.
But events like the shooting in Las Vegas are personal for everyone, because they affirm the very real possibility of Americans being mowed down with an assault rifle while doing something as simple as going to a concert, or watching a movie, or attending school, or celebrating a holiday. And for those frustrated by President Trump's address from the White House, in which he referred vaguely to "scripture" and sent thoughts and prayers, there was Kimmel. "It feels like someone has opened a window into hell," he said, capturing not just the awfulness of the news, but the awfulness of how normal it's become.