Harvey Weinstein, Jay-Z, and the Misuse of Art
The film producer explained away his alleged misconduct by making up the words to a very personal song.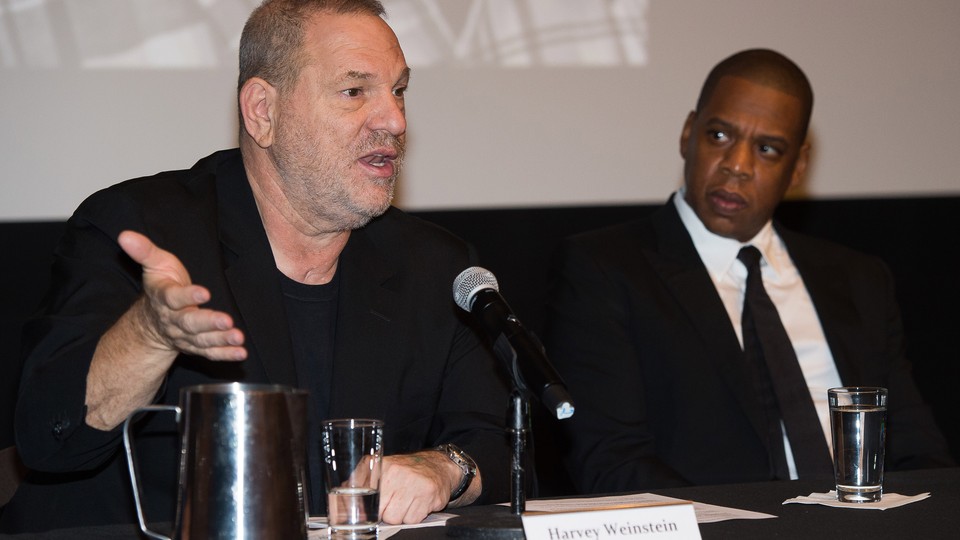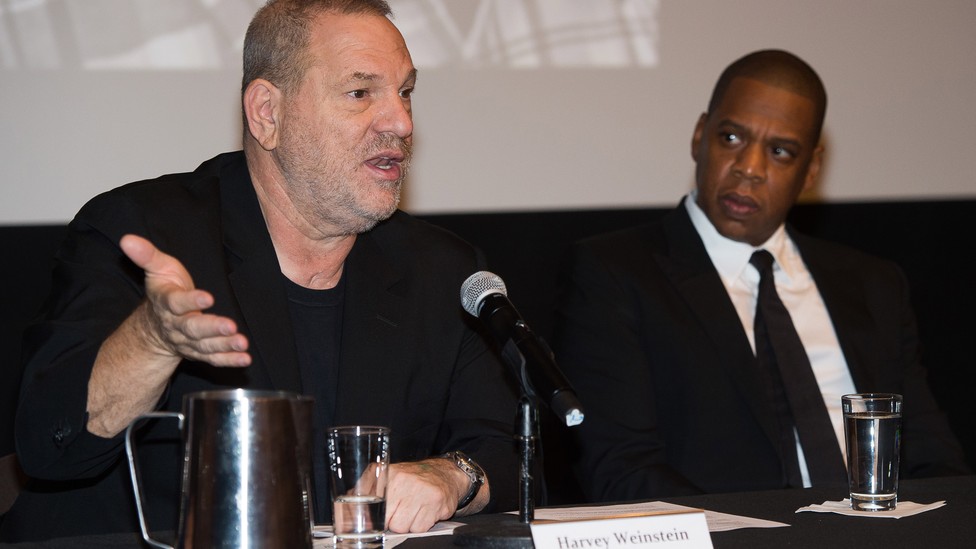 Jay-Z's "4:44" is an uncomfortable listen because it makes you feel as though you're intruding on someone else's privacy. The lyrics are one man's apology to his wife for breaking her heart, to a specific group of women for using them, and to no one else. The listener might relate to the betrayal, the intimacy, and the regret on display, but certain lines just aren't for the taking. "I apologize for all the stillborns cause I wasn't present / Your body wouldn't accept it," Jay-Z raps, seeming to reference Beyoncé's miscarriage. He blames his infidelity squarely on something broken inside of him: "I apologize to all the women whom I toyed with your emotions / 'Cause I was emotionless."
Harvey Weinstein has now invoked the song to explain, in part, his decades of alleged harassment of women in the film industry. In his memorable mea culpa sent to The New York Times on Thursday, he says he's a product of a sexist generation, vows to get therapy, wishes for a "second chance in the community," and makes off-topic jabs at the NRA. He also says this: "Jay Z wrote in 4:44 'I'm not the man I thought I was and I better be that man for my children.' The same is true for me."
There are a few issues with this maneuver, and one is that the quote appears to be made up. Jay-Z didn't write "I'm not the man I thought I was and I better be that man for my children" in the song or album 4:44 or, as far as the world knows, anywhere. They are not lyrics or public statements Jay-Z has ever made. They aren't even a very close paraphrase: In the song, Jay-Z says he's horrified to think of his kids learning what their father did, but he does not spend any time vowing self-improvement.
Certainly, it's possible that Jay-Z said this line to Weinstein in private, or it's possible he heard some demo version of the song: The two men are business partners. It's also possible that Weinstein epically misremembered something from the song. Plenty of people, famous and not, are ignorant of the music on 4:44 but aware of its media narrative: a high-profile man in the entertainment industry takes responsibility for mistreating women (though infidelity is a different offense than sexual harassment).
Weinstein comes off now as a Hollywood male version of Cher in Clueless: "It's like that book I read in the 9th grade that said, 'Tis a far, far better thing doing stuff for other people.'" The real-world annals of inspirational quotations too apt to be true include Martin Luther King Jr. having something to say about Osama bin Laden's death, Karl Marx predicting the housing crisis, and Morgan Freeman weighing in on the Newtown massacre. If the internet did not entirely invent the fake-quote phenomenon, it also hasn't helped end it, as seen in how Google's existence didn't prevent Weinstein's gaffe.
Accuracy aside, the episode is a queasy example of how art can be so easily used—or misused—by its consumers. Did Jay-Z make "4:44" in the hopes it might give comfort to other men who behaved badly in various ways? Little in the song would seem to say so, though he does gesture at a wider problem when he raps, "Like the men before me, I cut off my nose to spite my face." But intentions are irrelevant once a work enters the world, and art that interrogates sketchy behavior has had a depressing tendency to backfire. Michael Lewis's Liar's Poker seemed to inspire more greed. Fight Club's leering portrayal of male anger and egoism has become a militant-macho touchstone. Stephen King came to fear that his story Rage encouraged real-life violence.
Weinstein using Jay-Z to take the edge off his accusations isn't quite as much of a misreading as the instances I just listed. Maybe the rapper even gave his blessing to apply his example to the situation. But "4:44" is a highly personal song that indicts the self rather than a culture or "generation," and Weinstein betrays it by using it as a form of inoculation—as a way to shrug and suggest who among us? That he had to gin up a quote to fit his needs confirms that art this vulnerable makes a poor shield.