Another Concert Made Into a Target
A country-music festival in Las Vegas joins the list of pop-cultural gatherings—usually places of community and escape—to become sites of mass killing.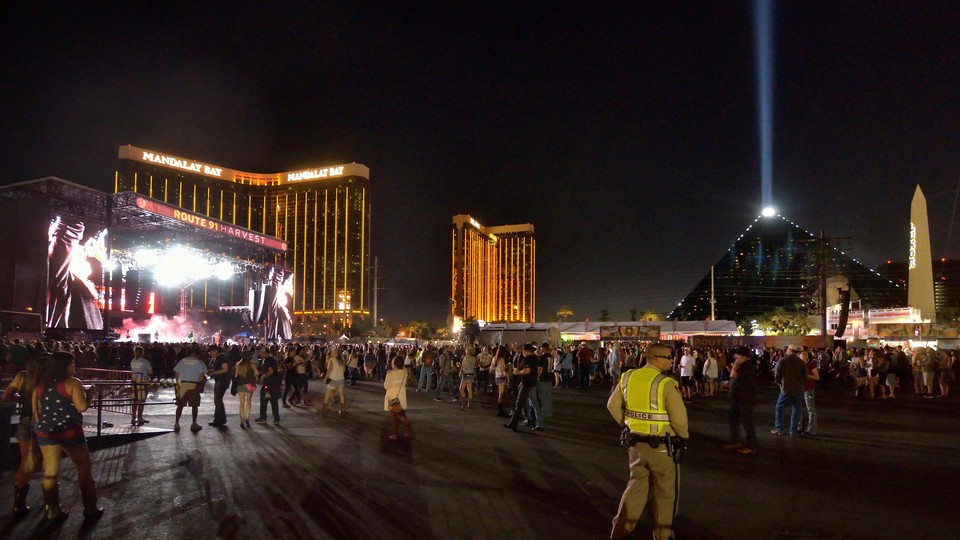 In videos, you can see the moment between when gunfire began raining down on the Route 91 Harvest Festival in Las Vegas on Sunday night and when the reality of the tragedy began to become clear. Jason Aldean, playing the final set of the festival, had just commenced "When She Says Baby." Right before he started singing, the staccato popping of gunfire began. Aldean got out the first few lines—"Some days it's tough just gettin' up / Throwin' on these boots and makin' that climb"—before ending the music and running off stage. The crowd, too, slowly, then suddenly, realized what was happening.
The particulars of the attack that killed at least 50 people and injured more than 400—the deadliest shooting in modern American history—are uniquely horrifying. But there is a nauseating familiarity to the slaughter as well. Concerts have become venues of mass murder in recent years: 89 at the Eagles of Death Metal show in Paris, 22 leaving an Ariana Grande performance in Manchester. An evening at a dance club in Orlando ended with 49 deaths from gunfire.
The motives and circumstances and methods in each case may differ. But in each case, there's the sickening whiplash of escapist celebrations becoming bloodbaths.
An attack in Las Vegas, America's escapism capital, puts that whiplash in a new, stark context. The suspect, Stephen Paddock, is believed to have fired from the 32nd floor of the glitzy, aquatically-themed Mandalay Bay hotel, which was across the street from the concert. This was the fourth year of the Route 91 Harvest Festival, just one mass gathering in a town packed with mass gatherings every night. The event's advertised amenities included a carnival swing ride, silent disco line dancing, and a beer vending machine.
That it was a country-music show adds yet another dimension. The festival ran for three days and featured some of the genre's vital current stars: Eric Church, Sam Hunt, Jake Owen, Maren Morris. The platinum-selling Aldean has long been a booming voice for rural pride in the face of urban condescension, a message heard from his 2005 breakout "Hicktown" to 2010's "Fly Over States" to the title track from his latest album: "They say what's there to do when you ain't got nothin' around—just a few street lights, speed-limit signs that all say 25? But those folks ain't lived in our lives."
Yet while country music grounds itself in a sense of specific place and people, Sunday's attack brings it in line with other subcultures—rock and roller, teenage pop fans, queer Latino partiers—that have been singled out for mass violence. "Soft" targets like concerts can hold appeal for those looking to kill simply because they gather together so many people in one place. But there are more abstract motives possible as well. "Bad people keep targeting music venues (whether it's rock, pop, country, or dance) because they signify community in an alienated culture," the music critic Steven Hyden tweeted today.
On Instagram after the attack, Aldean posted, "It hurts my heart that this would happen to anyone who was just coming out to enjoy what should have been a fun night."