The Biggest Winners: What Ivana Reveals About Trump Family Values
Ivana Trump's new book is a parenting memoir—and an ode to being better than everyone else.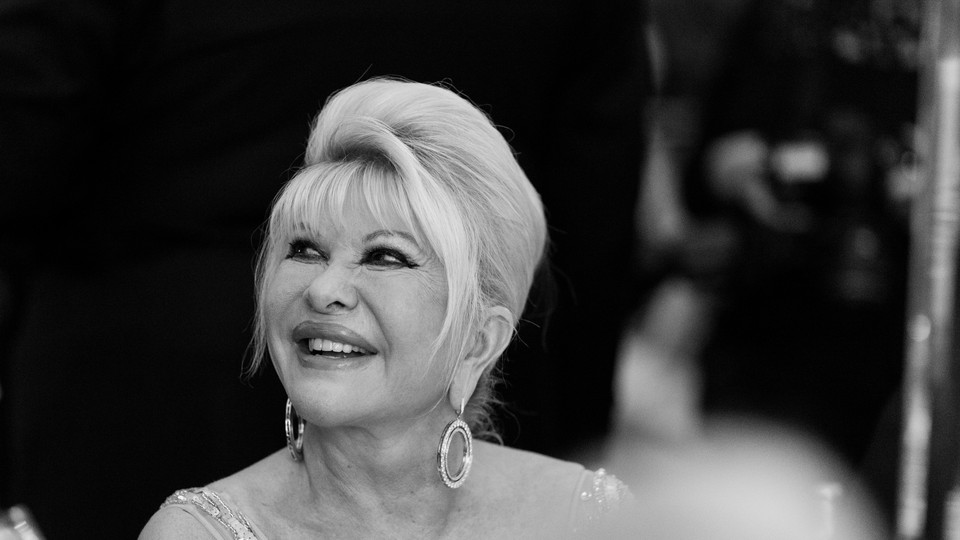 There's a story Ivana Trump tells in Raising Trump, her new memoir of parenting, work, and marriage. It was New Year's Eve, 1977; she and Donald Trump were together in the hospital room after their first child had been born, discussing the matter of what name to give their new infant. Ivana suggested that the son should be named after the father: Donald Trump Jr. Donald, however, balked at this.
"What if he's a loser?" he said.
Ivana got her way, in this instance as in many she describes in Raising Trump, which begins and ends with the premise that none of the three children Ivana and Donald Trump created together have been consigned to a life of loserdom. The book may be a parenting memoir; it may feature practical tips about punishments and allowances and the compulsory writing of thank-you notes; it may even feature a curated selection of awkward family photos and treasured family recipes; but it is about parenting, as most people practice it, in only the most superficial sense. By virtue of its core characters—a man who becomes the American president, a daughter who becomes his adviser, a son-in-law who becomes responsible for criminal-justice reform and opioid-crisis management and bringing peace to the Middle East—Raising Trump is less a straightforward memoir than it is a teasing exploration of the workings of the presidential family. Here are the oft-discussed "Trump family values," as explained by the woman who helped create them.
And the most significant of those values, Ivana Trump suggests, is the one the family patriarch summoned in that hospital room as 1977 gave way to 1978: The Trumps abide by a gospel of winning. The worst thing one can be, in this family and in the world that is being steadily shaped by it, is a loser. "If you can't be the best, why bother?" Ivana asks. She is not being rhetorical.
* * *
Ivana Trump, née Ivana Zelníčková, was born in Czechoslovakia just after the Iron Curtain went down, the only child in a family rich in love and poor in most everything else. The Zelníčeks were not party members; the only chance they had of advancing, their daughter writes, was to keep their heads down and work—and work—and work some more. "Being less than the best was simply not an option, because, in a very real way, one mistake could doom your life," Ivana recalls. She adds: "We couldn't be sure who to trust outside the family."
It's an attitude that found a match, she suggests, in Donald Trump, the scion of a family that prized loyalty and economic achievement above almost all else. "My partner in business and life had the same ambition I did," Ivana writes of the man who was her husband from 1977—she got pregnant with Don Jr., she writes, on their honeymoon—until 1992. Their wedding was officiated by Norman Vincent Peale, the author of The Power of Positive Thinking. During their marriage, the Trumps would sometimes find themselves vacationing in Aspen at the same time as another famously competitive, and presidential, family; the members of each clan would race each other down the slopes. "It was Trump versus Kennedy," Ivana notes, before cutting to the chase: "And Trump always won."
If you can't be the best, why bother? The defining ethic of Ivana's childhood also came to be the defining ethic, she suggests, of her parenting of Don Jr., Ivanka—the name means "little Ivana"—and Eric. "I believe the credit for raising such great kids belongs to me," Ivana declares at the outset, and she makes her case: through discussions of parent-teacher conferences that were conducted like performance reviews; of children brought along to designer fashion shows and gala events, so that they might learn the ways of charm; of music and dance lessons put to decidedly pragmatic use. ("The arts were another opportunity," Ivana notes, "like sports and school, to set goals and achieve them.") Trump offers descriptions of family Easter egg hunts turned into competitions: One year, the kids ended up cheating by watching, through the security cameras at Mar-a-Lago, the eggs being hidden—a fact their mother discovered and now relays with pride. She recalls fondly the club tennis tournaments that became, via the Trump children, "savagely competitive."
"Is fishing a competitive sport?" she asks, cheekily. "It is for us."
Ivana, in Czechoslovakia, trained as a competitive skier—she almost made it to the Olympics, she says—and, in turn, she encouraged her kids to embrace athletic pursuits, not on the grounds that sports teach cooperation, but on the grounds that they teach competition. "Playing sports gives you the desire to be the best," she notes. "If you develop a competitive drive early in life, it'll stay with you forever." She describes one skiing excursion in which all three kids, tired and cold and generally miserable, worked up the courage to ask her if they could leave the slopes. She refused. "I had my reasons for pushing them so hard," she writes. "If you quit at the first twinge of discomfort, you become weak." And, she adds: "By enduring, they learned just how good it feels to push past preconceived limits."
Nietzsche, in a fur-lined ski parka: Ivana Trump, she suggests, like her ex-husband, is extremely interested in strength, in endurance, in notions of excellence both genetically endowed and fostered through stubborn force of will. Again and again in Raising Trump, via the woman who refers to herself unironically as "our family's supreme leader," is the Trumpian vision laid bare: a world of zero-sum stakes—a world populated by winners and losers, by those who work hard and get what they deserve and those who do not and get the same. Ivana was raised (secretly) Catholic; in her person, however—and in the values she shares with her ex-husband, and proudly claims to have instilled in her children—swirls the exhaust of the Protestant ethic. Success, in this vision, is a moral state. So is its opposite.
What's perhaps most striking about Raising Trump, in that sense, is how thoroughly familiar it is in its words and its worldview. The author of this book may be Ivana Trump; it pulses, however, with the language more commonly associated with her ex-husband. Describing the Darwinian dynamics of the private-school selection process in New York City, Ivana notes matter-of-factly that "some schools were for the little dummies of rich parents." She groups her own friends into categories: true friends, social climbers, users, abusers, and nobodies. She refers to Washington as a "crooked, boring city." She mocks Marla Maples—she refers to Donald's second wife, for most of the book, as "the showgirl"—for appearing on Dancing With the Stars, denigrating her for having "no class." ("I never would have embarrassed Donald that way," Ivana sniffs.) She makes repeated jabs, as per the recent family tradition, at Hillary Clinton.
Despite her easy insults, however, Ivana Trump is also a compelling narrator: She is often witty and even more often delightful, by turns unapologetically egotistical and whimsically self-effacing. Her outlandish decorating style, she writes, is "how Louis XVI would have lived if he had had money." Her parenting style probably is, too. ("My version of helicopter parenting was to bring the kids to work with me in the Trump chopper.") She refers to small talk as "coochi coochi moochi moochi." She mocks "upper-crusty horsey people." She loves dogs, tolerates cats, and hates mice on the basis of their "red devil eyes." She has a really good anecdote about a tent springing a leak while she was camping with the kids: The mom-turned-MacGyver used the tampons she'd brought for the trip to absorb the water. The author of Raising Trump—Ivana wrote the book with Valerie Frankel, who has also served as a co-writer for Joan Rivers—is wacky and ostentatious and, on the whole, extremely fun to spend time with.
And yet that kind of charm, residing as it does in a winners-vs.-losers worldview, can easily become pernicious. The author of Raising Trump can be blithely myopic when it comes to the significant portion of the population who are not members of the Trump family. She spends more time in the book describing her assorted "couture" than she does describing the family's live-in nannies. Her dog once, briefly, went missing; her response was to call the police and the New York Post. The Trump family traditionally spent their Christmases in Aspen, in a rambling suite in The Little Nell; each year, the family would venture into the snowy wilds to pick their Christmas tree—they'd saw eight feet off the top of whatever much taller tree caught their fancy—and then would drag their holiday prize through the lobby of the grand hotel, leaving a trail of sap and pine needles in their wake. Ivana describes all this with the warmth of a long-loved anecdote. The Trumps: so festive! So committed to Christmas! She does not presume that the staff charged with removing the trees' sticky detritus cherished the memory as much as she does.
But that's the thing about a world that justifies itself through the workings of the prosperity gospel and the spirit of capitalism and the conviction—embraced, Ivana says, by all members of the Trump family—that if you work hard, you will succeed. Success, in this vision, becomes a moral good. Its absence suggests a moral failing. Nietzsche strives. Atlas shrugs. The nation bends in response. Here, in this parenting memoir and its odes to competition, is the logic of the permanent campaign, expressed not as a political circumstance but as a moral one. Here is a vision in which battle is not an exception to the normal workings of the world, but rather its defining feature. Here is a universe divided between true friends and nobodies.
Ivana was married to Donald when the Trump Organization developed Trump Tower; she was the one who decorated the skyscraper's three-story penthouse in gleaming marbles and dripping golds—a scheme that might make even Louis XVI consider the virtues of KonMari, yes, but that doubles as a declaration about wealth, about status, about one's ability, in the America of the modern moment, to soar above the small people on the ground. The Trump children grew up in that shining tower, being taught every day that competition is a way of life. In them, Ivana Trump implies—in the children who are now parents, who are instilling those same values in their own sons and daughters—rests the logic of a new gilded age: a time in which dynasties rule, in which wealth justifies itself, and in which winners keep winning—not because they have been lucky, but because they have been vindicated.