How My Father (Maybe) Started the Timeless 'Beat L.A.!' Chant
Tracing the origins of a defining moment in sports history can be daunting, especially when your own family steadfastly insists on what happened.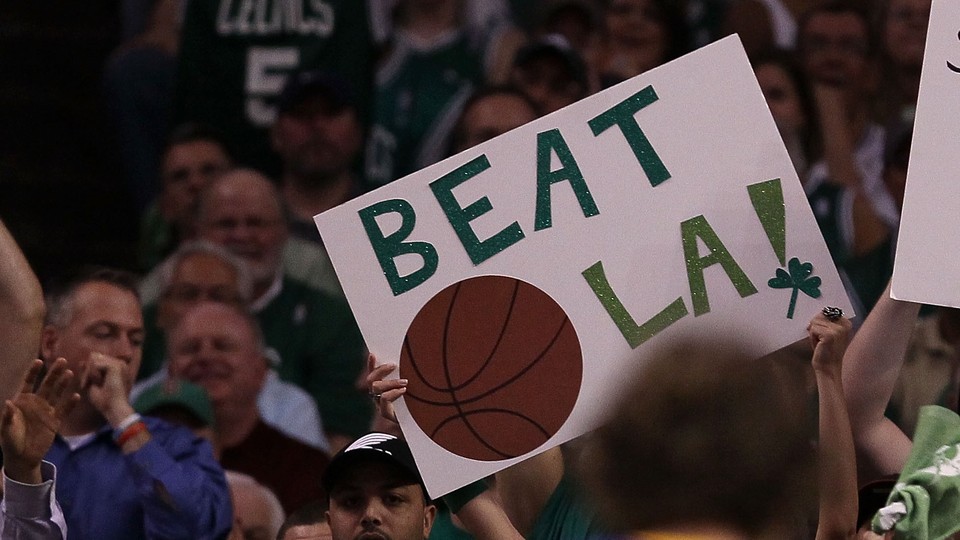 What if I told you that my father invented one of the most iconic sports chants of all time? That he and his friends, from the balcony of a packed and stuffy Boston Garden in 1982, started yelling something that would, decades later, be appropriated by every fan who hates Los Angeles, which, it turns out, is a lot of them?
You probably wouldn't believe me. I'm not sure if I believe me, either, but every family needs a claim to history. This one is ours. Some people's ancestors came over on the Mayflower. Some people's parents attended Woodstock. My dad, Joel Semuels, invented the "Beat L.A.!" chant.*
What is the "Beat L.A.!" chant, you ask? It is what you will likely hear as the Houston Astros host the Los Angeles Dodgers for two more World Series games at Minute Maid Park this weekend. It is chanted in stadiums across the country when any Los Angeles team—the Dodgers, Lakers, Rams, or Clippers, even the obnoxiously named Los Angeles Angels of Anaheim—plays in another city. But I also saw it on a San Francisco movie-theater marquee during a bus ride to work this week.
It is a simple but powerful phrase: "Beat L.A.!"
Sure, it's not the most complicated combination of words, but its origins are pretty clever. It was not started in a game against a Los Angeles team, but, according to both my dad, the inventor*, and to certain accounts of sports history, during a May 1982 playoff game between my hometown Boston Celtics and the Philadelphia 76ers.
The seven-game series was tied at 3–3, and whoever won that last game would go on to play the Los Angeles Lakers in the NBA Finals. The Celtics had come back from a 3–1 series deficit, but near the end of the game, as it became evident that the Celtics would not win, fans (including my dad)* started chanting "Beat L.A.!" as a way of encouraging Philadelphia to go on and (you guessed it) beat Los Angeles.
Watch the game's television coverage, marvel at the players' incredibly short shorts and fans' feathered hair-dos, and observe the chant arise out of silence. "Do you hear what the crowd is chanting to the Sixers?" Bill Russell, the Hall of Famer and color commentator, asked play-by-play man Dick Stockton. "Beat L.A.!" Stockton replied.
For those not very knowledgeable about 1980s basketball, some extra context may be necessary. First, the Celtics and Lakers have long nurtured an intense, emotional rivalry. It started in the 1960s, when they played each other six times in the NBA Finals. The stakes rose years later, when the Lakers drafted Magic Johnson and the Celtics drafted Larry Bird. As collegiate phenoms, they had faced off against each other in the 1979 NCAA championship game, and that competitiveness carried over to the professional ranks. Their NBA matchups defined the very essence of the East Coast–West Coast rivalry, with either the Celtics or Lakers playing in every Finals in the 1980s.
"It felt like the Celtics and the Lakers were always on the verge of playing for history. It was kind of like a soap opera," says Jim Podhoretz, the director of ESPN's excellent 30 for 30 documentary "Celtics/Lakers: Best of Enemies." (Or, as my dad calls it, "The 20-for-20 documentary about the Celtics.") Some commentators have suggested that the rivalry was propelled by racial undertones, with Boston, a city long known for its systemic racism, cheering on a team featuring white players like Larry Bird and Kevin McHale, and Los Angeles, which was more diverse, fielding a team of black players like Magic Johnson and Kareem Abdul-Jabbar. As the Los Angeles Times columnist Scott Ostler wrote during the rivalry's apex, "Is it bad that a segment of white sports fans in Boston have jumped on the Celtic bandwagon because the team's leader and superstar, Larry Bird, is white?"
Racial tensions may have sowed some fans' investment in the rivalry, but for fans like my father, the Lakers hatred wasn't about race but rather the teams' disparate styles. Jerry Buss, who purchased the Lakers in 1979, wanted basketball games to be more entertaining—thus the "Showtime" Lakers of the '80s were born—and would pipe in rock music to make games seem more like night club acts. "The Lakers were very Hollywood and the Celtics players were not Hollywood," my dad says. Pat Riley, who had experience in TV announcing before coming aboard as Lakers head coach, became known for his Armani suits and slicked-back hair, and his Lakers played an up-tempo style, replete with alley-oops and no-look passes. They had courtside cheerleaders and boasted dozens of famous Hollywood celebrity fans at the Forum, their fancy and relatively new arena that did have a night club on site for postgame celebrations.
The Celtics, conversely, weren't fast or smooth. And Boston, with its working-class reputation, was kind of a dump in the 1980s. They played in the Boston Garden, which had been built in the 1920s and didn't even have air conditioning. The Celtics neither had cheerleaders nor a sea of recognizable fans. "The Lakers were a very showy team," my dad explains. "The Celtics were like a lunch-bucket group."  (I didn't know what a lunch-bucket worker was, so I looked it up: Thesaurus.com says it's a "common laborer." Dads. They teach you things.)
Boston fans didn't like this new approach to basketball. In the Boston Garden, my father says, fans were serious about basketball, not about all the extra entertainment. There were no kiss cams or jumbotrons or hot-dog cannons. "Back then, people came for the basketball," he says. "They didn't come to win a free T-shirt." That meant fans were more engaged in the game, more knowledgeable about the players, and, therefore, knew what would happen if the 76ers beat the Celtics, which is they would play the Lakers in the Finals.
Celtics fans respected the 76ers, with whom they also had an intense rivalry in the 1980s. They certainly respected them more than they did the showoff Lakers. After all, the Celtics came back from a 3–1 series deficit in 1981 to beat the 76ers and go on to win the NBA championship. The 76ers, like the Celtics, were an East Coast team, with players like Julius "Dr. J" Erving and Andrew Toney, who was known as "The Boston Strangler" since the Celtics were terrible at defending him.
More than anything, Celtics fans abhorred the "Showtime" Lakers and wanted them to lose, no matter the cost. So my dad, standing in the balcony with his friends, thinking about how much he disliked the Lakers, started chanting: "Beat L.A.! Beat L.A.!" Other fans followed. The Garden turned from a place of funereal silence to one united by a loud, synchronous chant. Darryl Dawkins, a 76ers player, reportedly told the Boston Globe columnist Bob Ryan, "When I heard that, my dick got stiff." My dad did that!*
Now, I would not peg my father as much of a chanter. Growing up going to Red Sox games, I'm not sure I ever heard him chant the now-ubiquitous "Yankees suck!" But, he insists, he was a chanter then. Everyone was. "You can't understand how passionate the fans were back then," he told me. "People don't do that now. They just get lots of food and try to get seen on the kiss cam." It probably helped that there were all sorts of bench-clearing brawls to capture fans' attention. And that the Celtics had been absolutely dreadful in 1978 and 1979 and, all of a sudden, they were good again? Well, fans get giddy when they are pleasantly surprised.
As a dutiful journalist, I tried to corroborate my father's account. I wanted to start with his two friends who were at the May 23, 1982, game with him. They were Richie and Bob Weintraub, family friends who shared season tickets with him until the Boston Garden was torn down and replaced by the Fleet Center (now known as TD Garden), which had far too many jumbotrons and T-shirt cannons for their taste.
Richie, who was beloved in Boston for his work creating programs for the homeless, passed away last year. His death was sad not only because he was a great guy but because he would have gleefully called my father out if this whole tale was some kind of fabrication.
But his brother Bob, the longtime headmaster of Brookline High School and now a lecturer at Boston University, confirms the three of them were at that game. Did they invent the chant? "If your father thinks we started it, I'll accept credit for it," he says. "Honestly, maybe we did."
Not exactly the most conclusive answer, but not a denial either. When I emailed the Celtics for a comment about who might have started it, Jeff Twiss, the team's vice president of media relations, wrote me back. "If I recall, the crowd just started chanting it," he says. "There was no jumbotron or prompt from a mascot to entice the crowd back then." As to whether my father started it, Twiss wrote, "I guess we take that for face value, as there were over 14,890 in the old Garden then."
Fair point, but my father is not the type of person to make such things up. He is a Town Meeting member in my hometown of Belmont, meaning he is an elected official and we all know elected officials never lie. He is also a pretty typical dad, as far as dads go. He tells bad jokes. ("If you eat lots of hummus, you'll never falafel.") He likes sports. (Well, he doesn't care about hockey, but that's understandable.) He picks up trash on the streets during his morning walk. I've never known him to tell a lie. And I grew up hearing that he started the "Beat L.A.!" chant.
I have to say, I believe him.*
Today, fans use "Beat L.A.!" when they're actually playing Los Angeles teams. It has become a refrain for people who don't like Los Angeles, with its movie stars and sunny days and its hippie-dippie food trends, like just eating soup. "The chant is a way to let L.A. know we're tired of the smugness, from its perfect weather to high-paid athletes and celebrities," as the Arizona Republic reporter Scott Craven wrote in a recent piece about the chant.
Sure, you can buy "Beat L.A.!" T-shirts and "Beat L.A.!" coffee mugs, but the phrase started as something cleverer than another anti-L.A. trope. It's "the ultimate example of 'the enemy of my enemy is my friend,'" as author Chuck Klosterman, a longtime Celtics fan, told me. Klosterman remembers hearing the "Beat L.A.!" chant in 1988, as the Detroit Pistons were about to knock off the Celtics in the conference finals and advance to face the Lakers in the NBA Finals.
Alas, the chant—like so many both before and after—did not actually work. In 1988, the Lakers beat the Pistons in seven games to win another title, just as they beat the 76ers six years earlier, a couple of weeks after a famous chant was birthed into existence.
But in 1984, two years after my father's historic contribution, the Celtics prevailed over the Lakers, in Game 7 of the NBA Finals. And it was inside that stuffy, overheated Boston Garden, devoid of air conditioning and so many other luxuries, that the Celtics themselves beat L.A.
---